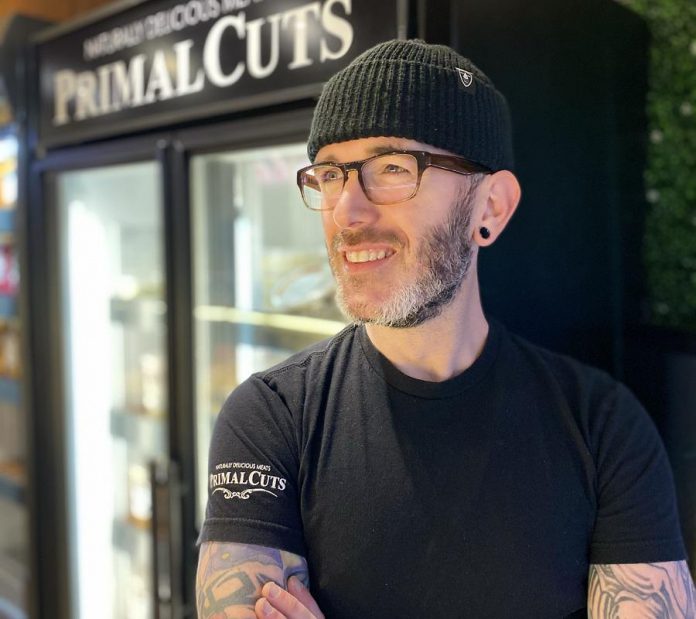 To put it simply, Primal Cuts in Peterborough is not your typical butcher shop and owner George Madill is not a typical butcher.
Since 2012, Madill has been running a hybrid of sorts: nose-to-tail butchery — with all meat cutting, trimming, and aging done on-site — alongside a full-service kitchen that hosts an array of ready-to-cook items and specialty goods, and a counter that flanks the front window for dining.
He says his focus has always been on bringing back what once reigned supreme and what's been lost over the years: a neighbourhood butcher shop that emphasizes both sustainably raised meat and transparency.
Those aren't just catchwords as far as Madill is concerned. There are two coolers with large windows where you can see whole lambs, pigs, and cuts of beef hanging and also witness the dry-aging process. One of the shop's walls is actually transparent — a glass pane that looks into the cutting room, dubbed "The Tank".
Customers can watch the butchers at work and have real talks with them about what they're taking home for dinner, where it's from, and how it's been treated.
"When you come into the shop, there's no hidden back room," Madill says. "It's completely open, where all of our cutting and cooking is done in full view of the customer. This allows our customers to talk directly to our butchers for hands-on advice, to request what they want, and to see a cut of meat."
"I want people to see that their meat doesn't come on a Styrofoam tray. We're taking it back to the good old days where you could talk to your butcher as he was cutting and wrapping your meat before your eyes."
For years, he explains, the subtle art of butchering has been replaced by factory farming, where mass-produced meat has come under harsh criticism for its waste, excessive use of antibiotics, and hazardous conditions for animals.
Madill says whole animal butchery is one of many benefits of the farm-to-fork movement and the fact that more people want to know the origins of their food.
"We're bringing back the traditional ways of caring for our meat and moving away from mass-produced meat," Madill explains. "I'm an ethical butcher, as much as I can be when it comes to nose-to-tail. We don't have a lot of waste in our kitchen and we try to utilize all the meat."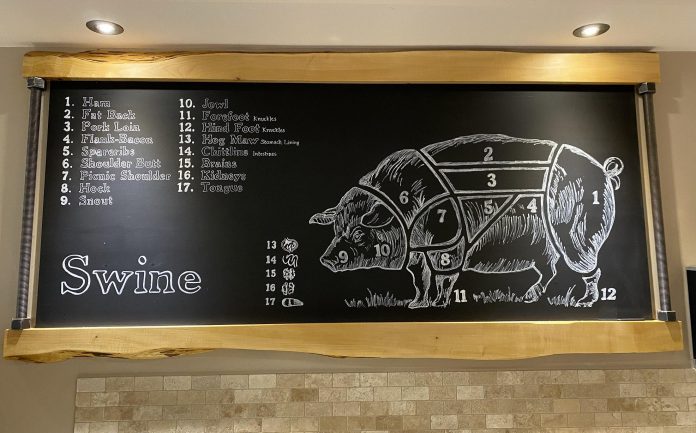 Primal Cuts carries pasture-raised beef, Chantecler chicken, lamb, and heritage breeds of pork sourced from farmers across Ontario, including Campbellford, Hamilton, and Harrison.
Not only that, shoppers at Primal Cuts will find fresh turkey, Cornish hens, partridge, and Muscovy duck from both Ontario and Quebec, as well as superb pasture-raised beef from PEI.
The seafood counter at Primal cuts is full of fresh and sustainable varieties — Primal Cuts is a proud partner of Ocean Wise, an ocean conservation program that empowers consumers and businesses to choose sustainable seafood options that support healthy oceans.
Of course, there are also high-end products like Wagyu beef imported from Australia, available all the time, and Kobe beef from Japan, available for holidays.
Primal Cuts staff also makes broths and stocks from the animal bones, with zero preservatives or salt added.
"We wouldn't have the opportunity to do that unless we had access to the whole animal," Madill notes.
Customers can also enjoy a variety of nitrate-free deli meats, savoury meat pies, salads, and take-home meals.
Madill knows that how a customer plans to cook the meat influences the cut. If a cut of meat is too expensive or not available, he'll recommend another cut that can save the customer money without sacrificing flavour.
The way meat is raised, Madill explains, is as important as how it tastes. None of the meat sold at Primal Cuts comes from animals that have been treated with antibiotics or hormones.
To run the Primal Cuts nose-to-tail program, Madill takes pride in collaborating with local farmers who raise their animals in a humane and natural way.
"The farmers I work with take great pride in the animals they raise," he says.
To ensure shoppers get the best, most responsible meat available, Madill goes through an in-depth process: he has important conversations with the farmers, tours their land, inspects their livestock, and makes sure that both sides understand each other's values and beliefs about the industry.
Twice he has made the trip to PEI to visit with farmers and work with Atlantic Beef Products, a beef processing facility that marries old-world farming traditions with innovative processing.
There's no doubt that butchering is in Madill's blood. He got his first introduction to meat-cutting skills decades ago while working a summer job at a grocery store on Brock Street in Peterborough when he was just 14 years old.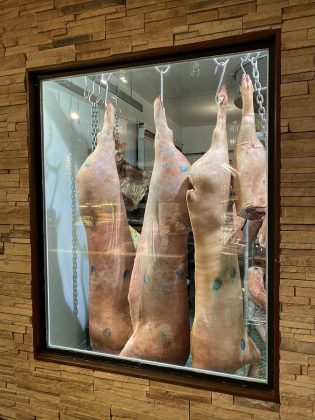 "There was a top sirloin sale," he recalls. "I was asked if I wanted to help out in the meat department. That's how I started out learning to cut meat."
He eventually moved on to hone his skills at Butcher Block in Bridgenorth, training under the late Craig Green and Stan Knott, both highly skilled butchers in Peterborough.
The Butcher Block experience taught Madill much, he says. As a rookie, he learned how to cut, grind, weigh and package meats into retail-ready portions. He also learned a valuable old-school work ethic and the importance of paying attention to detail as well as to sales.
"Craig taught me a lot about sales. He said to me, 'You can teach anyone how to cut meat, but if you don't know what to sell, how to sell it and when to sell it, you're not going to make it.'"
But it was Knott who got Madill interested in whole animal butchering, a bonus for Madill as few butchers are trained in the nose-to-tail butchery in the Kawarthas.
"Stan and I worked together for years," Madill says. "It was during that time he showed me how to break the animal down and use every piece."
Later Madill moved from Peterborough to Toronto, where he worked for nine years in two of the city's premiere butcher shops and helped design and open a flagship butcher shop in the downtown core.
It was that entire process, he says, that sparked the vision of moving back to Peterborough, where he was born and raised, to open his own butcher shop aimed at sourcing meat from farms that grow healthy livestock and practice environmentally responsible techniques.
Madill's years of experience are shown in his broad knowledge of meat, from standard to exotic breeds. It's also the reason his customers remain so loyal.
"Customers do their research and know what they want, so we really pride ourselves in taking care of them and offering the best quality of meat they won't find anywhere else."
And like with many of the old-fashioned butcher shops, Madill and his staff are happy to offer customers a few tips on how to prepare the meats. He says this hands-on approach and personal service to food that also sets Primal Cuts apart from other butchers and high-end food shops in Peterborough and the Kawarthas.
"Our customers continuously tell us how they're blown away with our products and service," Madill points out. "And that's the key — we treat people how we want to be treated."

Located at 550 Lansdowne Street West in Peterborough, Primal Cuts is open from 10 a.m. to 7 p.m. Tuesday to Saturday, and 10 a.m. to 5 p.m. on Sundays. Curbside pick-up is also available by calling 705-775-6328.
Health and safety guidelines are in place to keep everyone safe and masks are mandatory to enter the shop. Due to the pandemic, the shop has paused indoor dining.
For more information, visit primalcuts.ca, where you can learn more about their products. You can also follow Primal Cuts on Instagram and Facebook.
This story was created in partnership with Primal Cuts.