Every year, thousands of people from across Peterborough and the surrounding region are brought to the Cardiac Catheterization Lab at Peterborough Regional Health Centre (PRHC) for lifesaving minimally invasive cardiac stenting and diagnosis.
Like Wanda Bergshoeff who, at 46 years old on a Sunday morning one February, had a growing feeling of unease as pain spread through her right shoulder and into her back.
Sundays were her chill day, a day to spend with her husband, Paul Russelle, and the last thing on her mind was that she might be having a heart attack. While she has a high-stress job as general sales manager for three local radio stations, she was young, ran marathons, and felt healthy.
But Wanda knew something was wrong when the pain continued to spread and, as the day wore on, her physical symptoms only got worse. Paul made a call to Telehealth Ontario and they told him to dial 911.
Within minutes of that call, emergency responders were in Wanda's home, hooking her up to a machine and delivering the dreaded news: she was having a heart attack.
Wanda says the situation felt surreal. She was worrying about things that didn't matter, like the boots of the emergency responders on her white carpet. She remembers telling her husband to stay strong, and then being comforted by the EMS crew as they began her urgent transport to PRHC.
While she was in the ambulance, the EMS crew explained that things were going to get busy and they did. There was no stop-over in the Emergency Department when Wanda arrived at PRHC. She was taken directly to the Cardiac Cath Lab, where interventional cardiologist Dr. Katy Shufelt was waiting.
The diagnostic imaging in the Cardiac Cath Lab, coupled with Dr. Shufelt's expertise, helped save Wanda's life. Once Dr. Shufelt saw what was happening inside Wanda's artery, she knew Wanda was having a rare cardiac event — a spontaneous coronary artery dissection (SCAD).
In these cardiac emergencies, a tear forms in an artery in the heart. This can cause blood to pool in the area between the layers and the trapped blood can clot, reducing or blocking blood flow through the artery, which can cause a heart attack.
Luckily for Wanda, Dr. Shufelt diagnosed the SCAD and a treatment plan was immediately put into place. A couple of hours later, Wanda woke up in the Intensive Care Unit surrounded by a care team who explained what had happened.
"They saved my life," Wanda says, voice breaking. "I could have easily died but as soon as that call was made, it was all so immediate. I didn't have to be transported to Toronto. In my emergency, within minutes, I was in the Cardiac Cath Lab receiving lifesaving care."
Wanda understands the Cardiac Cath Lab is why she was eventually able to walk out of PRHC, well on the road to recovery. The specialized care that she received, so quickly and so close to home, is why she is still here to tell her tale.
"PRHC was always just the building I drove by," Wanda says. "I never knew I was going to need it so badly. They saved my life and now I have this new sense of pride."
While Wanda is proud of the Cardiac Cath Lab for saving her life, she also says all her time in the hospital was an amazing experience because of the caring and empathetic staff.
"I felt like they were treating me like a family member," Wanda says. "They had all these patients, but everyone was so caring and so genuine. The nurses were really curious and intrigued because I was young and because SCAD heart attacks are not very common. They were so interested in what I felt and what my experience was."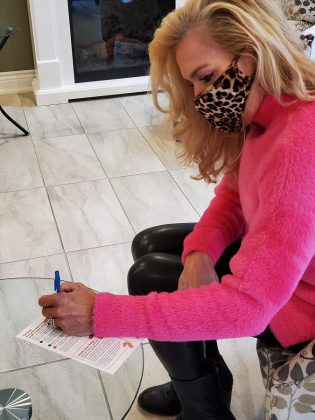 Wanda is quick to note that — until that fateful day when she needed it — she didn't know about the Cardiac Cath Lab and how unique and important it is. She never imagined she'd need urgent cardiac care at 46 years old.
"You don't think you will need something like this but now I know," she says. "The Cardiac Cath Lab is not just for the older generation — that's hard for people to understand."
Since her life was saved, Wanda says she sees things in a different way. She tries to not get uptight about things anymore and she feels like a different person, full of gratitude for all the donors who have supported the Cardiac Cath Lab so it could be there when she needed it.
It's hard for Wanda to talk about what happened, to relive the rollercoaster ride of emotions she experienced, but she wants people to know the critical role the Cardiac Cath Lab plays in saving local lives each and every day.
That's because, after more than a decade of supporting lifesaving treatment, PRHC's Cardiac Cath Lab must now be replaced.
Patients come from as far away as Durham, North Hastings, Northumberland and the City of Kawartha Lakes and, without the Cardiac Cath Lab, they might have to travel as far away as Kingston and Toronto when every second can mean the difference between life and death.
And replacing the Cardiac Cath Lab doesn't just mean cardiac care will remain close by. It means PRHC's cardiac care specialists will have state-of-the-art technology, allowing them to take on more complex, challenging cases right here at home.
The upgrades to the Cath Lab will provide significant improvements to image quality, permitting cardiologists to better view arteries and potential blockages during procedures.
In addition, recent innovations have allowed for a drastic reduction in radiation exposure for patients, a huge leap forward in diagnostic imaging practices.
To donate to the Peterborough Regional Health Centre Foundation, call 705-876-5000 or visit prhcfoundation.ca.
This holiday season, you can also send a message of thanks or best wishes to PRHC's dedicated frontline healthcare professionals when you make your donation. The PRHC Foundation will send your message on to the frontline workers you specify and share your message with the hospital community to lift their spirits and to inspire others.
This story was created in partnership with the Peterborough Regional Health Centre Foundation.