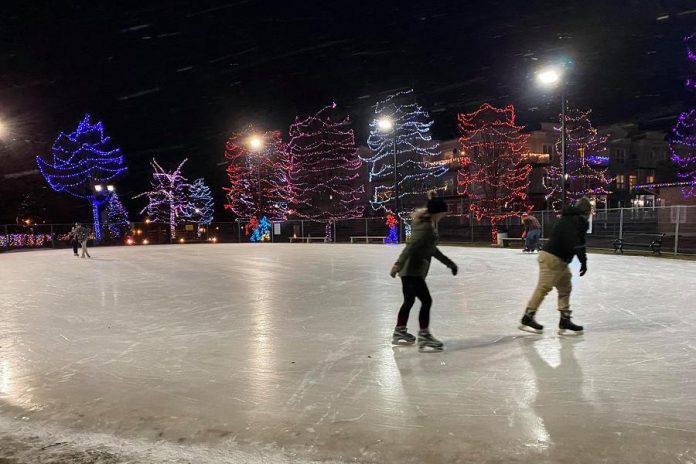 Cobourg's Rotary Harbourfront Outdoor Skating Rink will reopen at 10 a.m. on Saturday (January 16), but with a new mandatory requirement that all skaters wear a non-medical mask.
During an emergency meeting on Wednesday night, municipal council had unanimously decided to temporarily close the popular rink until Saturday while municipal staff reviewed the impact of the province's stay-at-home order. On Thursday, the Ontario government released the legal text of the order, which permits people to leave home to exercise using an outdoor recreational amenity that is allowed to remain open the province's Reopening Ontario Act.
"I would like to thank the community for their patience and understanding during the temporary closure while we reviewed and received further clarity on the stay-at-home order," states Teresa Behan, Cobourg's deputy director of community services, in a media release. "I am pleased that we can continue to provide another recreational outlet that promotes both physical exercise and mental health and well-being during this time."
Advertisement - story continues below
Beginning on Saturday, the rink will remain open daily from 10 a.m. until 8 p.m., weather permitting. As well as the new mandatory mask requirement, the previous requirements remain in place:
Northumberland County residents only.
10 maximum occupancy.
Bookings must be made in advance.
Bookings consist of a 45-minute time slot.
Register each member of your household (you will receive a confirmation email).
Abide by all safety protocols including physical distancing.
No organized team sports (hockey) or games of tag are allowed.
The Albert Street Transit Shelter remains closed.
If you are not feeling well, stay home.
For more information and to make a rink booking, visit www.cobourg.ca/outdoor-rink.