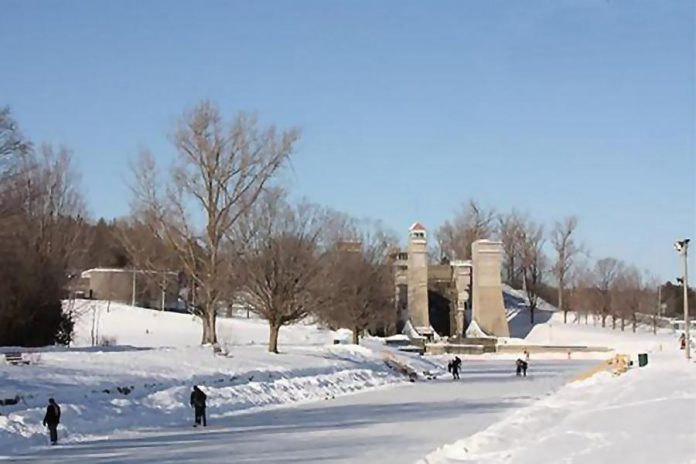 With recent subzero temperatures continuing into next week, the Trent canal in Peterborough will soon be open for skating, the City of Peterborough announced on Friday (January 29).
Public works crews are currently clearing snow from the canal, south of the Peterborough Lift Lock, and flooding the ice surface to ensure conditions are safe for skating.
Patience is a virtue! We're all excited to see our Public Works crew flooding the canal, but please stay off the ice until the flag is green. Trust us, it'll be worth the wait. pic.twitter.com/Mdq3Db3NVr

— City of Peterborough (@CityPtbo) January 30, 2021
When the canal is ready for skating, the red flag (which is still flying as preparation work continues) will be replaced with a green flag.
The city will post the canal status on its website and Facebook and Twitter accounts.
Advertisement - story continues below
Due to public health restrictions during the pandemic, only skating will be allowed on the canal. Sports and games are prohibited.
Anyone using the canal must remain with household members only. Physical distancing of at least two metres from other skaters not in your household is mandatory.
Only locals should be skating on the canal. While the province's stay-at-home order allows for outdoor exercise, people should stay within their own community to do so.
Anyone using the canal is asked to keep their visits to a reasonable length of time to allow access for all residents.
As with neighbourhood rinks, if the canal is busy when you arrive, return at another time.
Advertisement - story continues below
Here are the City of Peterborough and Peterborough Public Health's guidelines for canal and outdoor rink use:
Self-monitor for symptoms of COVID-19. Stay home if you are sick.
Maintain physical distancing of at least 2 metres (6 feet) from those outside of your household.
Do not gather in groups more than 5.
Skating only – no sports or games.
Wearing a mask or face covering is recommended.
Downloading the Government of Canada's COVID Alert app to your phone is encouraged.
All children/dependents must be accompanied by a competent adult/guardian.
Be safe and be respectful of others.
Clean up after yourself.
Wash or sanitize hands before and after visiting.
Use at your own risk.
The city works with the health unit and police to monitor compliance with the province's stay-at-home order. Residents who have concerns about non-compliance can contact the police through their non-emergency phone line at 705-876-1122.