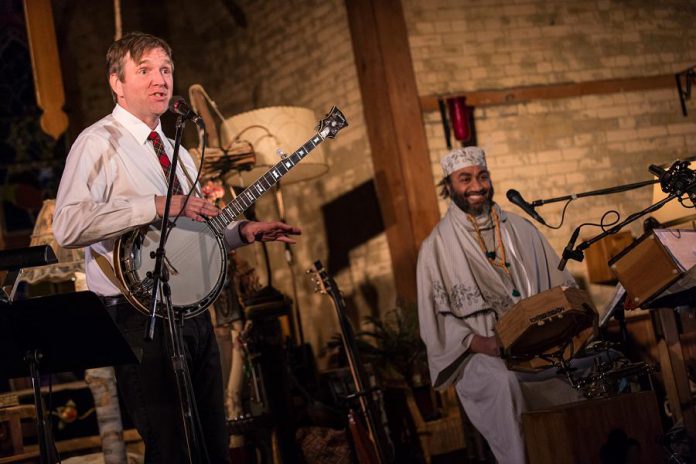 West meets East in Public Energy's presentation of John & Waleed from Toronto's Theatre Passe Muraille, streaming online for one night this Sunday (January 31).
The musical and storytelling show is written and performed by two friends: John Millard, a Toronto-based composer and singer-songwriter from Kitchener in Ontario, and Waleed Abdulhamid, a Toronto-based multi-instrumentalist and composer from Khartoum in Sudan, Africa.
The two men, who met in 2008 as resident artists at Soulpepper at the Young Centre for the Performing Arts in Toronto, couldn't be more different culturally and musically.
Advertisement - story continues below
Born in Hamilton and raised in Kitchener, Millard is of Scottish heritage. His mother was a singer in Scotland and his grandmother used to play organ for both the local Presbyterian and Anglican churches. With his father an ordained minister, Millard was raised in the Christian tradition but now describes himself as a non-believer. As well as composing for the theatre, Millard is a self-taught banjo-playing folk and bluegrass musician known for his bands The Polka Dogs and John Millard & Happy Day.
Born in Sudan, Abdulhamid began performing at the age of six and, by the age of 18, was a skilled musician who now plays around 20 instruments, including rare African and Middle East instruments such as the darabukka and balimbo. A practising Muslim, Abdulhamid lived in the U.S. and Europe before settling in Canada as a musician and educator in 1992. He is known for his powerful vocals, innovative bass technique, and jaw-dropping percussion skills.
In John & Waleed, the two men bring their cultural and musical differences together in a unique and compelling performance. They blend their backgrounds and musical skills, weaving traditional Canadian and Sudanese folk songs and their own compositions in a show that explores their different traditions and journeys. Between the tunes, sung in both English and Arabic, the two men tell their individual stories and the story of their friendship.
VIDEO: Promo for original 2015 "John & Waleed" production

The performance is not only a celebration of their lasting friendship, but a demonstration of the strength found in diversity and the unifying power of music in overcoming our differences.
John & Waleed was first presented in Toronto by Cahoots Theatre in 2015 and remounted in 2017 at Theatre Passe Muraille. The Globe and Mail called it a "delightful" show, adding, "As John & Waleed affirms, it's the stories we tell about ourselves that break down those imagined walls and reveal how much our similarities outweigh our differences."
The performance of John & Waleed was originally planned as a livestream but, due to the pandemic lockdown, has been previously recorded. It will be streamed online at 7:30 p.m. on Sunday, January 31st via Public Energy's website at publicenergy.ca/performance/john-waleed/.
Advertisement - story continues below
Following the performance, Millard and Abdulhamid will participate in a real-time virtual question-and-answer session with viewers.
This is a free event and no prior registration is required. However, in lieu of charging admission, Public Energy is asking viewers to consider a donation to their new Music Lessons For Newcomers Subsidy Fund.
The fund will be used to subsidize music and vocal lessons with professional teachers for newcomers to Canada who are unable to afford them. For more information and to donate, visit publicenergy.ca/support/music-lessons-for-newcomers-fund/.
VIDEO: Public Energy's Bill Kimball in converation with John and Waleed

kawarthaNOW is pleased to be a long-time media sponsor of Public Energy Performing Arts.