In the face of the coronavirus pandemic, locally owned restaurants have been forced to weather unforeseen challenges that go along with restrictions and lockdowns.
Kassy and Tyler Scott, owners of Rare restaurant in downtown Peterborough, have taken it as an opportunity to demonstrate their resiliency. Rare has made multiple pivots to adapt to a challenging climate for restaurants.
After purchasing Rare (formerly Rare Grill House) from former owners Brad and Katie Watt in September of 2019, Kassy and Tyler made significant investments in rebranding and renovating the restaurant last January.
Advertisement - content continues below
"We had just reopened and were having some really busy nights," Kassy recalls. "A month and a half later, we had to close our doors."
Kassy says they initially tried to continue by offering takeout with their classic menu. They typically serve locally sourced steak and other fine-dining entrees, but quickly realized it didn't work for takeout.
"No one wants to order a $50 steak cooked medium rare and then have it show up to their house, cooked more in the box," explains Kassy. "We didn't want to tarnish the quality of our food."
Then came their first major change. Tyler, who is also the restaurant's chef, came up with the idea to condense the menu and begin offering comfort food, which travels much easier.
Kassy says some long-time customers initially didn't understand why Rare couldn't continue to offer steak.
"We're doing this is so we can be standing at the end of this (pandemic) to offer what you loved so much about us," she assures those customers. "We're staying true to who we are — even when we're changing our menu so dramatically."
Advertisement - content continues below
Rare did get back to serving steak for a while over the summer, when the restaurant was permitted to open again for restricted indoor dining and outdoor patio dining.
The outdoor patio was another one of Rare's pandemic pivots. Before COVID-19, Rare didn't have a patio. Creating one was another challenging project for Kassy and Tyler, given Rare's location and the space with which they had to work.
Nevertheless, they made it work. Not only did they transform their backlot into a patio, but it became a beautiful and popular space to dine. Many customers have said it reminded them of dining on patios in Europe.
Along with all other restaurants, the current provincial lockdown has forced Rare to stop in-person dining once again. According to Kassy, she and Tyler have taken notes on their experiences during the first lockdown and are back to offering a condensed menu of comfort food.
Rare is currently open for lunch and dinner takeout on Thursdays and Fridays, for breakfast, lunch, and dinner on Saturdays, and for breakfast on Sundays along with a special hot-and-ready family dinner. (Editor's note: Rare is closed on Sunday, January 31 for a staff mental health day.)
The menu changes weekly and is released on Wednesdays on Rare's website at www.rareexperience.ca and on their Facebook and Instagram.
Advertisement - content continues below
Rare is encouraging customers to use their new online ordering system to place takeout orders. Due to the lockdown, they're currently operating with minimal staff — just Tyler and his sous chef Andrew Orde — who are sometimes too busy in the kitchen to answer phones.
"If you want to pre-order takeout, just include your pick-up time in the notes section," says Kassy. "If for some reason there's a problem with that pick-up time, we will call to reschedule."
Kassy says they're trying to make ordering takeout an "in-and-out experience."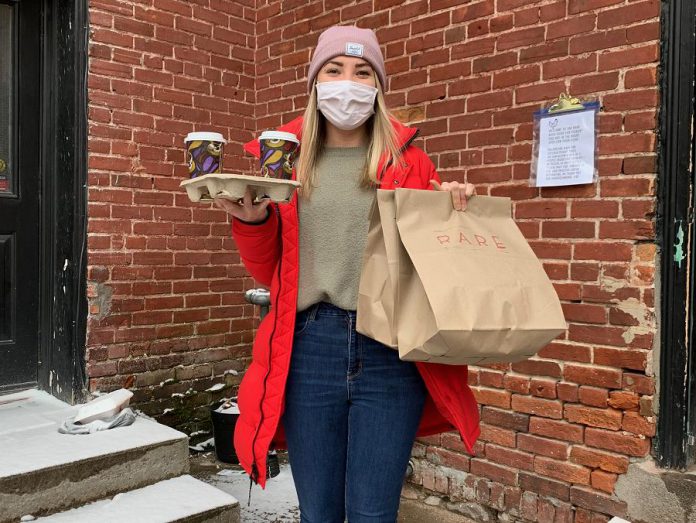 Customers come to Rare's back door, knock, and an employee will come to let them inside. Only two customers are currently allowed in the building at a time. There is hand sanitizer at every entrance, and machines are sanitized after each use.
Kassy notes the pandemic has had a silver lining for Rare. When their sous chef Kylie Lawther left for her maternity leave, their long-time friend and chef Andrew Orde was available to step in.
"When Andrew was laid off from his job at Electric City Bread Company because of the pandemic, it was like a puzzle piece fitting together," says Kassy. "He is so unbelievably talented."
Advertisement - content continues below
Nevertheless, it has been a difficult time for those working in the restaurant industry. When the second lockdown was announced, Kassy says she and Tyler felt defeated, and resolved to use their platform to start a discussion about mental health.
They decided to partner with Jess Russell, who is currently running every street in Peterborough to raise awareness and funding for the Canadian Mental Health Association Haliburton, Kawartha, Pine Ridge. On January 28th (Bell Let's Talk Day), Rare donated 30 per cent of their sales to the association's mobile crisis intervention team in Peterborough, raising $1,000 to support people experiencing mental health crises.
"So many people silently suffer in this industry," Kassy says. "When we saw what Jess was doing, it aligned with what we had been feeling. Now is the time to shine a light on mental health."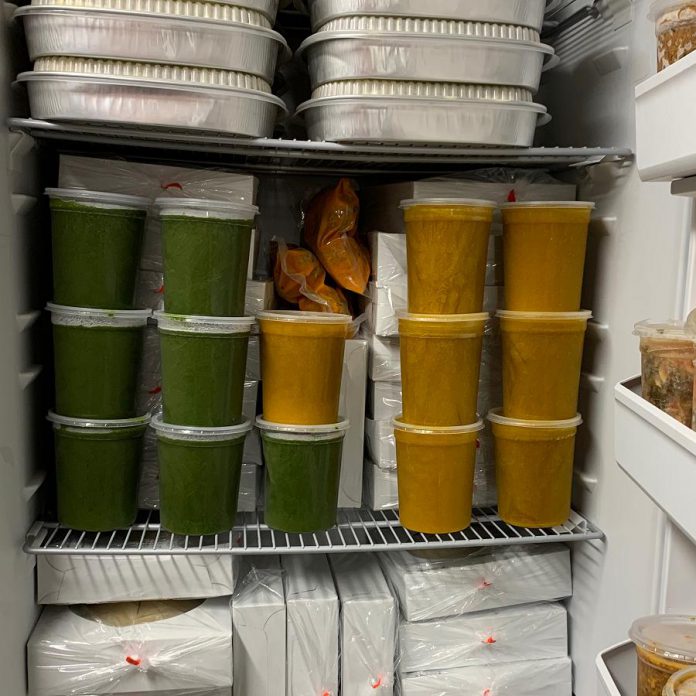 Kassy urges the community to continue showing support for local businesses and kindness to one another.
"That is what's going to get us through this pandemic — kindness and love," she says. "Any essential workers need your kindness right now."
"You don't have to order food from us to support us," Kassy adds. Following and engaging with their social media pages is a great way to support a small business like Rare.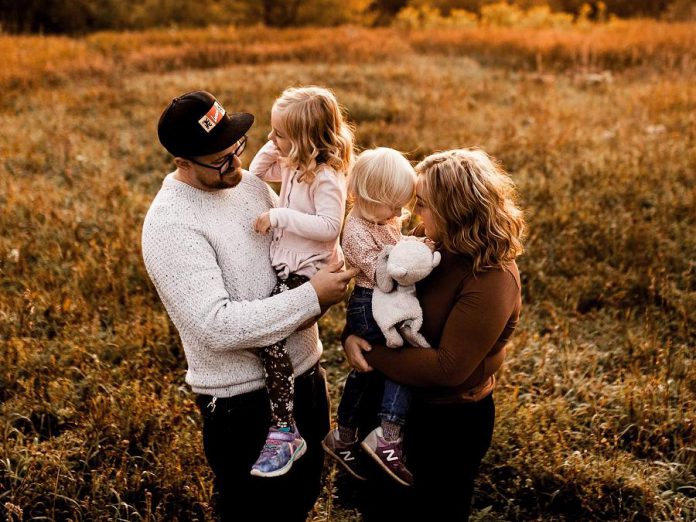 "We're just so thankful for the support we've gotten from our community," Kassy reflects.
"We're thankful for the relationships we have with other downtown restaurant owners. It speaks to the community we live in."
Rare is located at 166 Brock Street in downtown Peterborough. To view the menu and make an order, visit www.rareexperience.ca.