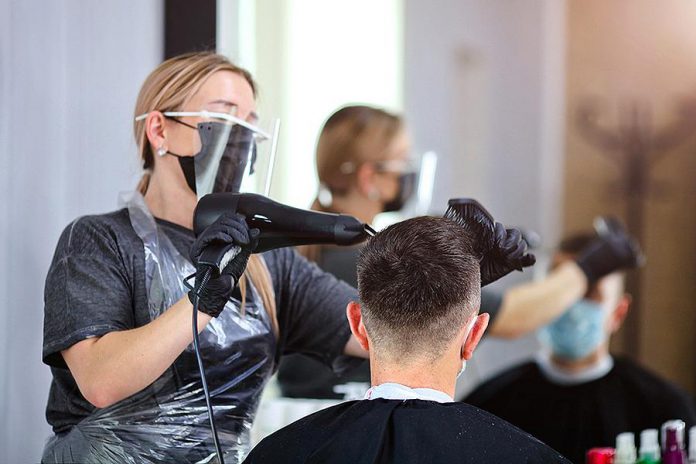 Barring a dramatic upturn in the number of positive local COVID-19 cases, the Peterborough region will see an easing of pandemic-related restrictions next week as part of Ontario's plan to slowly reopen the economy.
During a Peterborough Public Health media briefing held Tuesday (February 9), medical officer of health Dr. Rosana Salvaterra reported a total of 18 active cases of COVID-19 locally — 13 fewer than reported last Friday and reflective of a continued drop in cases seen since late December.
Dr. Salvaterra said the provincial government looks at various indicators before making any decision as to whether a particular region can loosen restrictions, as was the case Monday when the province announced that, effective Wednesday, three public health regions — Hastings Prince Edward Public Health; Kingston, Frontenac and Lennox & Addington Public Health; and Renfrew County and District Health Unit — would move back into the "Green-Prevent" level of the province's COVID-19 response framework that was in effect prior to the province-wide shutdown implemented on Boxing Day.
Advertisement - story continues below
On Monday, the government also announced Ontario's remaining public health units would be moved back into the COVID-19 response framework beginning next Tuesday (February 16) — except for Toronto, Peel, and York, where the stay-at-home order will remain in place until at least Monday, February 22nd.
Decisions on which colour-coded level each health unit moves into, from the least restrictive "Green-Prevent" level to the most restrictive "Grey-Lockdown" level, will depend on public health indicators in each health unit region.
"It's really a composite picture that is required to make that decision," Dr. Salvaterra said. "The province looks at our indicators such as far as our outbreak is concerned. They also look at capacity in terms of both public health and the hospital. They also look at what's happening with outbreaks."
"The most promising sign is our incidence rate has dropped to none for this week," she added. "We need to be below 10 if we want to be in green. We have two outbreaks (at the Peterborough Regional Health Centre and Riverview Retirement Residence). If they continue to be well controlled and are declared over, that would be more reason why green would be an appropriate zone for us to emerge in. We're trending towards green, but it will really depend on what happens between now and next week."
Dr. Salvaterra added that if local indicators "had been better last week when the data was pulled from by the province", Peterborough Public Health would have been among those transitioned to the Green-Prevent level.
"Things are looking a lot better this week, so if we keep this up I'm hopeful we will emerge at the green level," said Dr. Salvaterra.
Should the Peterborough region be moved to the Green-Prevent level, there is a wide range of activities that would be again be allowed, along with increases in the number of people that can gather outdoors (25) and indoors (10).
The level also allows, in conjunction with existing mandated safety protocols and set maximum crowd number limits, for the reopening of indoor dining establishments, retail stores, meeting and event spaces, personal care services, movie theatres, and performing arts facilities. For a full list of what's allowed and not allowed at the Green-Prevent level, visit ontario.ca/page/covid-19-response-framework-keeping-ontario-safe-and-open.
Advertisement - story continues below
"February 16th will be show time … it will be up to all of us to be diligent," said Dr. Salvaterra. "With the threat of the variants of concern now circulating in parts of Ontario, we all need to ensure that the reopening does not become the beginning of a third wave."
Speaking to the local vaccination rollout, Dr. Salvaterra noted that with Tuesday's inoculation of long-term care residents at Extendicare Peterborough and Centennial Place in Millbrook, well more than 90 per cent of residents at all eight long-term care homes in Peterborough city and county agreed to receive, and have received, their first dose of the Moderna vaccine.
The next phase of the local vaccination program, added Dr. Salvaterra, will target retirement homes and congregate care settings.
As for the enforcement of COVID-19 restrictions, one charge against a retail store has been laid, confirmed Julie Ingram, Peterborough Public Health's manager of environmental health.
"A charge was laid under the Reopening Ontario Act associated with non-compliance with masking requirements by a person responsible for the business or organization," said Ingram.
"When it comes to a person who is responsible for a business or organization, they have an obligation to be aware of the rules and requirements. Masking is no secret at this point. There is an obligation to have a masking policy in place and comply as a business owner yourself, as well as having your staff comply. In this case it was a very obvious disregard for the regulation which is what prompted the charge."
Also present and commenting during Tuesday's briefing were Peterborough-Kawartha MP Maryam Monsef, Peterborough-Kawartha MPP Dave Smith, Peterborough Mayor Diane Therrien, Peterborough County Warden J. Murray Jones, Hiawatha First Nations Chief Laurie Carr, Peterborough Board of Health chair and Selwyn Mayor Andy Mitchell, and Peterborough Police Services Chief Scott Gilbert.