The Venue in downtown Peterborough is for sale.
The multifunctional event space, located at 286 George Street North, was listed in mid-January with R.J.L. Realty Ltd. Brokerage for $2,450,000.
Previously The Vibe nightclub, The Venue was purchased in 2006 by local entrepreneur Michael Skinner and opened in 2010 after a $1-million renovation. It is currently operated by Catia Skinner, CEO of Kawartha Entertainment Group Inc.
Advertisement - story continues below
The 14,000-square-foot building — which features a lobby wine bar, main hall, and balcony lounge — has a capacity for 900 guests for a cocktail party or for 400 seated guests. Since opening, The Venue has hosted concerts, conferences, trade shows, weddings, and special events.
The ongoing COVID-19 pandemic has had a significant impact on event and performance venues, with lockdowns and public health measures either preventing organized events or requiring capacity restrictions making many events financially infeasible.
Co-owner Michael Skinner tells kawarthaNOW that, while the decision to list The Venue for sale "is not directly COVID related," the pandemic's adverse effects on business is a factor.
"Most of the events we run there are networking social events," he says, noting he was forced to lay off 53 employees when the pandemic hit last March, keeping three on who were then laid off in November.
"In the world of social distancing, it's extremely hard to run an event," he adds. "On and off, we have been allowed to let up to 50 people, including staff, come in."
Skinner is adamant he won't be devastated if the building doesn't sell.
"We're exploring to see who's out there, and sometimes the only way to find out is to put it up for sale," he says. "We've had six or seven showings, [including] a couple of people that are local. So far all the people the agent has talked to very much want to see it continue to be exactly what it is."
That's good news, particularly for Peterborough's music community that has seen a number of downtown venues close in the last couple of years. Still, Skinner acknowledges "it's possible" a buyer would want to repurpose the building.
"But it's a special-purpose building that's very much built for entertainment," he notes.
"We're selling it with all the chattels, all the equipment, the sound system, and the whole works. We also have quite a number of events that are booked, a lot of annual events that we run. When we finally have a vaccine and things open back up again, all of those events are going to still happen. It's not impossible [that it would be repurposed], but I'm not sure how feasible that would be."
Advertisement - story continues below
"We can be a bit picky and choosy on who buys it," Skinner says. "I want it to benefit our downtown where I think it has become a bit of a pillar. I want to see that continue. I put a lot of my soul into building it. We didn't necessarily do it from a financial point of view. Catia and I typically donate back whatever profit it makes at the end of the year."
Skinner makes it clear The Venue has, and will continue, to make money.
"It hasn't made a lot of money every year because we've donated a lot back but I don't want to give the impression it doesn't make money, because it does. Somebody else coming in doesn't have to do that [donate back to the community], although we'd encourage it."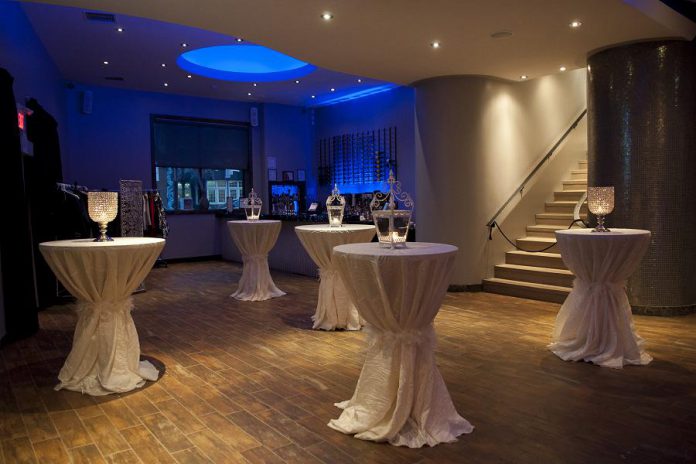 Skinner says he was driven by a "personal passion" to establish The Venue, and hopes that any new owner would see the value it serves to the community as an multifunctional event space.
"We needed something in the community that brought everyone together. We want someone that wants to build community and keeps the same vision of it being multi-purpose and has the vision to keep it going."
To that end, Skinner says he's willing to work with a potential buyer to make the sale happen.
"We're willing to do a pretty significant VTB [vendor take back]. Catia and I are willing to hold the financing. We know that financing special-use buildings is tricky. We're willing to be the financer or even potentially a minority partner. We're pretty flexible as long as the buyer is willing to support both the business and the arts community."