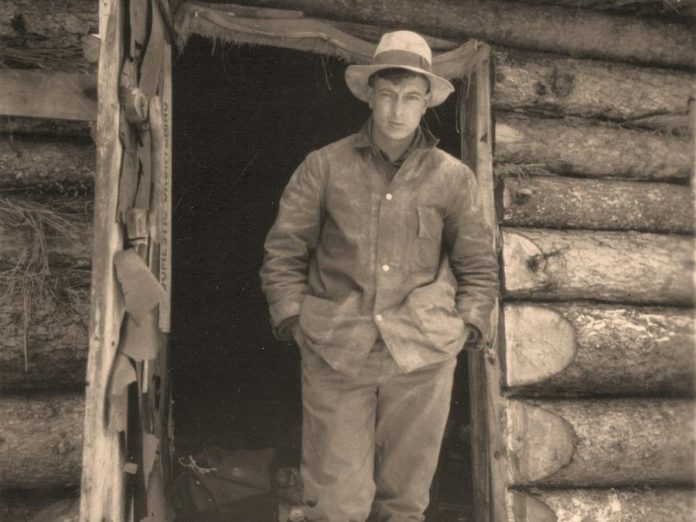 An 86-year-old mystery in Haliburton County is about to be solved — or not — in front of an international audience.
On Thursday, March 4th, the new docuseries For Heaven's Sake comes to CBC Gem in Canada and Paramount+ (previously CBS All Access) in the U.S.
The eight-part series follows the search for Harold Heaven, a 31-year-old land prospector who disappeared without a trace from his cabin in Minden on October 29, 1934 and was never heard from again.
Advertisement - story continues below
The door to his cabin was found ajar, the keys still inside the lock, his laundry still soaking, and his oil lamp burnt out. The only items missing from the cabin were Heaven's blue serge suit, black oxfords, a sweater, his fedora, and his new .22 rifle.
Local police and residents searched the bush and dredged the adjacent lake for Heaven, but found no clues. The OPP carried out investigations throughout the remainder of 1934, but the case went unsolved. While Heaven's brothers continued the search for the rest of their lives, the case was closed as a likely suicide.
Until a few years ago, that is, when Heaven's great-great nephew Mike Milden and his best friend Jackson Rowe became determined to solve the mystery of what happened.
VIDEO: "For Heaven's Sake" Trailer

With the help of Milden's extended family, neighbours, town locals, police reports from 1934, and old photographs, they dug deeply into why Heaven left his cabin so quickly.
And they literally dug deeply.
Heaven's descendants have long believed his body is buried beside the property of a possible suspect mentioned in the OPP police reports from 1934. In February 2020, a ground-penetrating radar scan raised the possibility of a grave site being located in the area.
But Milden and Rowe couldn't move forward until the ground thawed — and then the COVID-19 pandemic hit and the accompanying provincial lockdowns led to a pause on their efforts.
Filmed partly in Minden, For Heaven's Sake blends the true-crime documentary format with comedy for a unique take on uncovering the truth. As well as being amateur investigators, Milden and Rowe are both professional comedians in Toronto and cofounders of the comedy sketch troupe Trophy Husbands, whose award-winning material has been featured on Amazon Prime, Funny or Die, Just For Laughs, Huffington Post and more.
For your binging pleasure, all eight episodes of For Heaven's Sake will premiere on CBC Gem and Paramount+ on Thursday, March 4th.