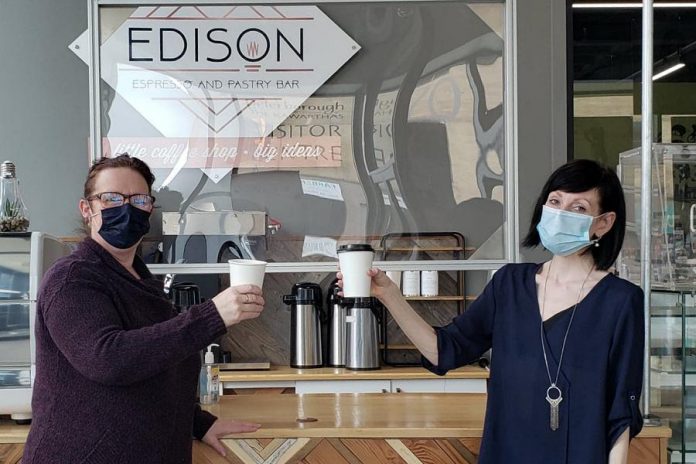 Coffee connoisseur Lindsay Brock has sold The Edison Espresso and Pastry Bar in downtown Peterborough to local entrepreneur Tracey Ormond.
The two women announced the deal on Tuesday (March 2).
Brock has successfully operated the popular coffee shop, located in the lobby of the VentureNorth building at 270 George Street North, since she founded it in 2018.
Advertisement - content continues below
She says the decision to sell her business is related to her "compromised health, compounded by the pandemic."
"Continuing operations wasn't realistic for me," Brock explains. "Tracey is the perfect fit, as she is well respected in the community and has the right mix of genuine warmth, personality, and passion to carry on the vision."
Ormond is also the owner and operator of That's A Wrap Catering and is known for her fresh, ready-to-eat meals. She is a past president of the Women's Business Network of Peterborough.
"I look forward to starting this new venture and to continue the legacy of Lindsay's vision," Ormond says. "Even though I'm adding my own flavour, the great service, products, and friendly, inviting environment will remain the same."
Ormond plans to reopen The Edison at 9 a.m. on Monday, March 8th with a new menu that will include fresh lunch and snacks, featuring a soup of the day, wraps, sandwiches, breakfast cookies, and scones, as well as a few other customer favourites.
Advertisement - content continues below
Brock, who sells coffee beans through her new business Covet Coffee & Tea, will continue to supply The Edison with its popular bean blends.
"I want to thank all of my patrons who have supported me and The Edison since day one," Brock says.
For more information about The Edison Espresso and Pastry Bar, contact Tracey Ormond at tracey@thatsawrapcatering.ca or 705-768-7168.
For more information about Covet Coffee & Tea, visit covetcoffeeandtea.com.