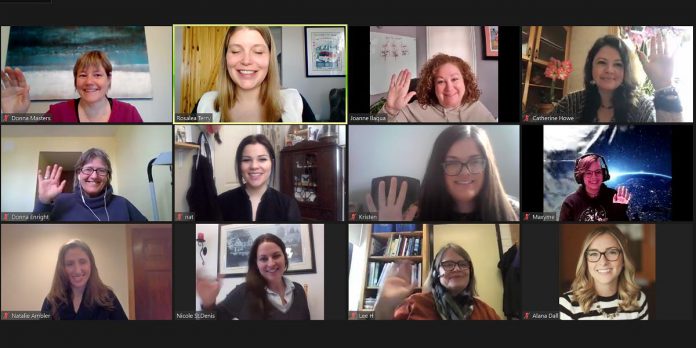 Ten more female entrepreneurs are going to benefit from the Innovation Cluster's Women Breaking Barriers program.
On Tuesday (March 2), the Innovation Cluster announced the 10 participants in the second cohort of the six-month business acceleration program, which is designed specifically to support women in science, technology, engineering, mathematics (STEM) and social innovation.
Statistics show that only four per cent of venture capital funding goes toward women-led companies. The situation is even worse for female founders of colour, who get less than one per cent of venture capital each year.
Advertisement - content continues below
Through the Women Breaking Barriers program, the Innovation Cluster is working to improve these numbers through training sessions, weekly mentorship with advisors, peer-to-peer learning, community networking, and more.
The 10 female entrepreneurs in the second cohort of the program are:
Catherine Howe, founder of Tamarack, an initiative that merges the farm-to-table movement with youth-based social agriculture and wellness mentorship.
Donna Enright, founder of ShopCloseBuy, an innovative community e-commerce and marketing platform.
Donna Masters, founder of Monketivity, a platform to provide transparent and factual information on health and wellness topics.
Joanne Ilaqua, founder of Mamasoup, a mobile app that provides a support ecosystem for mothers.
Kristen Corrigan, founder of Peer Support Online, an online platform for peer support moderated groups or one-to-one chat sessions.
Lee Hamr, who is creating a distribution system for cider apples and juice in Ontario while creating training opportunities for youth.
Maxyme Cloutier, founding member of Ghoster33 R&D Inc., which aims to create biodegradable smoking equipment.
Natalie Ambler, director at OptiSolve Ltd., which provides engineering technology to advance cleaning and disinfecting productivity for improved environmental health and safety.
Natalie Duncan, founder of Bug Mars, which aims to create self-sustained, modular, automated, and attractive cricket farms for a range of applications across home and commercial uses.
Nicole St.Denis, who is creating an interactive directory service website and mobile app platform where small and medium-sized businesses are banding together to end community hunger.
Women Breaking Barriers is a one-year pilot program supported by RBC and the Ontario Trillium Foundation. The first six-month cohort of the program ran from September 2020 to February 2021. The first 10 participants were able to pitch their businesses to the Peterborough Region Angel Network, with multiple companies moving forward with discussions of investment.
One of the participants in the first cohort was Robin Linton, co-founder of Undu Wearables, which produces a modern wearable solution that leverages heat to combat pain caused by menstrual cramps.
"We launched our business during the fourth month," Linton says. "The access to knowledge leaders, mentors with diverse experiences, templates, and resources all helped to successfully launch our business."
Advertisement - content continues below
"To ask for help and to receive it, to talk about femtech and menstrual pain and not be met with uncomfortable faces, to be vulnerable and collaborative — these are just some of the invaluable benefits to working with women-identified folks in the inaugural cohort of this incredible accelerator program," Linton adds.
Based on the program's success to date, the Innovation Cluster hopes to be able to extend Women Breaking Barriers beyond the one-year pilot.
"This targeted programming is proving to be far more important for the female-led companies than we had even initially expected," says Rosalea Terry, program lead and marketing manager and senior innovation specialist with the Innovation Cluster.
"This accelerator program is changing the lives of female founders and the trajectory of their companies," she adds. "It does so by giving them easy access to financing, the proper resources to become successful, and a group of like-minded founders to weather the storm of entrepreneurship with."