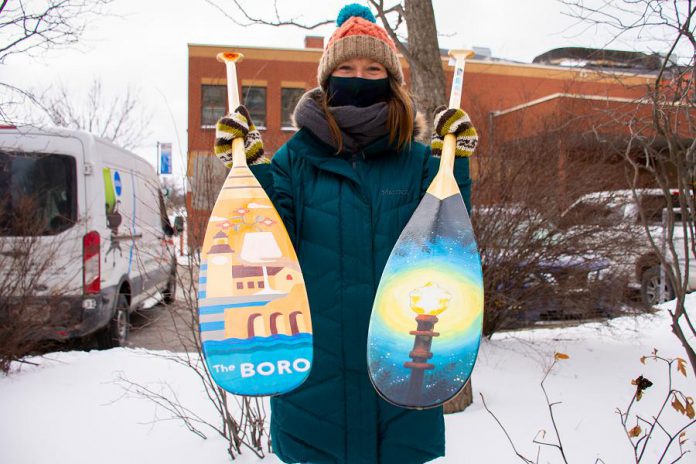 If you missed them during February, you have one last chance to see a public art exhibit of 20 painted canoe paddles in Peterborough on Friday (March 5).
The Downtown Vibrancy Project's Painted Paddle installation will be on display from 6 to 8 p.m. inside the Commerce Building, located at the northwest corner of Water and Hunter streets in downtown Peterborough, as part of the First Friday Peterborough COVID-modified art crawl.
Throughout February, the installation was on display as part of a passive art crawl, with individual paddles displayed in street-front windows at various locations throughout downtown Peterborough. All 20 paddles will be brought together for the first time at the First Friday exhibit in the Commerce Building.
Advertisement - story continues below
Some of the people and organizations who contributed painted paddles for the installation included Peterborough mayor Diane Therrien, Hiawatha First Nation, Wiigwaas Hiawatha Store, Peterborough Police Service, Peterborough Downtown Business Improvement Area (DBIA), GreenUP, Trent Gzowski College, Trent Veg Garden, Peterborough Pollinators, Princess Gardens Retirement Residence, Empress Gardens Retirement Residence, St. Anne's School, VegFest, B!KE, the Art School of Peterborough, city councillors Kim Zippel and Kemi Akapo, mother-and-daughter team Eileen and Kendron Kimmett, local Anishinaabe artist Kyler Kay, and local artist Tiphaine Lenaik.
"We are so grateful to everyone in the community who took part in the tour, voted for your favourite paddles, and bid in the paddle auction," says Terry Guiel, executive director of the DBIA. "We hope they brought you as much joy as they have brought us here at the DBIA."
From February 19th to March 4th, the paddles were auctioned off to raise funds for the One City Employment Program, which provides meaningful work to those with barriers to traditional employment. More than 500 bids were received, raising over $5,000 for the One City Employment Program.
"From connecting with the volunteer artists to setting up the tour, this project has been a complete joy to organize," says Dawn Pond, Downtown Vibrancy Manager of the DBIA. "Although it is easy to forget sometimes, especially being so separated during lockdown, that incredible people are doing incredible things here in Peterborough. I hope the painted paddles brightened up your winter days and reminded you that our community is pretty special."