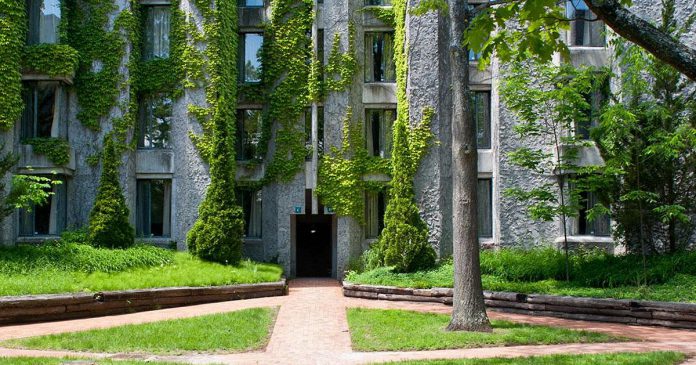 There's a new COVID-19 outbreak at the Champlain College student residence at Trent University in Peterborough.
Peterborough Public Health declared the outbreak on Thursday night (March 4).
kawarthaNOW reached out to the health unit for information on the number of confirmed cases related to this outbreak and whether this outbreak is related to the one at Severn Court Student Residence near Fleming College.
Advertisement - story continues below
Peterborough Public Health has advised kawarthaNOW that, as of noon on Friday (March 5), there are five COVID-19 cases associated with the Champlain College outbreak. The health unit does not yet know how many, if any, of these cases have screened positive for variants of concern.
The health unit has also confirmed the index case for the Champlain College outbreak is connected to the Severn Court outbreak. Peterborough Public Health declared the outbreak at Trent University because of evidence of virus transmission occurring at the Champlain College residence.
The health unit has also noted that there are two separate groups of students at Trent University related to the two outbreaks: Trent students who were exposed at Severn Court and are now self-isolating at the Otonabee College residence, and Trent students exposed at the Champlain College residence who are now self-isolating there. The first group of Trent students is not being counted as part of the Champlain College outbreak.
The Champlain College residence, located on Trent University's Symons Campus, provides rooms for more than 200 students.
On Thursday night, Trent University sent an email to all faculty and students about the outbreak and the following public health measures to contain the spread of the virus:
Students living in residence at Champlain College who are asymptomatic and have not been identified as a direct contact of someone with a COVID case will receive special support as they remain in residence, attend their classes remotely or online only, and pick up food exclusively at the Great Hall at Champlain College.
Champlain students will be prohibited from using other facilities such as the Athletics Centre, the Student Centre and other spaces outside of their college.
Champlain students will not be able to entertain guests, gather in residence or college common spaces.
Additional cleaning and sanitizing protocols have been be added.
Arrangements will be made for students living in residence from the other colleges on Symons Campus to dine in alternative dining halls.
Any students with COVID-19 currently residing on campus or identified as close contacts of someone with COVID are staying in the separate residence specially designated for isolation. All are connected with Peterborough Public Health and receiving support and services from the university.
No individuals who have tested positive for COVID-19 will leave isolation until advised by Peterborough Public Health that it is safe to do so.
Advertisement - story continues below
The university states it continues to work with the health unit to prevent any further spread of the outbreak and will continue to monitor the situation and provide updates.
The outbreak at the Champlain College residence comes less than a week after an outbreak was declared at Severn Court Student Residence, a privately owned student housing complex near Fleming College. The outbreak was the result of one or more parties held at the residence on February 20th, which included several Trent University students.
As of Thursday, the Severn Court outbreak has resulted in 44 positive cases of COVID-19, 30 of which have screened positive as a presumed COVID-19 variant of concern. There are also 40 high-risk cases living at the six-building complex, and more than 60 high-risk contacts have been identified outside of the Severn Court residence.