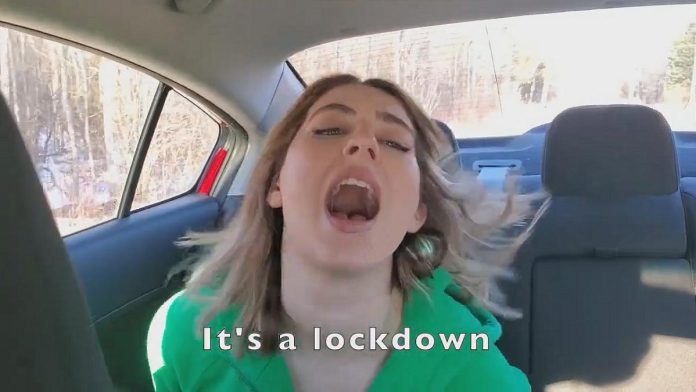 With March 11th the one-year anniversary of the World Health Organization declaring a global pandemic, a Selwyn Township family marked the occasion by releasing a parody song about the pandemic.
This is not the family's first time tackling a COVID-19 parody song project. Last April, 23-year-old Ashton Kelly and her family released their first parody song and its accompanying video on YouTube — "Something to Do-ah (The Isolation Song)" to the tune of "Hallelujah" by Leonard Cohen — garnering almost 28,000 views.
Now a year later, their second parody song "Life in a Pandemic (don't it stink)" is set to the tune of Canadian musical icon Alanis Morissette's 1996 hit "Ironic" — with the parody video mirroring Morissette's original music video.
Advertisement - content continues below
"Last year, we came up with the idea to do a fun parody song just to lighten spirits a bit," explains Ashton, who sings in both the videos. "We got a really good response we weren't expecting, so this year we decided as an anniversary celebration of the first song that we'd do a second one."
This time around, Ashton and her mom Deborah wrote the lyrics, while Ashton's stepfather Mark Russell filmed and edited. The entire project took about a week and a half — four days to write lyrics, three and a half days to film, and three days for post-production.
In addition to her passion for singing, Ashton is pursuing acting as her career and is currently a student in a post-secondary acting program that holds some in-person classes. The "Ironic" parody song was shot during Ashton's reading week.
VIDEO: Life in a Pandemic (don't it stink?) – Ironic Parody

"It's hard with COVID … there are no live performances," Ashton notes. "This is a good way to get my creative juices flowing again. It's something fun for the whole family as well as keeping that aspect of my passion for singing and acting alive."
"I was stressed and hard on myself the first time around," she adds. "This time, I was more worried about it being fun. I wanted it to be something families could enjoy, and our family and friends could laugh at."
In comparison with the initial video, this one is a fun look at how much and how little has changed over the last year regarding the pandemic. According to Ashton, creating the second video was a reality check for her and her family that it has been a whole year of the pandemic.
Advertisement - content continues below
"It was kind of crazy writing lyrics for a pandemic that's still going on because it was very similar," Ashton says. "We weren't expecting last year that we would be in the same predicament a year later."
In another sense, this second song exemplifies the difference in how many now deal with and talk about COVID-19. For example, there are lyrics about the COVID vaccine, which is being rolled out in Canada at a much slower pace than in many other countries ("Please give us the shot much quicker").
Ashton says pop-culture references, including Canadian references, were essential for the song, especially since this was one of the most popular elements of last year's parody video.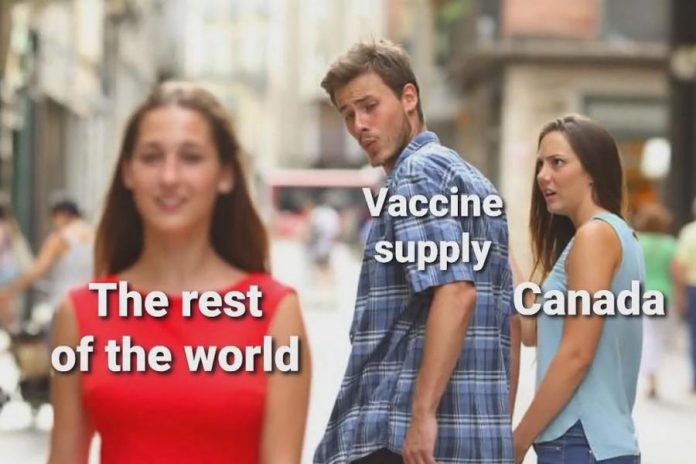 "We wanted to make sure that we did the same thing but made it new and based on what's popular right now," Ashton explains..
The contrast between references to the Netflix hit Tiger King in the first video and currently popular shows like Bridgerton and Schitt's Creek in the second brings to light the ways popular culture has continued to shift throughout a pandemic as prevalent now as it was a year ago.
Another one of Ashton's favourite lyrics pokes fun at the unique struggles that have accompanied a pandemic: "It's DMing the man of my dreams, and then hearing his anti-mask shite."
Advertisement - content continues below
While lyrics like these are comedic, they also hit on how the pandemic has reached and affected seemingly unrelated aspects of an individual's life, such as dating.
Ashton says keeping the video distinctly Canadian was also important to her family — a partial motivator for their choice to cover "Ironic" by Alanis Morissette.
"It's a recognizable song and is Canadian," Ashton explains. "We knew that people of all generations were going to know and recognize the song, and it's more upbeat in comparison to Hallelujah last year."
With a few calculated variations, the parody music video is almost a shot-for-shot recreation of Morissette's original music video. However, the video's last shot where Ashton walks away from her car varies from Morissette since Ashton puts on a mask in her video.
The video's repetition of the original with subtle variations that distinctly reference COVID is a fun way to show how COVID has changed daily life.
Regarding the family's expectations in creating this video, Ashton says they have no expectations of it going viral. Instead, they want it to be something fun to lift people's spirits around a topic and time that can be negative and exhausting.
"We wanted to make sure this wasn't diminishing anyone's struggles with due to COVID," Ashton says. "We just want to entertain people. We love entertaining, and that is the career I have chosen for myself. It's also fun to do with family — it was a bonding experience."
Since being posted on YouTube on Thursday (March 11), the video has over 1,700 views and more than 40 likes as of the date of this story.