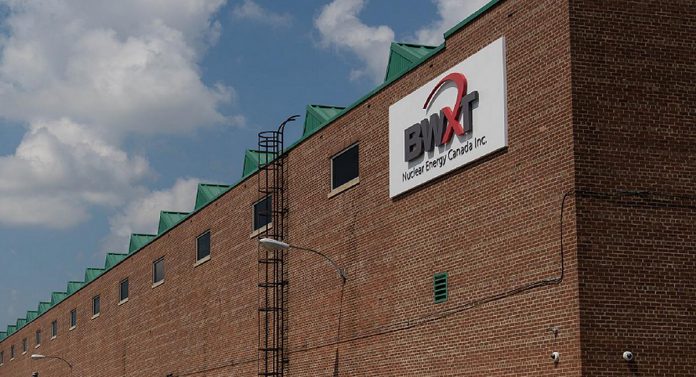 As a follow-up to its recent issuance of a new operating licence to Peterborough-based BWXT Nuclear Energy Canada Inc., the Canadian Nuclear Safety Commission (CNSC) hosted a webinar Wednesday (March 31) that summarized its findings as they pertain to beryllium levels in soil and air samples.
In July 2020, CNSC staff conducted soil sampling for beryllium in the vicinity of BWXT in Building 21 of the former Hitachi GE nuclear facility where uranium fuel pellets may one day be manufactured.
In mid December, based on the results of the sampling that concluded "there is no risk to the environment and human health" for properties in the facility's vicinity, CNSC granted BWXT a 10-year licence effective January 1st, 2021.
While pellet manufacturing isn't being done now at the Peterborough facility, BWXT sought a licence in the event the production of pellets is moved to the city from Toronto within the next 10 years.
Advertisement - story continues below
As reviewed during the webinar by Kiza Sauvé, the director of CNSC's Health Sciences and Environmental Compliance Division, beryllium — a carcinogenic heavy metal — is naturally present in soil but activities that add to its level include the burning of coal, fuel oil, and petroleum-based substances.
"The most restrictive criteria for beryllium concentration in soil is 4 milligrams per kilogram," noted Sauvé, adding "the natural background range for soil not contaminated by industrial sources is up to 2.5 milligrams per kilogram."
"All of the concentrations of beryllium in soil measured in the CNSC's independent environmental monitoring program sampling campaigns during 2014 to 2020 are within the (natural) background range."
BWXT manufactures nuclear fuel bundles for use in CANDU nuclear reactors — one of three licenced suppliers of fuel bundles in Canada, supplying both the Pickering and Darlington nuclear power plants.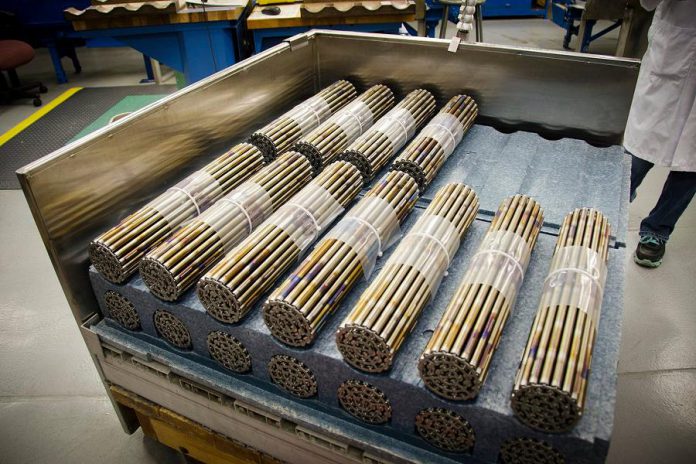 Sauvé explained that brazing — a metal joining process used to connect nuclear fuel bundle components — employs beryllium as a fusing agent. That results in the creation of airborne beryllium particles that present an occupational hazard for workers.
To mitigate the risk, the space is maintained under negative pressure so all airborne particles are collected and removed via a filtration system before the air is emitted to the atmosphere.
"Beryllium emissions from BWXT's Peterborough operation are at a level that could not result in a change in beryllium soil concentrations," concludes the CNSC report.
Despite that assurance, and what appears to be strong evidence that backs it up, a Peterborough-based organization is moving ahead with its legal challenge of the CSNC decision to issue BWXT its 10-year licence.
Citizens Against Radioactive Neighbourhoods (CARN), represented by the Canadian Environmental Law Association (CELA), has filed an application for a judicial review of the decision. Along with beryllium contamination, the group objects to the potential production of uranium dioxide pellets at BWXT's Peterborough plant.
According to CARN spokesperson Bill Templeton, at issue is the facility's manufacturing process being simply too close to Prince of Wales Public School on Mongahan Road at Sherbrooke Street, as well being adjacent to residential neighbourhoods both north and south of the site.
Advertisement - story continues below
"If this were happening in an industrial park on the outskirts of the city or, better yet, on vacant land quite far from Peterborough, it wouldn't be an issue," said Templeton.
"The reason our shorts are in a knot is we can't find anywhere else in the world where this situation exists: that they make nuclear fuel pellets next to an elementary school."
"When you and I drive along the 401, we see Darlington, we see Pickering in the distance. We notice there are huge empty fields around them. That's on purpose. Where are those empty fields here?"
Of note, added Templeton, is the fact that one of the CNSC five panel members — Dr. Sandor Demeter — voted against the BWXT licence application.
"He has concerns … he says there are some risks here," said Templeton.
"As long as there's doubt, as long as there are risks, why not err on the side of caution? His voice was overruled. He's one of five but he was the only one (of the panel members) with a medical/health background who's qualified to judge about the impact on human health."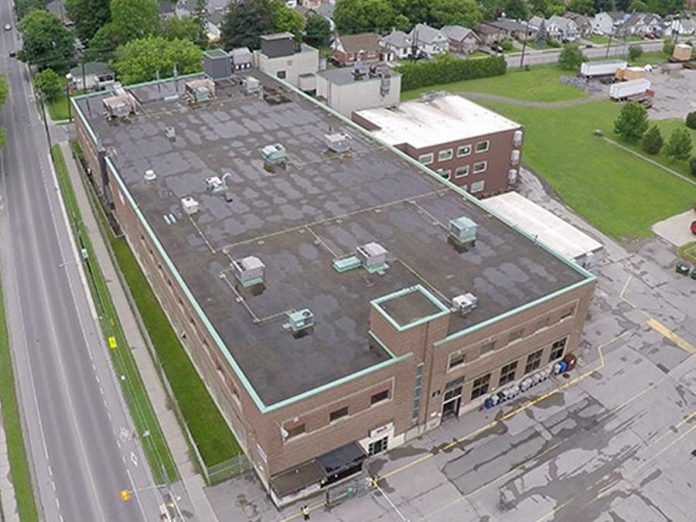 Templeman said the CNSC is "a captured regulator", adding "they want to see the nuclear industry go forward. Of course, it's their stock and trade. They did not get independent testing done of the beryllium issue. They (CNSC staff) are qualified but they're evaluating their own work."
According to a release from CARN, it's seeking an order declaring that "the CNSC's issuance of a licence permitting pelleting in Peterborough unlawful, and the licence conditions allowing for this change to be deemed invalid and of no effect."
Asked by kawarthaNOW during the webinar if CARN's challenge will in any way impact the issuing of the licence, CNSC's Nuclear Processing Facilities Division Director Andrew McCallister, said, in a word, "No."
"The judicial review has not imposed a stay on the licence activities or the associated work by CNSC staff," he clarified, adding "We're continuing to ensure that that BWXT's Peterborough operations continue to operate in a safe manner."
For the complete CNSC decision as it pertains to the BWXT licence application, visit .
PDF: BWXT Nuclear Energy Inc. Peterborough webinar
PDF: BWXT Nuclear Energy Inc. Peterborough webinar