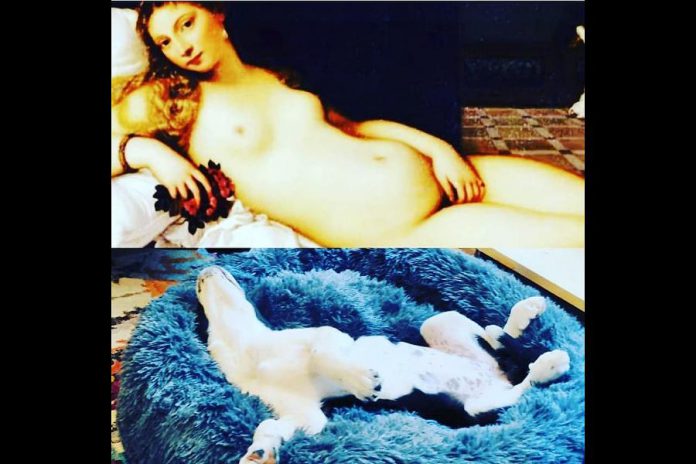 When Peterborough writer and small business owner Michelle Berry first announced she would be taking home a new puppy, she alerted her Hunter Street Books Facebook following they would be seeing more "puppy and book photos".
Now, a couple of months later, her three-month-old puppy named Maybe — an Australian shepherd, collie, and lab mix — has an Instagram account of her own, where Berry shares photos of the puppy resembling famous works of art.
The idea to pair Maybe's photos with the works of art they resemble came about after Berry initially posted a portrait of Maybe on the store's social media accounts, captioning it 'Maybe, by Picasso'.
Advertisement - content continues below
"I got such a funny response from people because you can't tell where her arms and legs are — she looks like a Picasso painting," Berry recalls. "I didn't put any connecting pictures on, like I did later on. I did a few more and then slowly started adding the pictures I was referencing to the posts."
"I was doing it for my kids, really, especially my daughter Abby because she's in art history," she adds. "And then people responded so nicely through Instagram and Facebook."
Although she still shares these photos on her bookstore's social media accounts, Berry recently created an Instagram account @maybe21art dedicated to the Maybe photos.
The account bio, which says Maybe "loves art and books and has a good sense of humor," highlights what makes the project special: the combination of Maybe's cuteness and fun personality with Berry's clever humour and artistic eye.
As the accomplished author of three books of short stories and six novels, Berry's photos demonstrate her talent for storytelling.
"A lot of people were seeing me as an author with it and thinking they could become a kids' book or something," Berry explains. "It is a great way to introduce people to art. Even myself — I'm learning about new artists."
Advertisement - content continues below
Maybe's pictures are a natural extension of the fun, comedic content Berry typically shares on the Hunter Street Books social media platforms.
"I have a lot of customers who like following my Facebook page because it's not just about books," says Berry.
However, Berry shares that it has been challenging during COVID_19 to find content to share that hit the marks as funny, lighthearted, book or art-related, and non-divisive.
"I didn't want to hurt anybody, and I knew some people were going through such a hard time," Berry says. "Some things were just not funny anymore."
By sharing photos of Maybe looking like art, Berry can again post content that will be a positive break on her follower's social media feeds during a time when the internet can feel like a sad and controversial space.
"It is really important to see something that is funny and cute and makes you feel happy," Berry notes. "People say to me, 'I look forward to my Maybe picture every day.'"
Advertisement - content continues below
According to Berry, circulation of the photos has even helped acquire some new customers for her store. Hunter Street Books is now a fully online local bookstore, since Berry closed the retail location in March of 2020.
Through the online store at hunterstreetbooks.com, customers can place book orders that Michelle personally delivers in her electric car to Peterborough's addresses free of charge. Customers can also pick up their orders at META4 Gallery on Hunter Street in downtown Peterborough, which offers curbside pickup during the existing provincial stay-at-home order.
Berry offers 10 per cent off on in-stock books — which now live on bookshelves in a room of Berry's home.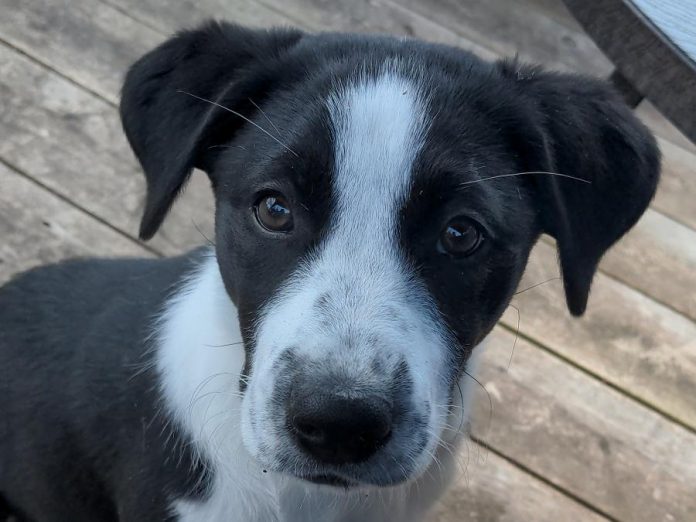 "There are about 900 books and about 10 bookshelves from the store, so I can deliver that stuff pretty quickly," Berry says. "Or customers can order books they've heard about. I can order in and they have to wait for it (to arrive). With COVID, it's hard to predict the timing, but it usually takes about a week, maybe 10 days at most."
All orders must be pre-paid through the website, which offers VISA, MasterCard, and e-transfer as payment options.
While she has a blast doing it, matching Maybe's photos with art is a time-consuming task for Berry, who is already busy running her bookstore entirely on her own.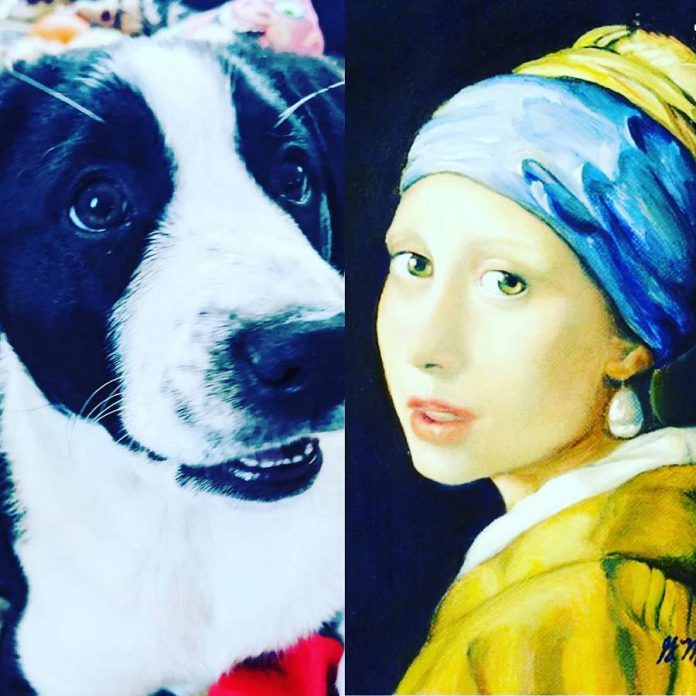 "I don't take the pictures of Maybe first," says Berry. "I look through my pictures and then find the art that goes with it. Sometimes it takes about an hour."
Berry's time is well spent since viewers find comic relief in seeing Maybe's human qualities brought out through the visual comparisons. For instance, one photo of Maybe bears a resemblance to Vermeer's "Girl With a Pearl Earring", since Maybe's lips and mouth placement are identical to the woman in the painting.
From Berry's description, it seems the photos are as much a snapshot of Maybe's fun personality as they are of Berry's creative and artistic one.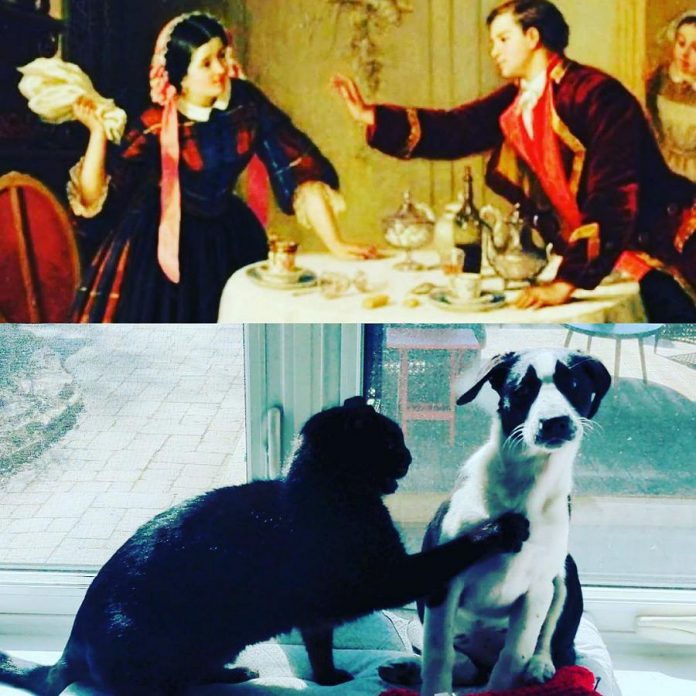 "She wins your heart in a second," Berry laughs.
"She abuses our poor 19-year-old cat Max," she add, jokingly. "She wants to play. She never bites him or anything like that. Max is trying to enjoy the rest of his life which might not be very long, and this puppy comes in and drives him crazy."
Berry and her husband Stuart Baird decided to adopt Maybe after losing their first dog Buddy a few months prior.
Advertisement - content continues below
"I'd only had one dog in my life and it was Buddy, and I was never going to get another one," Berry recalls, in explaining Maybe's name. "I kept saying to Stu 'Maybe we should get a dog.' At one point, he looks at me and says, 'Maybe!' (as a name), which was perfect because we love Arrested Development." (Maeby Fünke is the granddaughter of the Bluth family in the cult TV sitcom).
As for adding the care of a new puppy to her busy schedule, Berry notes she is glad to have her husband's help and that she's happy they're not doing it during her busy season at Christmas.
"She is my box-opener," says Berry. "I'll undo a box and lay it flat, and she spends hours ripping apart the cardboard. She doesn't eat the cardboard; she just throws it on the floor."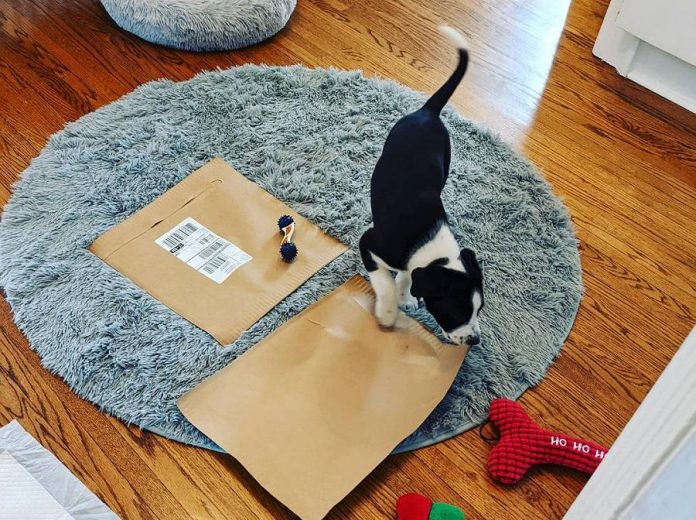 Another project Berry has been working on while raising her new puppy is preparing to release her novel Everything Turns Away at the end of this summer. Berry wrote the novel in 2006, but Berry has spent the past few years editing it to prepare for publication.
Berry teases the novel as a literary thriller about two couples who get tangled in an incident right around September 11th, 2001. While the book is not about 9/11, Berry says it is, in a sense, about how individuals interpret the news.
"I had finished it (in 2006), and we'd tried to sell it with my agent," Berry says, explaining the delay in publication. "Everyone liked it, but everyone kept saying that it was too close to 9/11. I put it away for 11 years and then pulled it out a couple of years ago and showed it to my editor. He said, 'This is fantastic, let's publish this.'"
This novel, like Berry's past publications, will be sold anywhere that sells books —including, of course, Hunter Street Books.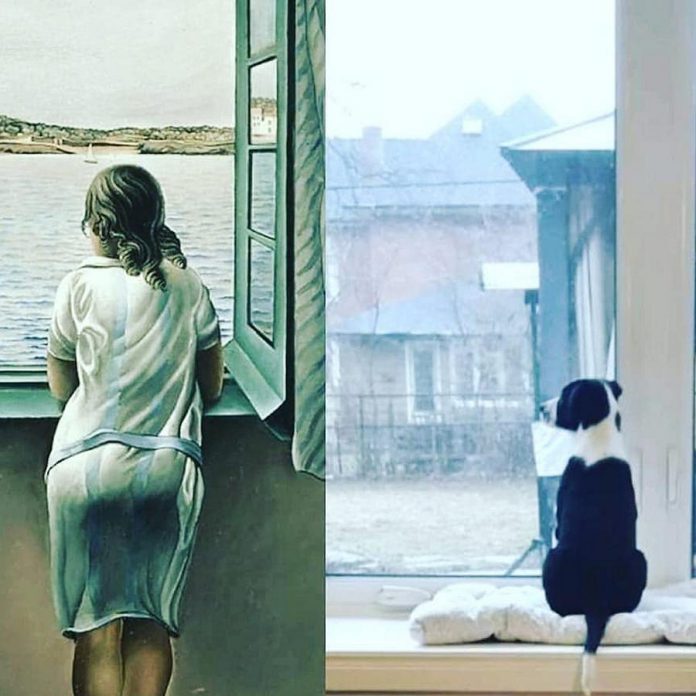 To stay updated on Berry's upcoming book and other Hunter Street Books content, you can follow Hunter Street Books on Facebook and Instagram.
Visit the Hunter Street Books website at hunterstreetbooks.com to learn more about the local online bookstore and to place an order.
Books orders can be picked up at META4 Gallery, located at 164 Hunter Street West in Peterborough.
To add Maybe looking like art to your Instagram feed, you can follow @maybe21art.