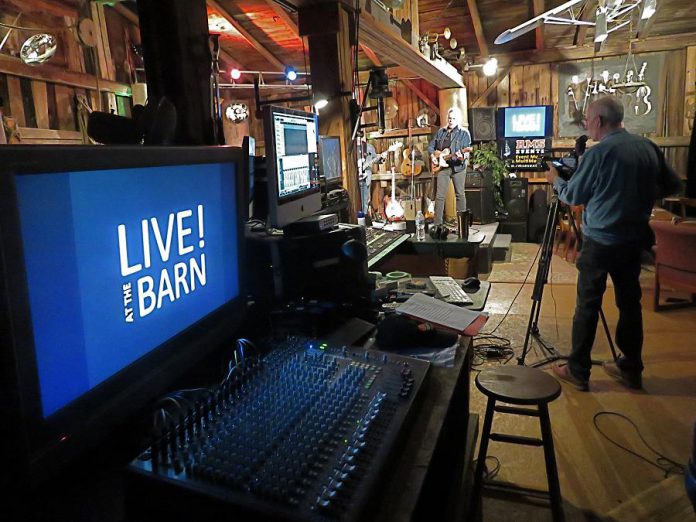 As continued pandemic restrictions threaten to see 2021 mimic its predecessor, what seemed like a good idea last year has evolved into a hope-sustaining lifeline for musicians whose sanity is dependent on live performance opportunities.
Live! at the Barn — a YouTube-featured compilation of live-off-the-floor performances produced, recorded, and edited by Andy Tough in the Norwood-area barn studio space he owns with his wife Linda — is returning for a third series with recording set to start in June.
Featured acts this time around are folk-roots duo Melissa Payne and Dylan Ireland, swing-rockabilly guitarist Nicholas Campbell and the Two Metre Cheaters, multi-music genre singer-songwriter SJ Riley, reggae-influenced rock band The Raggedy Andys, pop country singer-songwriter Elyse Saunders, and classic rock 'n' roll tribute band The Soda Jerks.
Advertisement - content continues below
Similar to the first two series, each act isn't charged for Tough's time and talents, and is given a recording of their performance to do with as they please.
According to Tough, the plan is to have each performance edited for their premiere starting in mid August on his YouTube channel, where performances by the 10 acts featured in the first two series can also be accessed.
"People are watching, for sure," Tough says, noting views of his channel have increased by 11,000 since the first series debuted with close to 100 new subscribers on board. In addition, individual song selections from each performance have been regularly posted on Linda's Facebook page, bringing even more views the way of each act.
"It's one of those things where you throw it online and see if anybody bites," says Tough, adding "Streaming in general is pretty much the only way to see music (performed) anymore."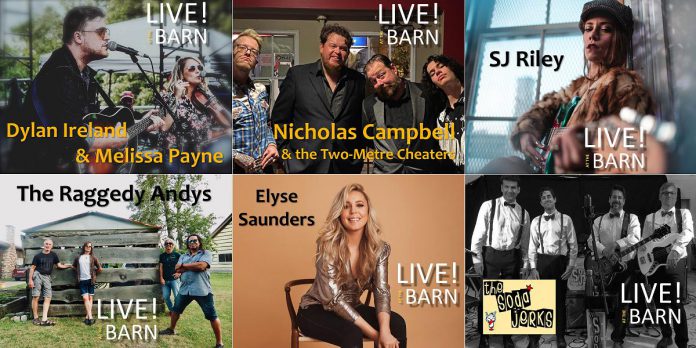 Asked if he's fearful that streaming fatigue is setting in, both on the part of performers and those watching online, Tough acknowledges "There's an inundation of people putting their stuff out there."
Still, he says the finished product has improved greatly since the advent of the pandemic.
"It's better in terms of quality. It's more watchable. It used to be that it was just cellphone video. That doesn't do an artist any good at all. I'm sure that most artists out there have boned up on their technical skills in terms of being able to capture themselves on camera and produce good audio. The bar has been raised. That and people are more comfortable now going on online. There's no more flashing lights on your VCR."
Advertisement - content continues below
One thing that hasn't changed is Live! at the Barn is as therapeutic for Tough as it is for each musician who takes to his stage. His core business, RMS Events, a multimedia enterprise specializing in audio/video production and presentation, has been obliterated by the restrictions on large gatherings.
"For us it's a fantastic opportunity to heal by music in our barn," he says, adding "Working with the bands and getting their input and seeing their energy — that comes right back at you. Energy in. Energy out."
"Everybody was hoping and praying this year would be different than last year. It isn't. I can't foresee any big live events happening any time soon and that is depressing for a lot of people, myself included. But we've got a model that we developed last year on the fly and now we can continue to move forward with it and get more musicians involved."
VIDEO: Live! at the Barn: A New Season

Along with the technical aspects of each performance recording that he oversees, Tough has also had to be very mindful of pandemic restrictions — what's allowed and what's not in terms of bringing acts into his barn space.
"Now that we've all lived with COVID for more than a year, there are established protocols and rules … last summer everybody was just trying to figure it out," he says.
"Because the barn is what the barn is, and the size of the stage, and the fact that it is essentially an outdoor location — we're not dealing with air circulation and stuff like that — the venue is already sort of ideal for being able to continue to do stuff."
"The other point is this is a private studio. It's film production. We're not putting on a concert. The rules around that are different. As a production, you are controlling the situation. It's not like people are wandering wherever they want and not wearing their masks. We're toeing the line in terms of all the protocols."
Advertisement - content continues below
New for this series of recording, he notes, is the addition of Mylar screens separating the singers on stage, noting "Because we don't have an audience we don't have to worry about front-facing screens."
"When we first started last year there was a stipulation that you could only have five people gathering on private property, so we asked for three-piece bands. It's the same kind of thing now. We're able to adjust our production to fit the protocols. Even if we are in the red zone (during the summer), we still have the proper precautions which will allow us to continue to shoot."
With the help of his former neighbour Mike Chowns, who has extensive staging experience working with 4th Line Theatre and the Gordon Best Theatre, Tough has been able to share "the heavy lifting" as well as draw on Chowns' "creative eye" for stage appearance and background.
But what viewers of the series will more dramatically notice is the heightened quality of each recorded performance, courtesy of Tough's purchase of a high-definition system that records onto SD cards. In addition, he has also purchased extra cameras that are also high-definition as well as updated his post-production editing system.
"The quality is going to be amazing," assures Tough. "You'll see a lot more detail."
Such upgrades, of course, come at a cost. Despite his vow that "We're going to do this regardless of whether we get paid or not," Tough says "there's an opportunity for advertisers now that this is a thing as opposed to a concept."
Advertisement - content continues below
"This isn't a charity. It's a business. It's media exposure. It's an opportunity for businesses to show their support (of local musicians). Government support has helped but it's a trickle in the stream. More people have to step up and show their support. It's not like you have to pay an arm and a leg. You can become a patron. Make a small donation and you're listed in the credits."
Those interested in advertising or sponsoring can email Tough at andy@rmsevents.ca.
As a long-time supporter of local music, kawarthaNOW.com remains on board as a media sponsor of Live! at the Barn. That tie will be strengthened this series, with this writer having been enlisted as the interviewer of each act for segments that are edited into each performance recording.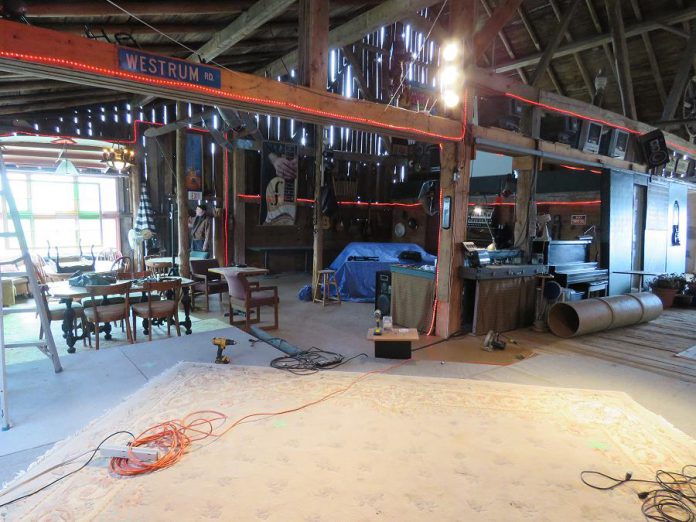 "We get a sense for who these people are as opposed to just seeing them onstage," says Tough of the interview segments.
Whether or not the series will continue after this summer's instalment is streamed, that's up to severity of the pandemic moving forward. One thing certain is Tough won't be idle, combining his video and audio production talents with his unabashed passion for local music and those who bring it to us.
One thing he's mulling over is producing a documentary that draws on material gathered over the course of Live! at the Barn recordings.
"They all have different perspectives," Tough says of the performing musicians. "They all have different dreams and different fears. It's really quite a cross-section of society. It would be interesting to pull that together."