Regional Tourism Organization 8 (RTO8) is calling on all culinary providers in Kawarthas Northumberland to participate in the new 'Taste of the TSW' initiative, which celebrates food and community from across the region — home to 80 per cent of the Trent-Severn Waterway National Historic Site of Canada.
RTO8, which promotes regional tourism activity in the area branded as Kawarthas Northumberland, is partnering with Parks Canada to commemorate the 101st anniversary of through navigation on the waterway.
The Taste of the TSW culinary tourism campaign encourages all food and beverage producers and providers in the City of Kawartha Lakes, Peterborough City and County, and Northumberland County to showcase a culinary product — either by creating something new or by rebranding an existing product — that highlights and celebrates the Trent-Severn Waterway.
As well as commemorating the anniversary, the Taste of the TSW initiative will help promote local culinary providers to residents and — once it is safe to travel again — visitors to the region. Businesses will receive several benefits by participating in the initiative.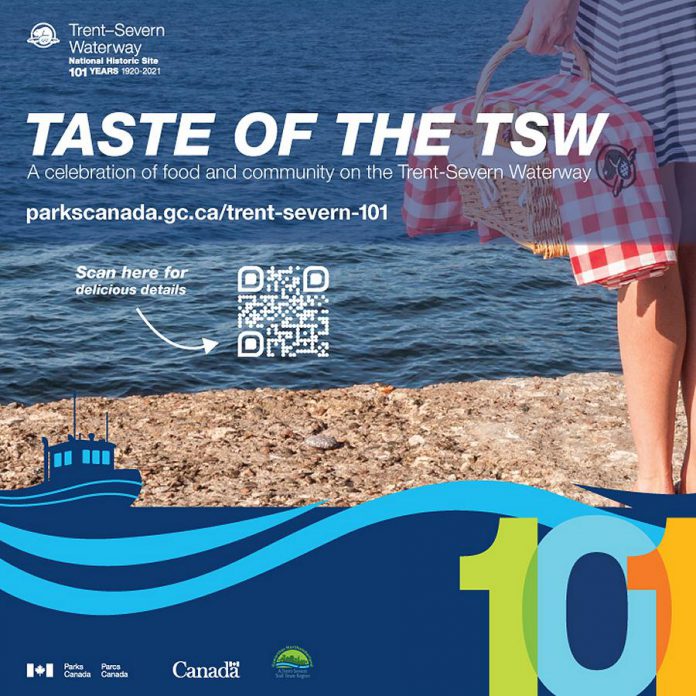 Parks Canada will provide a Taste of the TSW window cling for each participating business and will promote the campaign using the hashtag #TasteoftheTSW.
RTO8 will promote each participating business's involvement in the initiative on the new Trent-Severn Trails Towns website at tswtrailtowns.ca, where each product will be listed.
Participating businesses may also be featured in social media posts and in digital ads, and RTO8 will provide businesses with access to logo assets and brand creative to use on own their social media channels.
Businesses that wish to participate in Taste of The TSW must ensure their showcase product is made within the Kawarthas Northumberland region and is available for purchase in a public-facing location such as a store, restaurant, or pub.
They must also agree to display the #TasteoftheTSW window cling in view of visitors and to use the #TasteoftheTSW hashtag to promote their showcase product.
For more eligibility criteria and to sign up for the initiative, visit rto8.com/taste-of-the-tsw.
This story was created in partnership with RTO8.