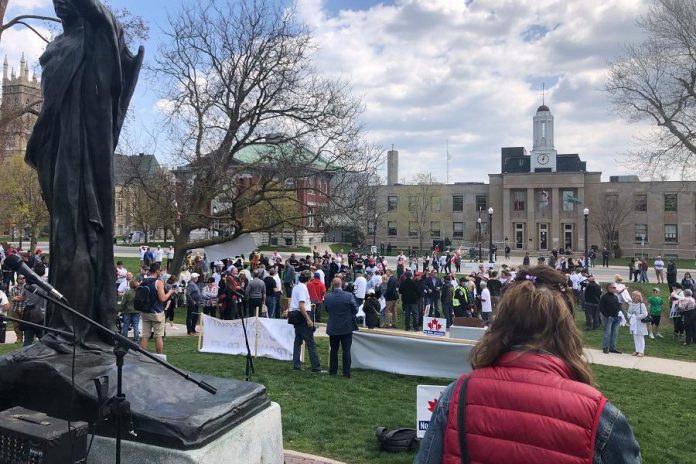 Peterborough's police chief Scott Gilbert says Saturday's anti-lockdown rally at Confederation Park across from Peterborough City Hall was illegal in the sense no permit was issued for the gathering.
Contrary to earlier information provided, a permit is required to assemble in Confederation Park according to the city's park and facilities by-law.
However, police did not shut down the protest despite the lack of a permit.
Advertisement - content continues below
"Clearing 600 people out of a park is not going to happen because it can't be done safely," Chief Gilbert said during a Peterborough Public Health briefing held Tuesday (April 27). "People are bringing kids and families there. There's the potential for violence to occur."
So far, police have issued eight tickets related to the rally.
Three tickets were issued under the Reopening Ontario Act, including one ticket issued to Ontario independent MPP for Lanark-Frontenac-Kingston Randy Hillier and one to Maxime Bernier, former MP and leader of the federal People's Party of Canada, both of whom spoke at the rally.
Police also issued five tickets related to a vehicle from out of the region that Chief Gilbert said "caused some issues" by going the wrong direction on George Street.
Further charges may be laid under the Reopening Ontario Act as police investigate information from the protest.
"A number of other people have been identified and, from photos that were published, we've heard from other jurisdictions," Chief Gilbert said, noting "there were other charges (laid) for urinating in that park."
Advertisement - content continues below
After noting that people are attending the rally for reasons other than supporting small business — the purported reason for the rally — Chief Gilbert commented on Hillier's comparison of COVID-19 restrictions to the Holocaust.
"C'mon Randy, that was over six million people that were exterminated," Chief Gilbert said. "You're linking this to the Holocaust?"
"You can imagine the type of people we're concerned about that are attending these rallies," he said. "There's the huge potential for violence there."