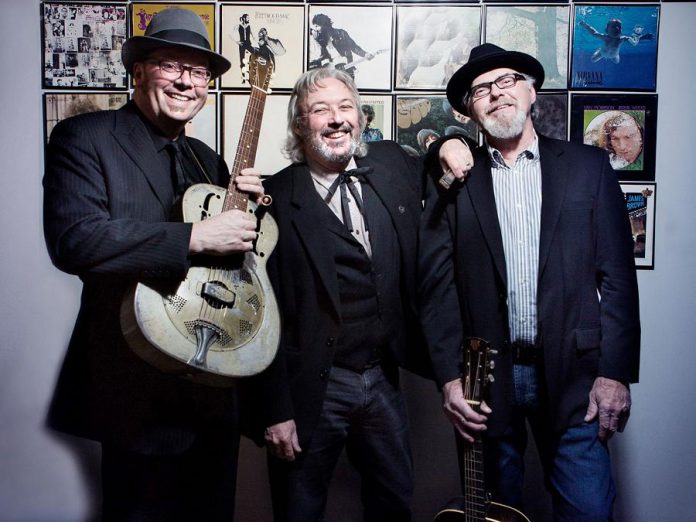 This August, two well-known local musical acts will be taking the outdoor stage at the new PTBOLive summer concert series, presented at the Peterborough Memorial Centre by the City of Peterborough, Showplace Performance Centre, and Market Hall Performing Arts Centre.
Acoustic blues trio Jackson Delta will be headlining a drive-in concert at 7 p.m. on Friday, August 27th, with blues rockers Emily Burgess & The Emburys opening.
Originally formed in the 1980s by Peterborough residents Al Black (vocals, harmonica, and drums), Rick Fines (vocals and guitars), and Gary Peeples (vocals and guitars), Jackson Delta quickly made a name for itself with its blend of acoustic roots music and traditional blues.
Advertisement - story continues below
The band recorded its debut album Delta Sunrise in 1988 at Sun Studio in Memphis (only 250 copies were pressed), followed by 1989's Acoustic Blues (nominated for a 1990 Juno for best roots and traditional album), Lookin' Back in 1991, and I Was Just Thinking That in 1992.
The last record, a live recording with pianist Gene Taylor at the Ultrasound Showbar in Toronto in 1991, brought the band its second Juno nomination.
They toured extensively across North America and the U.K. in the '80s, performing at every major folk, blues, and jazz festival. They provided back up for Colleen Peterson, Ann Rabson, Pinetop Perkins, and many others. In recent years, Jackson Delta has reunited for performances at Peterborough's Market Hall.
Opening for Jackson Delta is another Peterborough band, Emily Burgess & The Emburys, featuring Emily Burgess on guitar and vocals, Marcus Browne on drums and vocals, and Dawson McManus on bass.
Burgess, who also performs with The Weber Brothers as well as a solo artist, won a 2018 Maple Blues Award from the Toronto Blues Society for New Artist or Group of The Year.
In 2017, Burgess released her debut solo album Are We In Love?, produced by The Weber Brothers, and in 2019, Emily Burgess & The Emburys released Never-Ending Fling.
Advertisement - story continues below
Tickets are $125 per vehicle for the front row and $100 for general admission, and go on sale at 10 a.m. on Friday, May 7th at 10 a.m. online at www.memorialcentre.ca or by phone at 705-743-3561.
The August 27th concert is one of four additional shows in the PtboLIVE series that were announced on Monday (May 3), with the others being Classic Albums Live – Led Zeppelin II (Friday, July 16), Chad Brownlee with local singer-songwriter SJ Riley (Friday, July 23), and Classic Albums Live – The Beatles' Abbey Road (Friday, August 20th).
This is in addition to the six shows already announced back in April: Shaun Majumder and Ali Hassan (Friday, June 4th), The Trews with Adam and Cale Gontier (Saturday, June 5th), Splash N Boots (Sunday, June 6th), Classic Albums Live – Pink Floyd's Dark Side of the Moon (Friday, June 18th), The Jim Cuddy Band with Express & Company (Saturday, June 26th), and Big Wreck with Heaps (Friday, June 2nd).
VIDEO: "Sink or Swim" – Jackson Delta

VIDEO: Jackson Delta in performance in 2012

VIDEO: "Black and Blue" – Emily Burgess & The Emburys