The City of Peterborough's public art program has issued a call for proposals to artists for two public art projects — the Road Mural Project and the Artists' Garden Project, collectively called 'Renaissance on Hunter' — which will be installed along Hunter Street West in downtown Peterborough by early summer.
Due to the pandemic, the city will once again be making temporary changes to Hunter Street West this spring. To allow for expanded pedestrian space conducive for physical distancing, Hunter Street between George and Aylmer streets will be reduced to one-way westbound traffic.
This year, however, this city will make proverbial lemonade out of lemons by using the traffic calming and mobility strategy on Hunter Street as an opportunity to showcase public art and celebrate local artists.
Advertisement - content continues below
"The Renaissance on Hunter projects call to our artists will help transform the downtown corridor into a welcoming, engaging pedestrian space for the warm weather season," says Mayor Diane Terrien in a media release. "The installations will adhere to COVID-19 Re-Opening Ontario guidelines and will contribute to making the area feel safer, while supporting business activity and public health as we enter and navigate the pandemic recovery together."
The two public art projects, which will consist of a series of temporary murals on the asphalt and themed gardens/interventions in planters, will be featured in four new pedestrian spaces created between Aylmer and Chambers Streets.
The road murals and the combination of portable planters and barricades installed along the streetscape will provide physical separation between pedestrian space and the traffic lane. They will also further enhance accessibility for those with low vision.
In addition to beautifying the temporary downtown public space changes, Renaissance on Hunter was also created with local artists in mind — the opportunity for paid work provides a vital lifeline for an otherwise hard-hit community.
"Public art priorities this year were for achievable projects in a short time frame," says Wendy Trusler, the city's public art facilitator. "We wanted to get the maximum impact both on the broader community, who will benefit from the project's budget, and on the artists who will be making them."
The two public art projects are open to both emerging and established professional artists and ad hoc artist teams or collectives working in a range of disciplines and media. Trusler is encouraging partnerships and collaborations to create and optimize opportunities for a variety of local artists.
Advertisement - content continues below
"I wanted to really encourage people to come together and work as teams to make more opportunities for more artists," explains Trusler of the decision to allow for group submissions, adding "It's not just for visual artists, but also for people in the performance world who have been really impacted by the pandemic."
When it became clear that physical distancing measures would once again be required for the warmer months, Trusler reached out to the city's planning and transportation departments to propose Renaissance on Hunter.
Funded through its public art program, the city is presenting Renaissance on Hunter in partnership with the Peterborough Downtown Business Improvement Area (DBIA) and GreenUP.
"When it occurred to me that we're going to have to shut down the roadways again, we put our heads together to see how things might shape up differently this year," explains Trusler. "And then talking with GreenUp and the DBIA — they're always doing fabulous things — and they wanted to come together and help. So it feels like there's a critical mass of people behind the projects."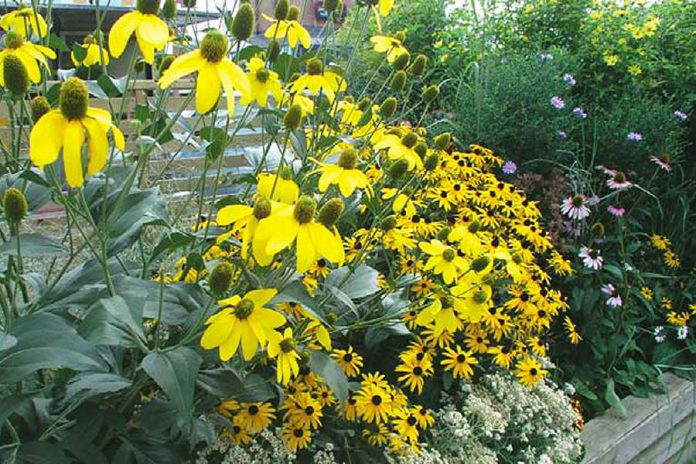 Trusler says artists' gardens "have long been an interest of mine", inspiring her to include them as part of Renaissance on Hunter.
"There was a very successful artists' garden project in the 1980s at Harbourfront which went on for many years, with different artists doing installations, field plantings, and really interesting interventions in the spaces near the power plant," Trusler recalls.
"As for the Road Mural Project, it's no secret to anyone that road murals have become very, very important during the pandemic. When I started to look into road murals further, I saw all sorts of fabulous initiatives when streets are closed down temporarily."
Advertisement - content continues below
There's no shortage of creativity in Peterborough-Nogojiwanong, which means there's great potential for some amazing public art this summer.
There will be four road murals and four artists' gardens, with budgets ranging from $3,000 to $9,500 depending on the project and the site. The selected artists will receive an honorarium based on each project site's budget. The city will supply the planters and soil and the paint required for each project, with the artists responsible for the costs of other required materials.
To read the call for proposals for both the Road Mural Project and the Artists' Garden Project, including more information about the project parameters and tips to assist with the application process, visit the city's public art program web page at peterborough.ca/publicart.
The proposal deadline for both projects is 5 p.m. on Friday, May 28th. All proposals must be submitted online, and a selection committee will review the proposals. Selected artists will be notified in early to mid-June, with projects to be completed by late June. All artworks will remain in place until the projects end in mid-October.