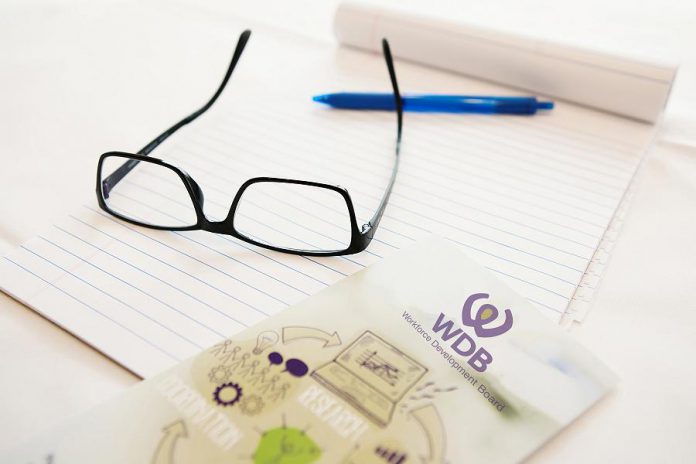 More than a year into the pandemic, new and rebounding jobs are offering a hint of hope for the economy. But whether you're a person looking for work, a business looking to hire, or an organization delivering an employment program, it can be a challenge finding the information you need to make the best-informed decisions.
Enter the Workforce Development Board's local Labour Market Information (LMI) Help Desk at www.wdb.ca/lmi-help-desk/. This free online tool provides employers, job seekers, and employment support agencies with a better understanding of the labour market in Peterborough, Kawartha Lakes, Haliburton, and Northumberland, as well as Muskoka.
"Labour market information can give you an advantage when making education, career, and employment decisions," explains Jennifer Lamantia, chief executive officer of the Peterborough-based Workforce Development Board (WDB).
Anyone can access the free LMI Help Desk service, ranging from students seeking career information, employers looking for information to set competitive salaries, and economic development providers requesting skills and occupations that are in high demand in the area.
Government policymakers, economic developers, industry associations, human resources departments, educators, and school boards will also find it useful, according to Lamantia.
What skills are in demand in my area? What is the median wage for my occupation? What is the demographic of workers in my area? What industries and companies are trending in my area? These are just a few of the questions the LMI Help Desk can answer.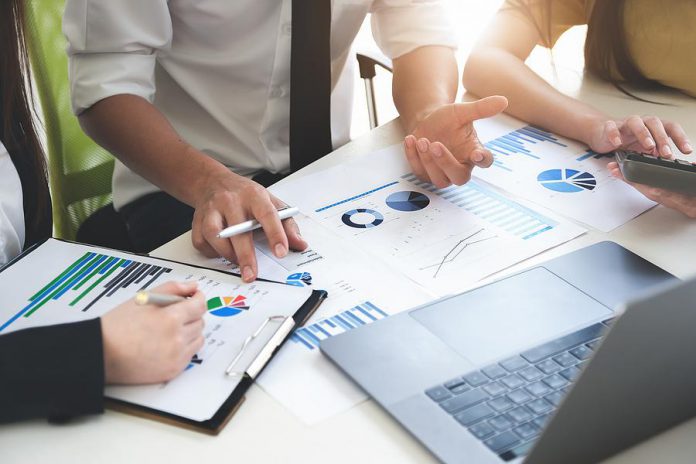 If you're looking for work or thinking about changing jobs, Lamantia says labour market information can help you find career paths that suit your skills and interests. It can show you which jobs have the best outlooks, where those jobs are located, what skills are in demand, and the requirements for a certain type of job.
"If you're not sure what the future looks like for a personal support worker or a carpenter, ask the LMI Help Desk and we can get that information for you," Lamantia says, adding that the help desk can also guide you to local employment services providers, where you will find information on available training programs, including those where tuition may be covered.
For employers, the LMI Help Desk can supply data about workplace changes, regional and demographic trends, and industry statistics — all of which can help businesses and organizations make informed and targeted decisions for training or hiring.
"This inevitably helps with an employer's recruitment efforts because it makes them more attractive and competitive to people looking to find a job locally," Lamantia says.
Entrepreneurs and start-ups can use insights gathered from the LMI Help Desk for market research and to help solidify their business plan.
"The data can help them figure out how many other businesses like theirs already exist in the region, what the talent pool is like if they want to grow, and the need to hire people with a specific skill set," Lamantia points out.
Labour market information can be confusing and overwhelming, and the LMI Help Desk can quickly get you the data you actually need while also making it accessible.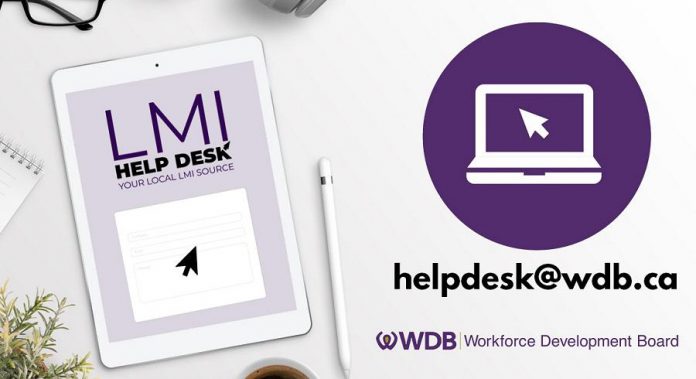 "Data is most useful when analyzed and distributed in a clear and easy-to-understand format," says Lamantia, adding that not everybody has the time or ability to find and sort through the wealth of labour market data already available on the internet, including on WDB's website at www.wdb.ca.
"WDB also has access to data that you probably wouldn't have access to," Lamantia notes. "All you have to do is simply submit a request and we do the work to get you that information."
All requests are processed by WDB's in-house labour market information analyst Sean Dooley, who is well-versed with data, analysis, and charts. You will receive a branded, professional report that can be shared with others.
"For example, if you're an employment service provider and you request information about the skills employers are looking for, we'll send you a nice-looking report that you can then share electronically with your team," Dooley explains. "We also credit the source, so it has the quality behind it as well."
Since the LMI Help Desk's initial launch in 2016, requests have tripled, with over 400 reports issued. Dooley adds there has been an uptick in requests now that more businesses have resumed operations over the past eight months.
"When lockdown restrictions started to ease last July, people wanted data about what was going on in the area," Dooley recalls. "We started to see more requests than we would typically get in those summer months when it's a little quieter, but it was very busy."
The data gathered by WDB has already had a positive impact on the labour market in the greater Kawarthas region, supporting education and skills training programs, grant applications, recruitment by local employers, career planning, and expanding the knowledge base of local industry trends.
Initially a WDB pilot project in Peterborough, Kawartha Lakes, Haliburton, and Northumberland, the LMI Help Desk was set to end this spring when funding from the Ministry of Labour, Training and Skills Development decreased.
However, after Lamantia shared data about the success of the project, the ministry asked WDB to help six other workforce planning boards in Eastern Ontario and Muskoka expand their existing help desks or launch new ones based on the WDB model, and funded an Ontario Labour Market Partnership project that is currently underway.
The six boards also plan to adopt WDB's Local Jobs Hub, a free online tool that automatically pulls local job listings from online job boards and allows job seekers to filter listings by key criteria, including skill level and type, part-time or full-time jobs, and whether a job is temporary, contract, or permanent.
"It's wonderful to see the ripple effect that our services are making in the community to help with the local labour market and the strength of the economy, especially now when we're looking at recovery," Lamantia says.
To make a request to WDB's local Labour Market Information (LMI) Help Desk, visit www.wdb.ca/lmi-help-desk/, where you can email, call, or complete an online form.
The website also includes an LMI User Guide and FAQ section for those who would like more information.
For more information on WDB, visit www.wdb.ca.
This story was created in partnership with WDB.