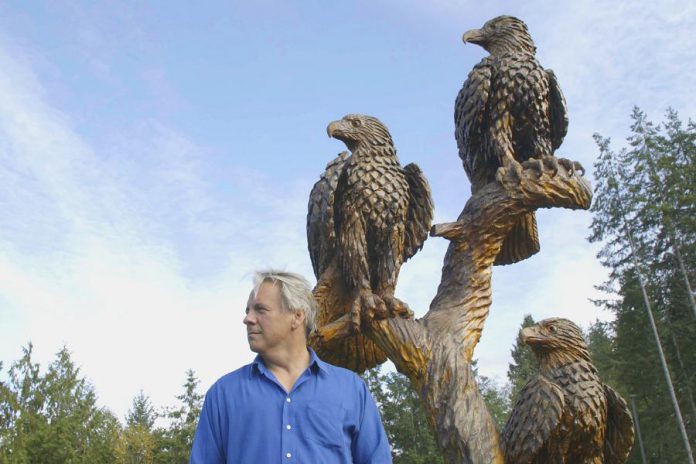 Need to lighten your lockdown? Drew Hayden Taylor's new 13-episode television series Going Native will fill you with inspiration, wisdom, wonder, and laughs — frankly, it's just what this soul-sucking pandemic needs.
Taylor is a truly prolific Anishinaabe artist from Curve Lake First Nation with an immense body of work spanning across multiple genres and media. An award-winning playwright, novelist, journalist/columnist, humourist, screenwriter, and filmmaker, Taylor has authored more than 20 published plays with nearly 100 productions to date, 33 works of fiction and non-fiction, and too many articles and columns to count.
Whether travelling the world to lecture or hold artist residencies at prestigious institutions, performing stand-up comedy at the Kennedy Centre in Washington DC, being a regular CBC commentator, or being the master of ceremonies at major cultural events, Taylor has done it all.
Advertisement - content continues below
He's kind of a big deal. So is the world premiere on Saturday (May 8) of the first season of Going Native on APTN, Canada's national Indigenous network.
"It's quite exciting," says Taylor in a Zoom interview. "And of course, the best news is the fact that they [APTN] liked what we did so much that they've already given us a second season. So we're starting work on season two as we speak."
In the first season, Taylor focuses his comedic lens on the ways Indigenous peoples have changed the world and are reshaping their culture in the 21st century.
VIDEO: "Going Native" trailer

Written, produced, and hosted by Taylor, the series is described as 'IndigiGonzo' — a reference to the gonzo journalism style founded by the late American writer Hunter S. Thompson that relies on the reporter's personal involvement in the story.
Each episode is its own unique adventure, tied together by Taylor's perspective, that examines a new aspect of Indigenous life. From architecture to pop culture, Taylor takes viewers on a journey across Turtle Island, exploring everything from the weird and wacky to the deep and profound ways Indigenous peoples impact the world.
The series, which has been in the works for the last two years, with shooting miraculously wrapped before the pandemic hit, was filmed across 45 locations in Canada and the US.
Advertisement - content continues below
"We put some miles on getting the show together," Taylor laughs.
"Going to the American Southwest was especially wonderful for me because I had been there in 1983 and then again in 2019. So there's almost a 40-year difference there, and it was just so amazing to be on the same trip, all those years apart — once as a young man, once as a much older man. That was a special favourite for me."
"And the people — I was given the opportunity to meet and speak with so many amazing people," he adds. "They all helped me understand and appreciate the many different First Nation communities on Turtle Island."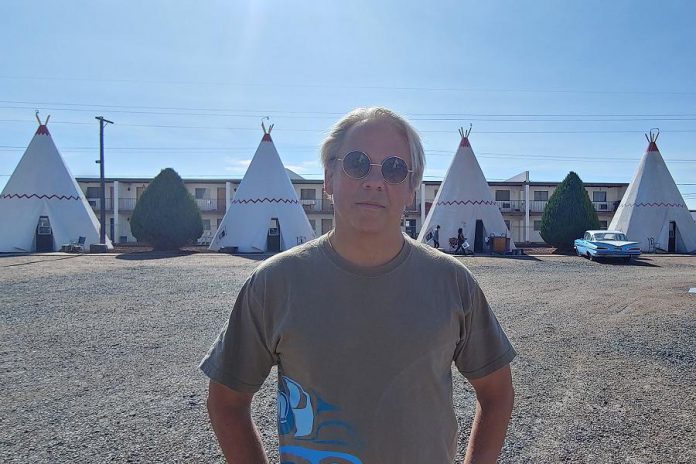 Each half-hour episode of Going Native is a masterpiece, boasting visually striking shots, beautiful music, compelling stories and, of course, Taylor's witty and hilarious commentary.
"We were very fortunate to partner up with Sam Karney and Andrew Wiens of Ice River films, who are excellent camera people," says Taylor of the stunning cinematography. "They gave the show its distinctive and unique look. We're very privileged to have them as producers and camera people on this production."
In addition to the incredible production quality, the genius of Going Native can be found in the ways the series examines and breaks down stereotypes of Indigenous peoples.
Advertisement - content continues below
"When people think about Native buildings, they think about teepees, longhouses, and wigwams," reads the show's description. "But Drew Hayden Taylor is thinking about the revolutionary architects that are creating zero-emission communities on the West Coast."
"When people think about Native food they think about pemmican and seal blubber, but Drew is tucking into nouveau cuisine in downtown Toronto and learning how traditional 'companion planting' of crops is revolutionizing today's agriculture."
With Going Native, Taylor, Ice River Films, and Paul Kemp Productions have created a decolonial love letter that celebrates the amazing achievements and contributions of contemporary Indigenous peoples.
VIDEO: Musician Billy Joe Greene from "Going Native"

"I have always felt this kind of series was sorely needed in the Indigenous community," Taylor says in a media release. "If you look at a lot of the literature and media about our communities, the focus always seems to be on the negative or perhaps, more accurately, the dark, depressing, sad, bleak, and angry perspective of Indigenous life."
"As somebody who's travelled to over 150 First Nation communities, I know for a fact that there is so much more to us. Just down the road and across the field there's laughter, there's beauty, there's the unexpected and there's the knowledge nobody knows about."
"Well, maybe we knew, but not everybody did. And that is where the fun begins."
VIDEO: Architect Daniel Glenn from "Going Native"

Going Native premieres on APTN on Saturday, May 8, 2021 at 8:30 pm EDT. For more information about additional broadcasts and streaming, visit aptn.ca/goingnative/.
For more information about the show, including additional video clips, visit goingnativetv.com.