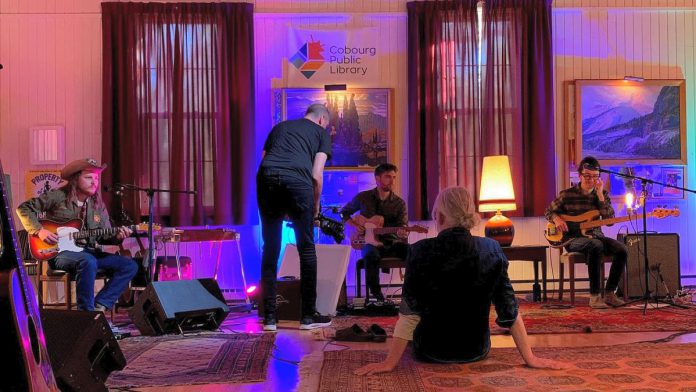 Musician Greg Keelor of Blue Rodeo is premiering a live recording performance of his latest solo record Share The Love on YouTube at 8 p.m. on Saturday night (May 15), featuring some well-known Peterborough-area musicians.
Filmed live at Gores Landing Community Hall over two days last fall by Adam Vollick and Michael Hurcomb, the performance features Keelor along with Peterborough-area musicians Jim Bowskill (guitar and more), James McKenty (guitar, recording engineer), Ian McKeown (bass, backing vocals), Melissa Payne (Acetone organ, violin, backing vocals), and Kyler Tapscott (guitar, backing vocals), with Blue Rodeo's own Glenn Milchem on drums.
Keelor had completed the studio version of Share The Love in early 2020 when the pandemic hit. He decided to assemble a band and book the Gores Landing Community Hall south of Rice Lake to shoot some promotional videos for the new record. The musicians were tested beforehand and they performed in a physically distanced semi-circle.
Advertisement - story continues below
While Keelor released the studio version of Share The Love in April (available on CD and vinyl from www.gregkeelor.com), he liked the live performance recording so much he decided to release it separately.
"There's something about a group of people who for two days just sit and play music, concentrate on these songs, and just feeling the love," Kellor writes on social media. "It's magical. You can feel their presence, the currents running between the musicians. It's a tangible feeling, a visceral thing."
You can watch the premiere of the film at 8 p.m. on Saturday, May 15th on Keelor's YouTube channel at youtube.com/watch?v=8UT3pNlUHAQ. Keelor will be participating in the YouTube chat to answer questions.
VIDEO: Share The Love – Live's From Gores Landing Community Hall promo