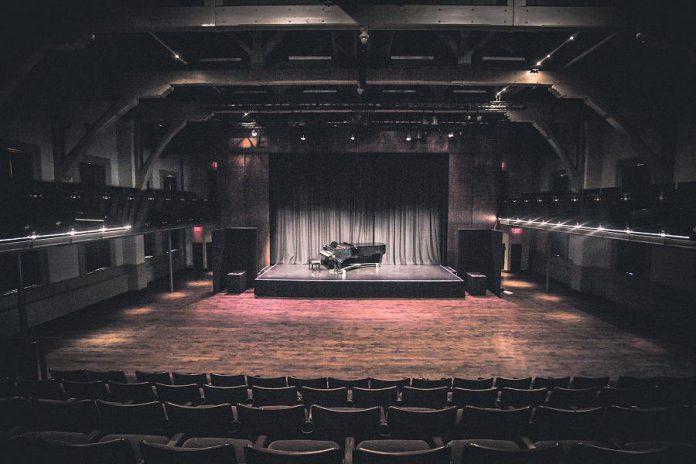 After more than a year of closures, lost revenues, and lost dreams, Electric City Culture Council (EC3) and the Community Foundation of Greater Peterborough have some good news for arts organizations in the city and county of Peterborough and Curve Lake and Hiawatha First Nations.
Over $100,000 of Peterborough Arts Alive funding is now available for arts organizations working in any artistic discipline including visual arts, media arts, circus arts, theatre and performance arts, dance, music, literary arts, spoken word, and interdisciplinary arts.
As vaccines become available to much of the population, discourse turns from emergency relief towards recovery. However, much research, both at the national and international levels, indicates that recovery in the arts sector will be at least a two- to three-year process.
Advertisement - content continues below
The Peterborough Arts Alive Fund aims to help arts organizations both during the pandemic and the recovery period.
Successful applicants can use the fund's strategic recovery and resilience grants to help fund anything from research and creative development for new artistic programming and organizational capacity building, to upgrading technological capacity and building practical tools and plans for a solid recovery.
"It's a pretty sophisticated program," says EC3 executive director Su Ditta. "I'd say it's a bespoke program in the sense that it's really looking at the needs and the experiences of arts organizations in our local community, and it really reflects an arts-forward city."
Organizations with registered charitable status, incorporated not-for-profit organizations partnered with a registered charity as a fiscal sponsor, or ad hoc organizational collaborations with a charitable organization as lead applicant are all eligible to apply for the strategic recovery and resilience grants — so long as they have been operating for two years or longer, carried on with at least some activities during the pandemic, and are committed to resuming activities as soon as public health restrictions are lifted.
Priority will be given to professional arts organizations that support artistic work in any discipline and are led by paid and qualified professional personnel and governed by a board of directors. Grants will range from $1,500 to $10,000 to support arts organizations to recover from the pandemic and to prepare for reopening.
Eligible expenses and activities include personal protective equipment, renovations and plexiglass, technology upgrades, marketing and promotion, staff and volunteer training, developing creative content, and more.
Advertisement - content continues below
The Peterborough Arts Alive Fund, which has been a year in the making, started last spring when local educator and arts supporter Deborah Berrill — troubled by the sudden and devastating impacts the pandemic was having on the arts sector — reached out to Ditta at EC3.
"By late spring, it was clear it was going to be really bad and it was going to be a long haul," Berrill recalls. "I was really concerned. Peterborough and the surrounding area are so special because we have all of these incredible artists here — it's what makes Peterborough such an incredibly special place to live. And I wanted to contribute but I didn't know how."
"Deborah and her husband were really horrified about the impact of the pandemic on the local arts community," Ditta says. "On venues being shut down, on artists losing commissions and exhibitions, on musicians having their tours cancelled. They were willing to donate some money and Deborah also offered to spend time raising some more money among her friends and colleagues who really care about the arts."
"It mattered to me so much to support our artists because artists are the ones who support our whole well-being, our mental well-being, emotional well-being, our spiritual well-being," Berrill adds.
That small ripple — Berrill's phone call to Ditta — swelled into a wave. A $100,000 tidal wave.
Inspired by the public interest for arts fundraising, Ditta reached out to John Good — former director of fund development at the Community Foundation of Greater Peterborough — to see if the foundation would host the funds Berrill and EC3 were raising. As an incorporated not-for-profit, EC3 does not have the registered charitable status required to issue charitable tax receipts for large donations.
Jennifer DeBues, the foundation's co-executive director, then contacted Ditta to let her know people who have endowments with the foundation might be interested in donating to the Peterborough Arts Alive Fund.
"I then had contact with an anonymous donor, associated with the Community Foundation, who gave a really substantial donation to the Arts Alive Fund," Ditta says.
The Peterborough Performing Arts Recovery Alliance — a group of 13 arts organizations and live performance venues in Peterborough and the surrounding region founded in August 2020 — also raising around $5,000 for the strategic recovery and resilience grants.
Then, in November 2020, Peterborough city council voted to make a one-time contribution of $40,000 to the fund, matching the $40,000 that had already been raised. That one-time contribution from the city was made possible largely thanks to councillor Kemi Akapo.
When councillors sat as the finance committee to review each page of the 2021 draft municipal budget, councillor Akapo moved that the city reallocate $40,000 of the $70,000 initially budgeted for new signage at the Peterborough Museum and Archives to the Peterborough Arts Alive Fund.
"Line by line, councillors pored through the budget within the arts, culture and heritage division, to see if they could find something that could be freed up," Ditta explains.
Advertisement - content continues below
The fund now holds over $100,000 that promises to bolster not only local arts organizations, but also the local economy writ large.
"The arts are really essential to the downtown recovery, both in terms of attracting people downtown for food and beverages, but also because arts organizations spend a lot of their budgets at businesses downtown and all across the city," Ditta says.
After a year of turmoil — and an immense amount of work from Deborah Berrill, EC3, the Community Foundation of Greater Peterborough, the Peterborough Performing Arts Recovery Alliance, the City of Peterborough, and countless private donors, whose individual gifts ranged from $50 to $40,000 — the Peterborough Arts Alive Fund brings hope.
As we look towards recovery, there's no doubt that more challenges are to yet come for the arts sector — indeed, for the entire community. As we look at how far we've come, however, the story of the Peterborough Arts Alive Fund demonstrates that those who are not afraid to act, and who are aware of what is at stake, can make the biggest difference.
To learn more about eligibility criteria and how to apply to the Peterborough Arts Alive Fund, visit ecthree.org/program/arts-alive-grants. Applications close on Monday, June 7th.
If you want to support the Peterborough Arts Alive Fund, you can donate at cfgp.ca/project/arts-alive-fund/.