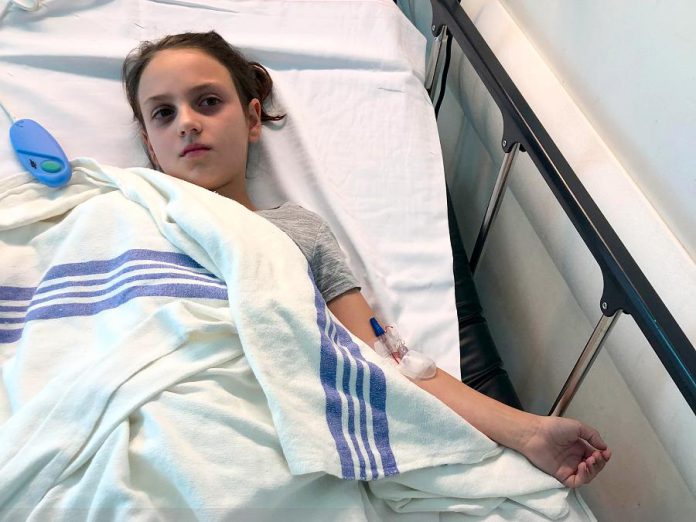 It's the 100-year anniversary of the Canadian discovery of insulin, and three members of a local family began a 263-kilometre trek from Peterborough to Ottawa on Wednesday (June 9) in the hopes of making the need for insulin a thing of the past.
Almost two years ago, Peterborough business owner Rob Cahill and his wife Marie-Noelle Denis found out their youngest daughter, Mariloup Cahill, has type 1 diabetes. Diagnosed at nine years old, she has since endured around 3,000 needles to receive her life-saving insulin.
So, with this year's Sun Life Walk to Cure Diabetes for JDRF set to finish on June 13, Denis and her oldest daughter Laurence Denis-Bertrand — along with Laurence's boyfriend David Patton — have set out to walk to Ottawa and raise funds for diabetes research along the way.
Advertisement - story continues below
"For Mariloup's sake, we wish for a day without the need for insulin or a full night's sleep without the need to check her blood sugar level," says Cahill, who manages Cahill's clothing store in downtown Peterborough.
"Raising dollars for this cause can advance type 1 diabetes research, and improve the lives of the tens of thousands of Canadians living with this disease," he adds.
Cahill's will be donating up to $2,500 to match funds donated to support the Peterborough-to-Ottawa journey of the three walkers — known as "Team Ti-Loup". You can donate to Team Ti-Loup at jdrf.akaraisin.com/ui/jdrfwalk21/t/e514a179321d4bbb8d80a91a61717ed4. As of the date of this story, they have raised almost $3,000 of their $10,000 goal.
Team Ti-Loup is scheduled to arrive in Ottawa on June 13, to coincide with the finish of the 2021 Sun Life Walk to Cure Diabetes for JDRF.
This year's walk is especially important given that 2021 marks 100 years since Frederick Banting and Charles Best discovered insulin under the directorship of John Macleod at the University of Toronto, developing it for use as a medication in 1922. Banting and Macleod would receive a Nobel Prize for their work in 1923.
Prior to the discovery of insulin, the life expectancy of people with type 1 diabetes was cut short. With cells unable to use glucose as a source of energy, the liver breaks down fat into a fuel called ketones, eventually building up in the blood to toxic levels. The only effective treatment for diabetes at the time was a strict no-carbohydrate diet with as few as 450 calories per day — resulting in some people dying from starvation.
There's no question that insulin — a pancreatic hormone that helps the body use glucose for energy — has saved countless lives.
But while insulin helps people with diabetes live long and healthy lives, it's not a cure. People requiring insulin have to regularly monitor their blood sugar levels, be careful what they eat, inject insulin several times a day or more, and remain at risk of additional health complications.