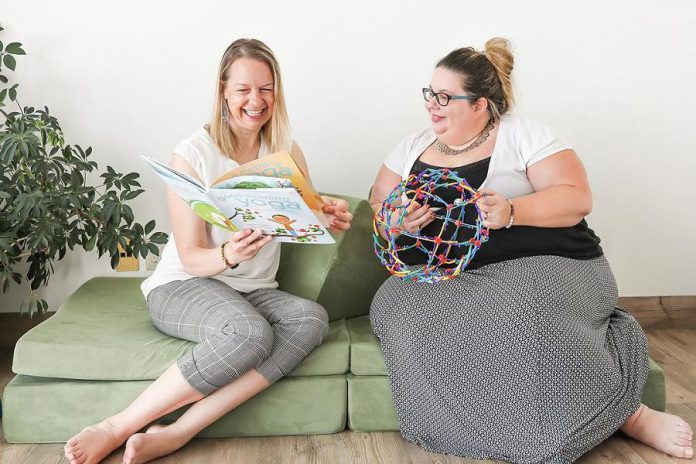 According to the application guide for the Ontario Small Business Support Grant, it is intended "to help small businesses in Ontario that are required to close or significantly restrict services under Ontario's province-wide shutdown."
Yet one small business owner in Peterborough, who says her business fits this description perfectly, has spent the past six months unsuccessfully fighting for the grant.
Sarah Susnar, owner of Lavender and Play, says the reason for her grant denial is the same thing that has kept her business afloat this past year — rebranding her business. Susnar and her new business partner Sonja Martin had to take on a different Canada Revenue Agency (CRA) number after they partnered to remodel the previously named Play Café into a family boutique and studio.
Advertisement - story continues below
"Parents came in, they would drink coffee, and their kids would play," Susnar recalls, explaining the business model of Play Café. "We did birthday parties, classes, and had a little pre-school. When the shutdown happened, and I had to close the doors for four months, I realized that we will have to look different when we reopen things. Kids aren't going to be able to be together, and parents aren't going to want to take little kids out."
"I had been working with Sonja for years at the Play Café," Susnar adds. "She had a business called Rooted Lavender, and she did a lot of my classes at Play Café. So we partnered, bought a bunch of inventory, and reopened as a boutique and studio."
To be eligible for the Ontario Small Business Support Grant, a business must demonstrate it has experienced a revenue decline of at least 20 per cent between April 2019 and April 2020. Since Lavender and Play appears as an entirely new business on paper — despite operating for the past five years under another name and CRA number — the provincial government is calculating their revenue loss by comparing revenue from December 2020 with their highest sales month — which also happens to be December.
"December 2020 was our highest sales month because we're a toy store at Christmas, so there's no revenue decline," says Susnar. "I filled out the application on the very first day it opened in January and waited. It was February when I got the email saying we were denied."
Susnar says she had no expectations of being denied the grant because, other than the name change and new CRA number, they "had all the criteria" required to receive it.
"We got shut down for four months," she says. "COVID really affected this business."
Originally expecting to receive the grant, Susnar and Martin ordered more inventory for Lavender and Play. When they were denied the grant, "we had to go to Community Futures and get a top-up on our loan."
With applications accepted from late January to early April this year, the Ontario Small Business Support Grant provided $10,000 to $20,000 to help pandemic-affected businesses with their ongoing costs. In March, the Ontario government announced small businesses that already been approved for the grant would automatically receive a second payment equal to the amount of their first payment, for a total grant of $20,000 to $40,000.
Advertisement - story continues below
If Lavender and Play had been approved for the grant, Susnar estimates they would have received the minimum amount of $10,000 for each payment.
"$20,000 would pay our rent for months and pay off some of the debt we incurred at Christmas because we had to maintain inventory because stuff was flying off shelves," Susnar explains.
After the initial shock at being denied the grant, Susnar called the government's support number. She recalls being told to change some of the application information and expect an email response.
"I waited a few weeks and called again, and they said the same thing," says Susnar. "Then a few weeks go by and I hear nothing, so I call again. The last person I spoke to said every time you call, and we escalate it, you're getting bumped to the back of the line."
"I was really upset about that," she adds. "I had been talking to a similar business — a play café that switched over to retail — and they said they had emailed all of these MPs and I should try that."
Susnar wrote her story in an email that she sent along to anyone she could think of who might help: Peterborough-Kawartha MPP Dave Smith, Peterborough-Kawartha MP Maryam Monsef, Premier Doug Ford, and more. She was then "so excited" when she finally received a call from someone in the Ontario ministry of finance with some guidance on her application.
According to Susnar, she was instructed to redo the application to include her 2019 and 2020 sales. She was given an email address where she was to send her revised application and told to include as much information about her case as possible.
Susnar has also been in contact with the office of the Ombudsman Ontario, who told her they would look into her case. However, they said they would not be able to do anything if she is, in the end, denied the grant.
Susnar says she also corresponded with MPP Smith's office about the issue at some point between April and June. His office collected information about the case and told Susnar they would look into it.
Advertisement - story continues below
But now, in June, none of these correspondences have been followed up with answers.
Then, just the other day, Susnar says she received a call from a woman at the finance ministry.
"She proceeded to tell me why my application was denied," Susnar recalls. "I told her I knew why and the reasons why it should be approved. I told her I sent in more information like I was asked. She told me there was nothing she could do for me."
"I feel devastated because I'm now fifty grand or more in debt because of COVID," says Susnar. "I feel like the government is failing small businesses. They're falling through the cracks of the criteria they're asking for."
Susnar is not the only small business owner experiencing difficulties and delays receiving the grant. The Canadian Federation of Independent Business (CFIB) launched an online petition urging the province to fix the program's shortcomings.
"Giant gaps in eligibility requirements, unacceptable delays, poor customer service, and the lack of a third round of support have meant my business isn't getting the help it needs," the petition reads.
Susnar says she herself knows a handful of other business owners who have experienced a similar difficulty receiving the grant, including a Peterborough restaurant owner who also had to change their CRA number recently.
"They had a different CRA number because they bought the business from somebody else, but it was the same restaurant," Susnar says. "She said she called and explained it, and they ended up giving the grant to her. I don't know why that hasn't happened for me."
Advertisement - story continues below
"Please help us," Susnar pleads to anyone who might be able to help. "It's not fair that we should have to go into more and more debt for wanting to support our city and be open."
For Susnar, being denied the grant adds insult to injury given the nature of Lavender and Play.
"Our business supports postpartum mental health and family wellness. We feel like we're a vital part of the community. Moms and dads come in here and tell us what's going on and how they're feeling."
Now that Ontario is gradually reopening, Susnar is hoping she can get more customers in the door to help generate more revenue to offset the debt.
"If the community wants to help, it would be wonderful if they could share our business name to family and friends, that we are a family boutique, that we are open again, that they can come and shop, and that they can sign up for classes."
"It would be really helpful to have more traffic coming in because, with the pivot, people knew us as a play cafe and not necessarily as a store. So we're still trying to spread the word about that."
kawarthaNOW contacted the office of Peterborough-Kawartha MPP Dave Smith for comment on this story.
His office replied, stating in an email they are aware of Susnar's application and "have worked closely with the applicant" on the application but "due to confidentiality policies, we cannot comment further on any file a constituent or business has with the government."
Lavender and Play is located at 1-1434 Chemong Road in Peterborough and is open for in-person shopping Monday to Saturday from 10 a.m. to 4 p.m. You can find the boutique and studio online at their website at lavenderandplay.ca, as well as on Instagram, Facebook, and Twitter.