If you've driven by the corner of Cherryhill and Brealey in Peterborough over the past year, you might have seen Carolyn Collins, otherwise known as Peterborough's 'Walk About Clown', waving at you.
Collins has taken on the task of spreading smiles during the pandemic, spending 4 p.m. to 6 p.m. each weekday as the Walk About Clown.
It started last year when Ontario went into its first provincial lockdown. According to Collins, she was walking to a friend's house dressed in her clown costume when she noticed cars honking their horns and people waving at her.
Advertisement - story continues below
"Seeing the happiness I was bringing them, I decided to keep it going," Collins says. "Not being able to go out and do anything brings us all down. We get bored and frustrated. I wanted to see people smile."
So Collins made spreading smiles part of her daily pandemic routine. Weather permitting and as long as no family emergencies come up, she stands on the corner of Cherryhill and Brealey in her costume for four hours every day of the week, waving at cars and twirling hula hoops.
Collins also takes the Walk About Clown to senior homes in the west end every Tuesday morning. She has recently started leaving uplifting sidewalk chalk messages along her path as she goes.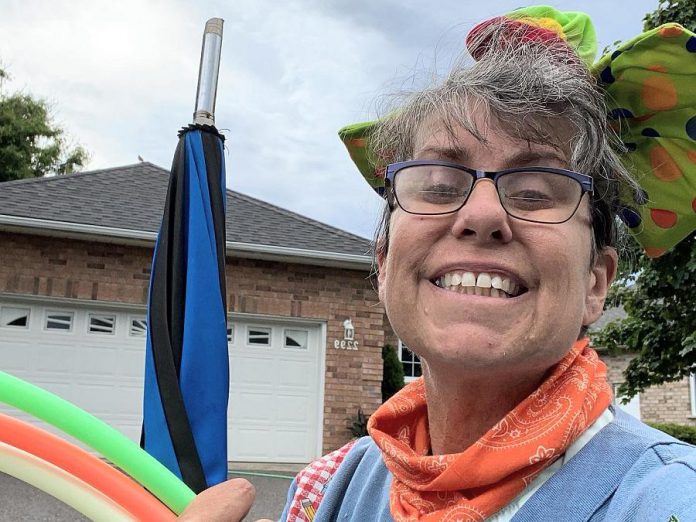 The chalk messages — which say things like "to be amazing, be yourself" — started a few months ago when Collins wanted to use up all of her daughter's old sidewalk chalk.
She wrote the messages on her laneway and got such a positive response that she decided to make it a part of her walk about clown routine.
Collin's began using the name Walk About Clown after she heard some passersby calling her that.
Advertisement - story continues below
"I used to try to walk as far as I could in various areas," Collins explains. "Please would yell 'There's the walk about!' When I realized they meant me, it just became my name."
But the Walk About Clown isn't the first clown Collins has ever played. According to Collins, she first learned to be a clown as a teenager.
"When I worked at Burger King as a teenager, they brought someone in to teach me how to do balloon animals," recalls Collins. "Because I couldn't blow them up without using a pump, because of my health condition, he refused to teach me. I said 'To heck with you!' and I taught myself how to be a clown."
Collins went on to play a clown called Azzip (pizza spelled backwards) at Pizza Hut for kids' night. Collins says 25 years later, the now-adult child who named this clown Azzip still comes up to her to chat when they see each other in public.
He's not the only one to recognize Collins in public for her clownery. Since doing the Walk About Clown, Collins says she gets recognized everywhere she goes.
"I can't even go out into public anymore without people recognizing me and saying hi," Collins remarks. "They start telling me about how they love seeing me on the corner and online. It brightens my day."
Advertisement - story continues below
Since launching social media pages at the request of the public, her recognition as the Walk About Clown has only grown. You can now follow the Walk About Clown on Facebook, Instagram, and Twitter.
"People were asking 'Hey, what's your site so I can follow you?'," Collins explains. "At the beginning, I only had Facebook, and then people told me Instagram is the thing now. I started that, and then it was only a few weeks ago that someone said, 'Why don't you have a Twitter account?'"
As for what keeps Collins going as the Walk About Clown, she says it is all about the smiles she brings.
"I honestly think joy is the best gift," says Collins. "Gifts don't have to be something that you buy. It can be bringing smiles to everybody else. Seeing all the smiles, it brings me a smile and that's what keeps me going. I always tell people: one smile becomes two, two becomes four, and next thing you know, we have a million."
It would seem Collins' intentions to spread joy are thriving. She even got a Facebook message from a mother who asked if her daughter had permission to copy Collins. When out for a walk, the young child has started leaving positive sidewalk chalk messages similar to Collins'.
"It's simple stuff like 'Hi friends' or 'Have a good day'," Collins explains. "Her mom says that she knows how to spell, so those messages are from her. When I go on my walk, I see them, and that brightens me right up."
Collins has an 11-year-old daughter of her own who has yet to follow in her mother's footsteps of clownery, although who knows what the future might hold.
"She loves that I'm doing it, but she won't go out with me because it's too embarrassing," Collins laughs.
Advertisement - story continues below
According to Collins, many generous people have given her money for the walk about clown. Collins donates the money to charity, choosing a different organization to support every month.
"This month, I'm doing Community Living Peterborough," says Collins. "Next month, I'm doing Five Counties because they helped me a lot with my health."
If you see Collins as you drive by Cherryhill and Brealey, she will have a container in which you can put a donation.
"I carry a container with me when I'm out on my walks so I can keep my distance," she explains. "One is on a pool noodle, and one is a metal tin can that has a handle on it that I can hold out."
Collins says you can also support the Walk About Clown by donating, in her name, to a charity of your choice.
To see Carolyn Collins as the Walk About Clown, you can visit her on the corner of Cherryhill and Brealey, Monday to Friday between 4 p.m. and 6 p.m. You can now follow her on Facebook, Instagram, and Twitter.