Here's an update on COVID-19 cases in Ontario as well as in the greater Kawarthas region.
Ontario is reporting 355 new cases today, with most of the cases in Toronto (58), Waterloo (54), Peel (45), Hamilton (23), and Porcupine (22). The seven-day average of daily cases has decreased by 21 to 390.
Hospitalizations have decreased by 42 to 336, with ICU patients decreasing by 17 to 335 and patients on ventilators remaining the same at 221. Ontario is reporting 13 new deaths today, with no deaths in long-term care homes.
Almost 12.4 million vaccine doses have been administered, a record increase of 213,236 since yesterday, with almost 84% of Ontario's total population now having received at least one dose. Over 2.7 million people have been fully vaccinated, with a record increase of 178,061 people receiving their second dose yesterday, representing over 18.5% of the total population.
For a daily summary of cases in Ontario, including a breakdown of cases in each of Ontario's 34 health units, visit ontario.ca/page/how-ontario-is-responding-covid-19.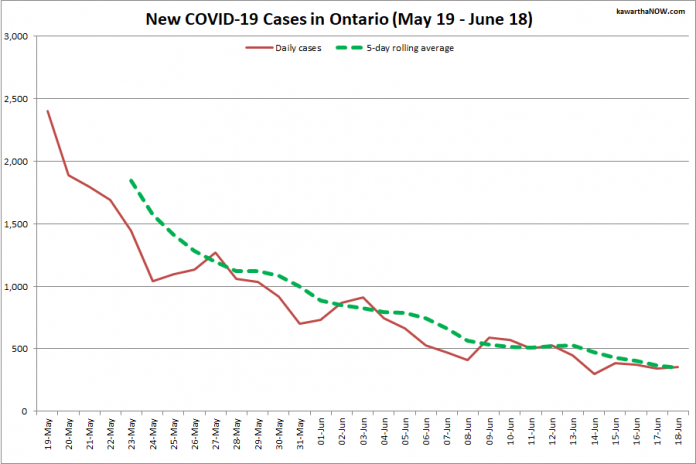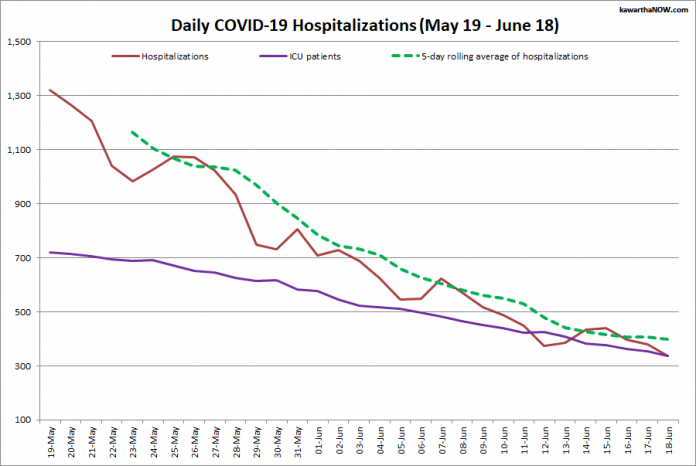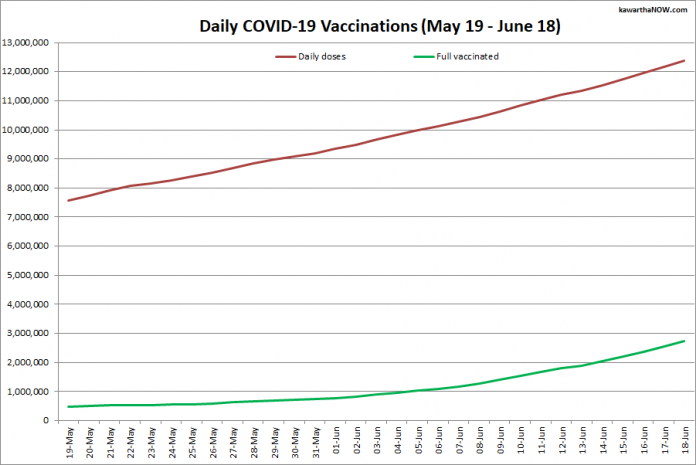 Advertisement - story continues below
In the greater Kawarthas region, there are 2 new cases to report, including 1 in Kawartha Lakes and 1 in Northumberland.
There are no new cases in Haliburton. Numbers for Peterborough and Hastings Prince Edward are no longer available on weekends; weekend numbers will be provided with Monday's update.
There is 1 new hospitalization in Kawartha Lakes.
An additional case has been resolved in Northumberland.
Active cases have increased by 1 in Kawartha Lakes and remain the same in Northumberland and Haliburton.
There are currently 57 active cases in the greater Kawarthas region, an increase of 1 from yesterday, including 29 in Peterborough, 16 in Kawartha Lakes, 6 in Northumberland, 5 in Hastings Prince Edward (2 in Quinte West and 3 in Belleville), and 1 in Haliburton.
Since the pandemic began in the greater Kawarthas region, there have been 1,565 confirmed positive cases in the Peterborough area (1,515 resolved with 21 deaths), 1,081 in the City of Kawartha Lakes (1,021 resolved with 57 deaths), 938 in Northumberland County (915 resolved with 17 deaths), 122 in Haliburton County (120 resolved with 1 death), and 1,127 in Hastings and Prince Edward counties (1,111 resolved with 11 deaths). The most recent death was reported in Kawartha Lakes on June 5.
Advertisement - story continues below
For detailed data for each health unit, visit the COVID-19 trackers for Peterborough Public Health, Haliburton, Kawartha, Pine Ridge District Health Unit, and Hastings Prince Edward Public Health.
For more information about COVID-19 in Ontario, visit covid-19.ontario.ca.