Does your dog love to play in the water?
If so, with summer here and many people now bringing up pandemic puppies, you should be aware of a hidden danger for dogs that spend a lot of time in the water.
Dogs who fetch things from the water, jump off the cottage dock, dive under the water, chase waves, or chase a gushing stream from a garden hose, can unintentionally swallow a lot of water. And that can lead to hyponatremia, commonly known as water intoxication or water poisoning.
Advertisement - story continues below
We're speaking from experience. kawarthaNOW publisher Jeannine Taylor and I have a nine-month-old border collie named Cait who recently ingested too much water — requiring an emergency trip to the vet.
Over the past few years, you may have heard of stories of people dying from drinking too much water. The most well-known one is the 28-year-old California woman who died within hours of taking part in a water-drinking contest run by a radio station.
More recently, a UK man tried to cure his COVID-like symptoms by drinking five litres of water a day and eventually collapsed in his bathroom. Fortunately, his wife was at home and called the paramedics who rushed him to hospital, where he recovered after a couple of days in intensive care.
There are also several stories of dogs who have died or become seriously ill after ingesting too much water. Earlier in June, American TV personality Jenna Compono posted on her Instagram about her dog Bocce's life-threatening experience with water intoxication.
While water intoxication in both people and dogs is relatively rare, it can happen and all dog owners should be aware of the danger.
When a dog (or a human) ingests too much water, the electrolytes in their body can become diluted. Electrolytes are minerals — including sodium, potassium, chloride, calcium, magnesium, and phosphate — that carry an electric charge in the blood. They help regulate nerve and muscle function and maintain the pH and fluid balance in the body.
Sodium is especially important and, if diluted by ingesting too much water too quickly, can lead to hyponatremia — which literally means "too little salt in the blood". When this happens, cells in the body begin to swell with water, which can be fatal when it affects the brain.
Advertisement - story continues below
For water-loving dogs, hyponatremia is more likely to happen with breeds that have a lot of energy and focus — including herding breeds like border collies. Smaller dogs and dogs with little body fat also seem to be at higher risk, as are dogs that swim with their heads low in the water where they might accidentally swallow water.
For our border collie Cait, her obsession with chasing and biting waves is what led to her water intoxication and an emergency trip to the vet.
We were thrilled when Cait took to the water when she was first introduced to the lake at the cottage a few weeks ago. Our previous border collie Tess loved to swim, and it's great low-impact exercise for a high-energy dog. But border collies can be obsessive-compulsive, and Cait soon became entranced by the waves — snapping at even the smallest disturbance in the water.
VIDEO: Border collie Cait chasing and biting waves

Originally, we thought this behaviour was odd but cute (we've always called her "Quirky Cait", hence the video above). Our only concern was that she might inhale water, especially when chasing larger waves arriving on shore as a result of boat wakes.
As it turns out, inhaling water wasn't the real danger.
Late on a Sunday afternoon, after Cait had spent hours chasing waves and playing in the water, Jeannine noticed Cait suddenly stopped playing and became lethargic. She began to cough and vomited a couple of times. At first, we thought she swallowed too much water and maybe took some water into her lungs and up her nose.
But Cait continued to act strangely, including sitting up with her eyes shut and glazed over. When she started to shuffle off down the driveway, ignoring our commands, we both knew something was wrong.
Advertisement - story continues below
Jeannine insisted we call the vet right away. It was Sunday, so the only vet open was the Kawartha Veterinary Emergency Clinic (KVEC) — the 24/7 vet clinic in Peterborough. Jeannine called KVEC, explained the situation, and they recommended we bring Cait in immediately for an examination.
So we packed up the car and drove the 90 minutes from the cottage to Peterborough. I sat with Cait in the backseat, where I noticed she was constantly drooling and her gums were oddly pale. She sat up most of the way (partially because I was afraid to let her sleep) and almost fell over a couple of times as if she had lost her balance.
When we arrived at KVEC, Cait seemed to be feeling better and we were confident it was just a close call. The KVEC staff took her in (COVID precautions were in place so we remained outside) and we waited in the car for the vet to call us. She did, and at first we were relieved when the vet told us Cait's lungs were clear.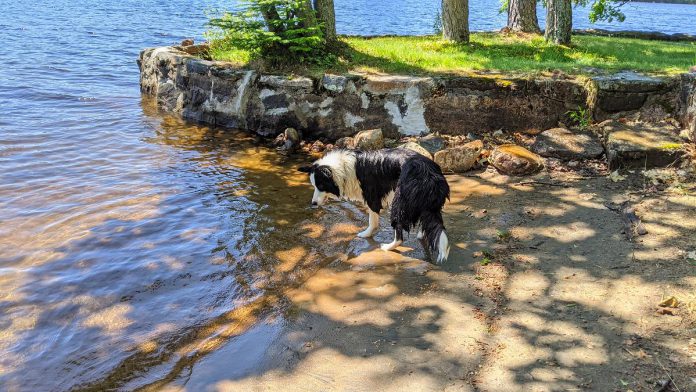 But then the vet said she wanted to test Cait's blood to determine her electrolyte balance and warned us that, depending on the results of the test, Cait might need to stay overnight to receive intravenous fluids.
Naturally, the phones came out and we began researching and found the symptoms of water intoxication in dogs, which include nausea, vomiting, lethargy, loss of balance, glazed eyes, pale or light-coloured gums, and excessive salivation. Cait pretty much had every one.
We also read that hyponatremia can result in more serious symptoms such as seizures, coma, and death — and of course we also found all the stories of dogs that have died from water intoxication.
Advertisement - story continues below
So our collective stress level rose when the vet called back to confirm Cait had hyponatremia. She then read off the normal range of electrolytes and what Cait's were — her levels of sodium, chloride, and potassium were all below normal. Fortunately, Cait's levels were moderately below normal — still serious enough to warrant an IV drip and an overnight stay to gradually restore her electrolyte balance, but the vet assured us the prognosis was positive.
After several calls overnight to the vet to check on Cait's condition, we found out she was indeed responding to treatment. The vet said we could pick her up in the morning. One large vet bill ("Costly Cait" has been added to "Quirky Cait") and a lot of relief later, and Cait seems to have recovered.
Our intention with this story is not to stoke fears in the hearts of dog owners that their pooch shouldn't be allowed to play in the water. Water play is great exercise for dogs and a lot of fun for both dogs and their owners, and water intoxication is not very common.
However, all dog owners should be aware of the potential risks, particularly if their dogs love playing in the water, as symptoms can happen quickly and may be fatal.
The best way to void the risk of dogs ingesting too much water is to limit the amount of time they stay in the water. Take frequent breaks and shift the play to land. If you have a dog like Cait, who is obsessed with waves, you will need to restrict access to the water. If playing fetch with your dog in the water, choose flatter objects so your dog doesn't have to open its mouth so widely.
If your dog does show symptoms of water intoxication, get them to a vet as soon as possible as time is of the essence.
Thanks to Jeannine's attention to Cait and her quick action in contacting the vet, and thanks to the work of the dedicated vets and staff at KVEC, Cait is still with us to enjoy some (closely monitored) time in the water.