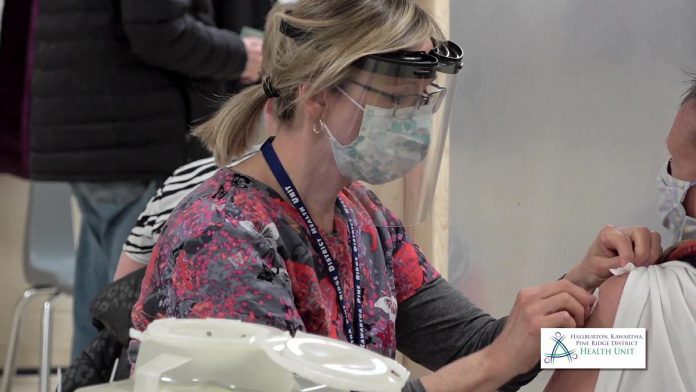 Residents of the City of Kawartha Lakes, Northumberland County, and Haliburton County who have not yet received their first dose of COVID-19 vaccine can get one at walk-in immunization clinics in Cobourg or Fenelon Falls during July.
The two clinics, at the Cobourg Community Centre (750 D'Arcy St.) and Fenelon Falls Community Centre (27 Veterans Way), are open to any area resident 12 years of age or older who has not yet received a COVID-19 vaccine.
In a media release issued on Monday (July 5), the Haliburton, Kawartha, Pine Ridge District Health Unit states that, while almost 77 per cent of the area's residents have received at least one dose of COVID-19 vaccines, first-dose vaccine appointments are starting to level off at local mass immunization clinics.
Advertisement - content continues below
"We realize not everyone may have been able to book appointments through the provincial booking system or been able to access COVID-19 vaccines through other channels," says Dr. Natalie Bocking, the health unit's medical officer of health. "By providing this opportunity, we want to remove any barriers and make it as easy as possible for anyone who has not yet received a first dose of COVID-19 vaccine to get one."
The Cobourg walk-in clinic is available from 1 to 4 p.m. on Thursdays and Fridays — July 8 and 9, 15 and 16, and 22 and 23 — and the Fenelon walk-in clinic is available on Saturdays and Sundays — July 10 and 11, July 17 and 18, and July 25 (but not July 24).
If there is a strong demand for the first-dose walk-in clinics, the health unit will expand them to its other mass immunization clinics later in July.
The announcement of the walk-in clinics comes on the same day the health unit reported a spike of 17 new cases in Kawartha Lakes over the past three days, increasing the number of active cases in the area by by 15.