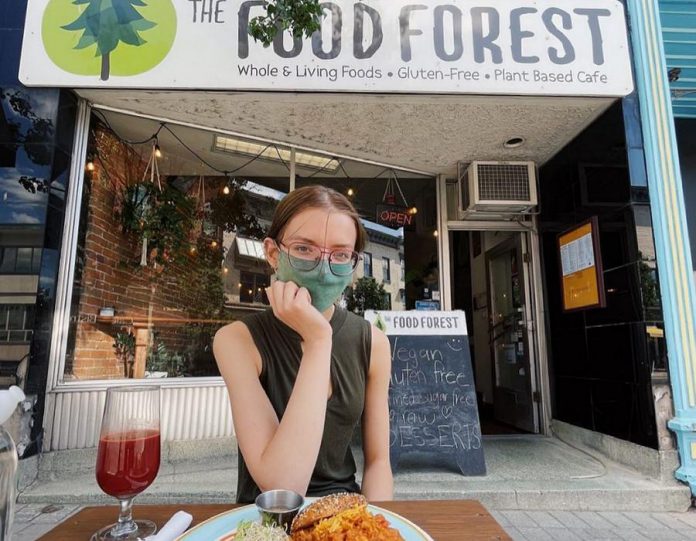 The 'support local' message has been everywhere throughout the pandemic — and for a good reason. Overall, small businesses have been vulnerable in the face of lockdowns and restrictions over the past 15 months.
Some were able to survive the storm better than others. According to Lasair Wood, owner of The Food Forest — a vegan and gluten-free restaurant in downtown Peterborough — her business has managed well despite the difficulties.
There are several contributing factors to The Food Forest's ability to sustain the pandemic. Their food travels well as takeout, and they are the only entirely gluten-free and vegan restaurant in Peterborough. However, Wood credits her restaurant's success over the past year mainly to those in the Peterborough community who have taken the 'support local' message to heart.
Advertisement - content continues below
"Honestly, we're doing pretty well," Wood remarks. "The community's been supporting us so much throughout COVID. I feel like if we were in another city, we probably would have closed in three months. Since we're in Peterborough, and since a lot of people have been deciding to shop local instead of big companies, we're okay."
This isn't to say the restaurant hasn't had its fair share of challenges and pivots this year. Even as Wood prepares to move through the province's next phases of reopening, she is making adaptations to the restaurant due to the effects of COVID.
At the onset of the pandemic in March 2020, Wood had to lay off all of her staff. The Food Forest subsequently lost most of its long-term staff since they moved back home to various cities and countries outside Peterborough. Once the business reopened and came into a position to bring in more staff again, Wood had to hire and train new people.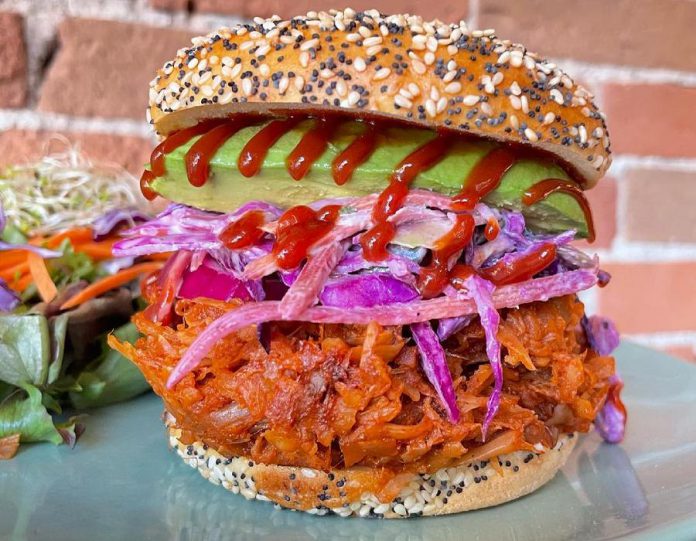 In fact, for those first few months of the pandemic, Wood ran the entire business — doing everything from cooking to administration — by herself.
"That was stressful, hard work," Wood recalls. "By the end, no one was able to come back and work for me anymore, so we had to hire a completely new staff. That was really hard."
The inside of the restaurant also looks a little different now due to COVID. Since there is no indoor dining, The Food Forest does not have a defined front and back of house. That will change when indoor dining, with capacity and other restrictions, is once again permitted during step three of Ontario's reopening plan expected later in July.
Advertisement - content continues below
For now, Wood is training some of her staff to be servers in preparation.
"We're training two servers right now, so hopefully we'll get busy enough again to be able to have a front and back of house," Wood says. "I want my staff to all be confident in what they're doing by the time we do that. Now, since we're not doing tables inside, there's no point of having a front of house and back of house."
Food Forest patrons who want to dine can currently do so on the restaurant's patios. The restaurant has one table on their front patio and four tables on a back patio, which is shared with St Veronus and Providence. Two of the four tables on the back patio can seat up to six individuals, the limit per table under step two of Ontario's reopening plan.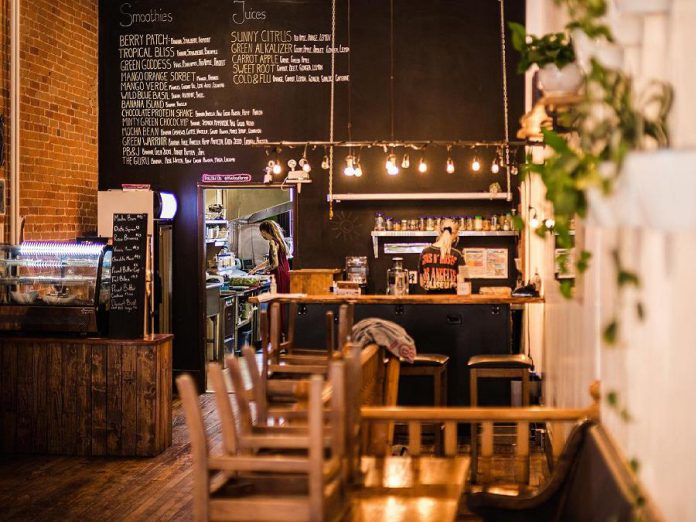 The shared patio came into fruition last summer as a result of a proposal by landlord Ashburnham Realty.
"We had a meeting where they proposed the idea, and we all thought it would be super awesome," Wood recalls. "Ashburnham Realty already had plans to put a courtyard back there but just pushed it up because of COVID. We have great landlords."
According to Wood, the businesses all pulled together to make the proposal a reality.
Advertisement - content continues below
"With all three businesses working on it together, it made things go really smoothly and easy," she says.
The patio has been a hit among Food Forest patrons, Wood says. Most of her customers already know about it from social media before arriving at the restaurant — which is good since customers cannot see or access the patio directly from the restaurant.
"When people come to dine, they come in through the front, and then we ask if they want to sit at the front or back patio," Wood explains. "If they choose the back patio, we tell them how to get to it. They actually have to walk across the block because there is no way to get to it from inside the restaurant, which is something we do have to work on for next summer."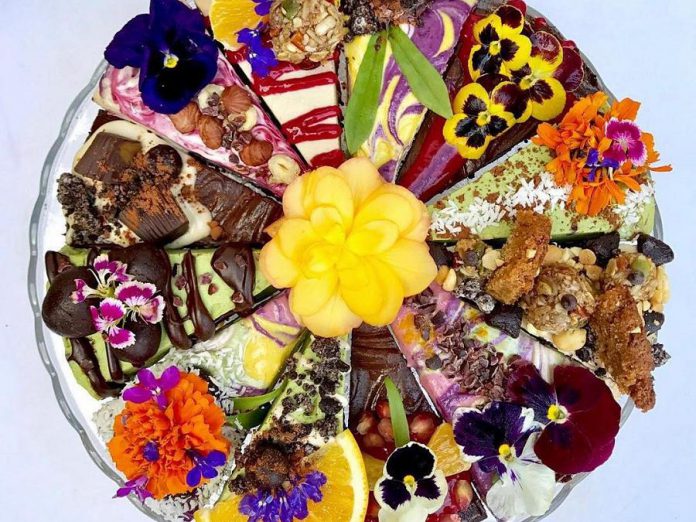 "When people come around, I'll make eye contact and wave them over to their table and put their food on it," she adds. "It's really relaxed and chill here."
The Food Forest still offers takeout, which has been a popular option throughout all stages of the pandemic. Wood says during the first COVID lockdown, a friend of hers personally delivered orders, but when she could no longer do this, they signed up for Uber Eats.
Uber Eats takes a 20 per cent commission fee on all deliveries, so those who want to support local can order and pickup from The Food Forest directly.
Advertisement - content continues below
"The whole 20 per cent thing definitely sucks," says Wood. "But at the end of the day, I look at the sales from Uber and it's still worth it to be doing it."
Wood is grateful that the community's commitment to supporting local often extends to how they order their takeout.
"A lot of people ask if we deliver, and when we tell them that they can do it through Uber, they actually change their mind and come and pick it up instead," Wood notes.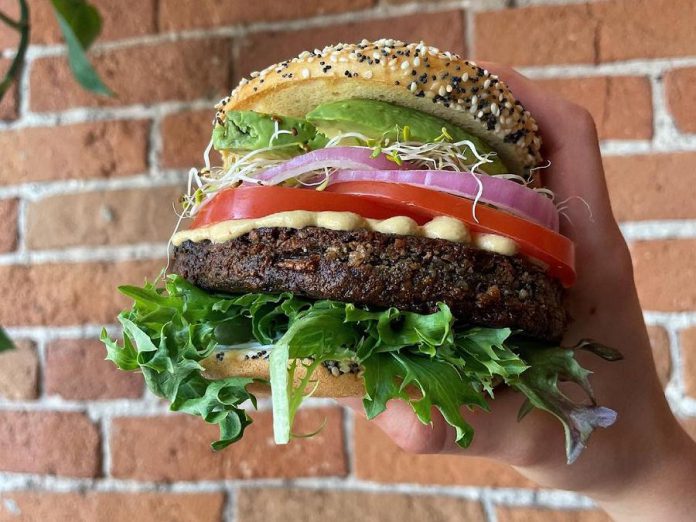 Whether you choose to dine-in on their patio or place an order for takeout, The Food Forest continues to follow COVID-19 protocols — including cleaning, contact tracing, and sanitizing — to keep customers safe.
The Food Forest also recently added a new menu item to their offerings: a vegan and gluten-free charcuterie board.
"It has vegan brie and feta," Wood says. "It's about 70 or 80 per cent organic depending on the fresh produce we can get for it. You can order it with or without a bottle of wine, too, and there's a deal on the wine."
Wood asks the community to continue choosing local and thanks everyone who has supported her restaurant over the last year.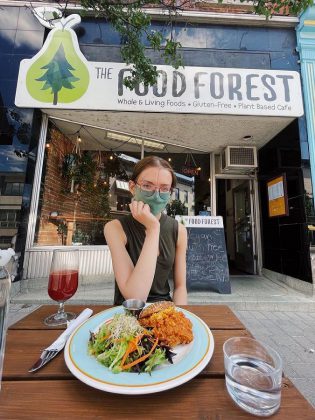 "Please continue the mindset of supporting local," Wood says. "Try not to order off Uber as much as you can. If you can go and get your food, just go, so the restaurant doesn't have to lose 20 per cent."
"I really love our community," she adds. "It's been so awesome. I could not be any happier."
You can also support The Food Forest by following them on Facebook and Instagram.
To learn more about The Food Forest, Peterborough's only 100 per cent gluten-free and plant-based restaurant, and view their menu, you can visit their website at www.foodforestcafe.com.
The Food Forest is located at 153 Hunter Street West in downtown Peterborough. They're open for takeout and patio dining Wednesday through Saturday from 11 a.m. to 7 p.m. The Food Forest is closed on Sundays, Mondays, and Tuesdays.
This story has been updated to correct the feature photo caption.