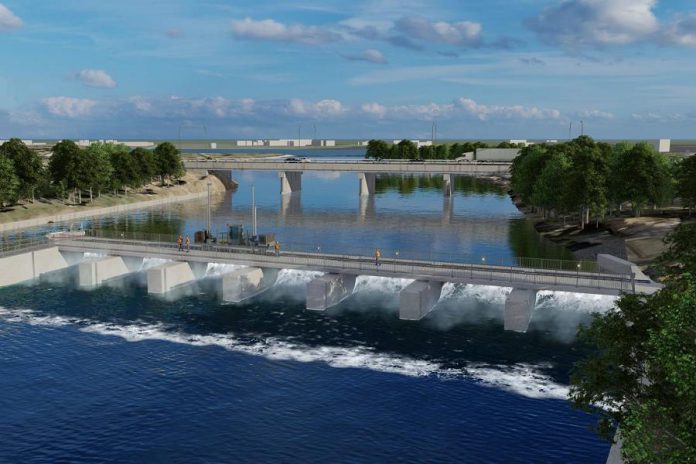 There's both good news and bad news for Peterborough residents living near Scotts Mills Dam at Lock 19, located south of Lansdowne Street where it crosses the Otonabee River.
The bad news is they can expect to endure additional noise in the late evening and early morning hours while the dam replacement project continues.
The good news is that, without this additional noise, the project would take at least an additional year to complete.
Advertisement - story continues below
On Monday (July 12), Parks Canada announced some changes to the work hours for the ongoing project. Construction on the project began in spring 2019 and, for the first two years of the project, contractors were instructed to work from 6 a.m. to 11 p.m., including on weekends, with a variety of noise levels allowed at different times.
To keep the project on track for completion in spring 2022, Parks Canada has approved an additional work shift by contractors, which will result in longer hours for light construction noise.
However, heavy construction noise would still be restricted to certain hours of the day and evening.
Activities generating heavy construction noise will be allowed Monday to Saturday from 7 a.m. to 9 p.m. and on Sunday from 9 a.m. to 9 p.m. These activities can include installation of piles, use of machinery or vehicles equipped with backup alarms, demolition and excavation, use of air compressors, drilling and bush hammering, and loading, hauling, and placement of rip rap or concrete.
Activities generating light construction noise only will be allowed daily from 5 a.m. to 7 a.m. and from 9 p.m. to 2 a.m. These activities can include general carpentry (including the use of handsaws and hammering), general craning (including form work placement and fuelling), rebar placement, concrete finishing and parging, and general site cleaning, cleanup, and organization.
Advertisement - story continues below
Without the extra work shift, Parks Canada explains in a media release, construction would continue until at least summer 2023. With the change in work hours, construction is expected to conclude in spring 2022, with restoration to follow that summer, as scheduled.
"Parks Canada is thankful the public's patience and understanding during this critical construction project," the media release reads.
According to Parks Canada, the new dam once completed will respect the historic look of the site and will have a life expectancy of more than 80 years. It will optimize hydraulic capacity, increase the safety of water management operations, and be constructed in a way that allows improved access for maintenance activities.
In addition, the project will be the first step in creating a more public-friendly lock site. Once restored, the dam will include pedestrian access onto the dam itself.