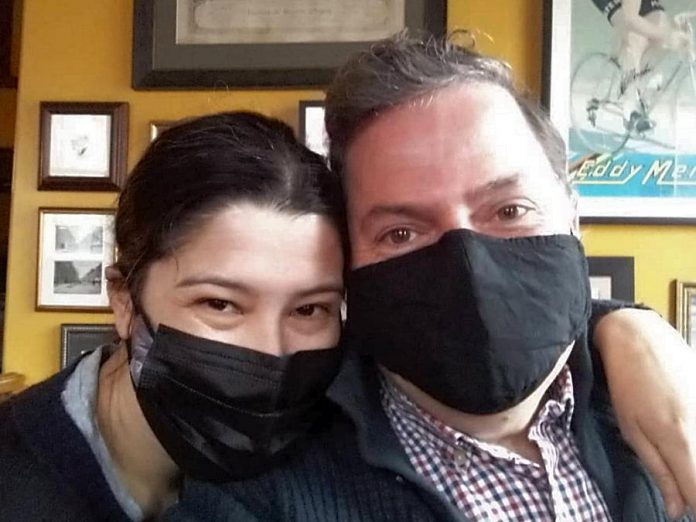 The pandemic has prompted tremendous change for many small businesses. In the COVID era, to adapt is to survive, especially for the restaurants forced to close to indoor dining for months at a time during various lockdowns.
Married couple Roland Hosier and Shannon Mak — owners of St Veronus Cafe and Taproom and Le Petit Bar in downtown Peterborough — say surviving the past 15 months meant reinventing their businesses.
Sister businesses, St Veronus and Le Petit Bar are located together on the corner of Hunter and Water streets in downtown Peterborough. The first significant pandemic pivot for both restaurants was takeout, something neither restaurant offered before the pandemic.
Advertisement - story continues below
"It can be different for other restaurants, but for businesses like ours, the shift to takeout was like reinventing our restaurants," Shannon says about Le Petit Bar, which opened in 2012 as a Paris-style wine, cheese, and charcuterie bar. "We actively did not do takeout."
During the first COVID lockdown, Shannon and Roland overhauled the Le Petit Bar menu to start offering takeout. The menu now includes dinner items as opposed to just bar snacks and charcuterie.
While takeout has helped both St Veronus and Le Petit Bar keep their lights on during the pandemic, sales do not compare to what they were when in-person dining was allowed. Roland and Shannon note that since costs like rent have not also dropped, they've experienced a significant financial shortfall during the pandemic.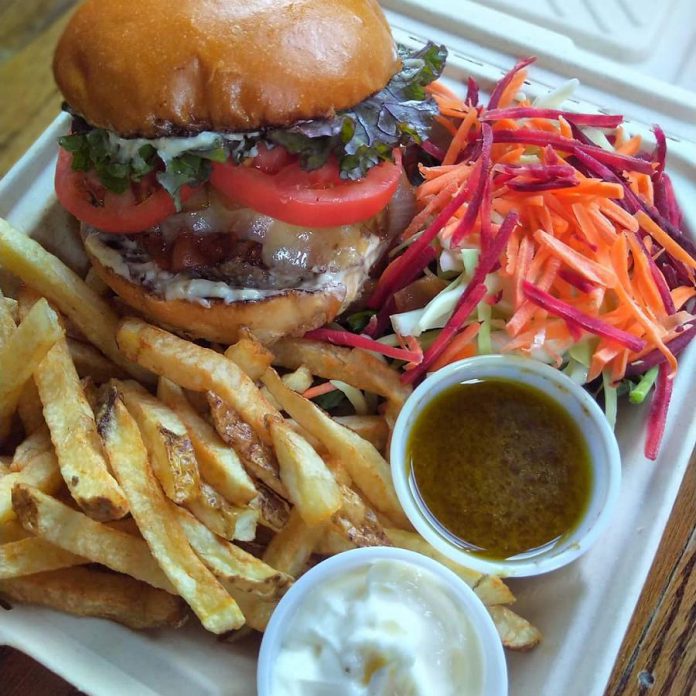 "(Switching to takeout) has been very challenging," says Roland. "It leaves you, in my experience, with about 15 to 20 per cent of what your sales normally are."
As the pandemic continued, Le Petit Bar continued to evolve. The government started permitting businesses to sell alcohol off-license, so Roland and Shannon changed the inside of Le Petit Bar into a bottle shop and marketplace.
Le Petit Bar Marché and Bottleshop sells Le Petit Bar wine and St Veronus's beers, as well as a small selection of snack foods like cheese and charcuterie. Legally, to buy beer or wine from the marché, you must also purchase a food item.
Advertisement - story continues below
"We created a new business," Shannon explains. "At Le Petit Bar, over the past 15 months of developing the shop, the list of wines has grown. There's a super neat list of different natural, organic, and bio-dynamic producers. We sell stuff you won't find anywhere else in the city and not at the LCBO."
The marché is open for in-person shopping with limited capacity and also has an online shop.
"We sell beer that you won't find anywhere else in the city and some even in the province or the country," Roland remarks.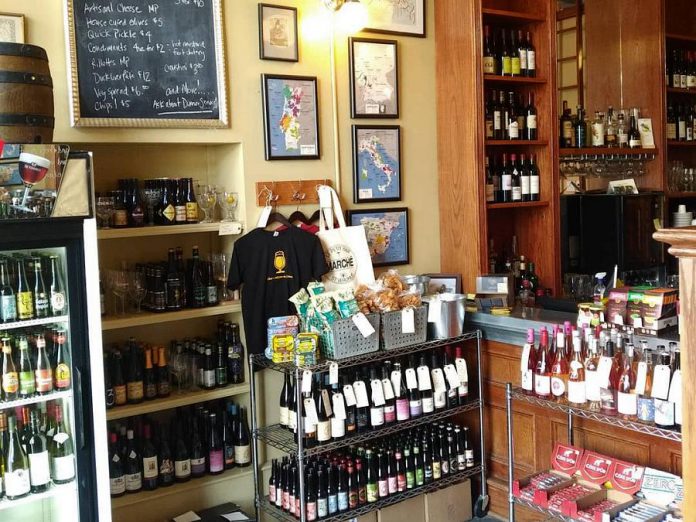 Le Petit Bar's sister business St Veronus is a Belgian café and taproom that has been operating in downtown Peterborough since 2002. In addition to their Belgian beers, their menu is also Belgian inspired.
Both St Veronus and Le Petit Bar have also offered collaborative takeout packages at points throughout the pandemic. Shannon and Roland put together four-course takeout packages for special events and long weekends — an offering they say was successful.
Another popular offering was an online wine tasting event with a paired dinner.
"The online dinner and tasting were successful," Roland notes. "Hopefully, we do not have to do stuff online in the future, but now we know we can."
Advertisement - story continues below
During step two of Ontario's reopening plan, Roland and Shannon have continued to reinvent their restaurants by offering outdoor dining on patios created as a response to pandemic restrictions.
Roland credits their landlord, Ashburnham Realty, for helping to create a beautiful back patio for St Veronus — one shared with fellow tenants The Food Forest and Providence.
"They have poured a concrete pad out back in the courtyard," Roland notes. "We're now able to have a nice patio back there this year, so we're really grateful for them."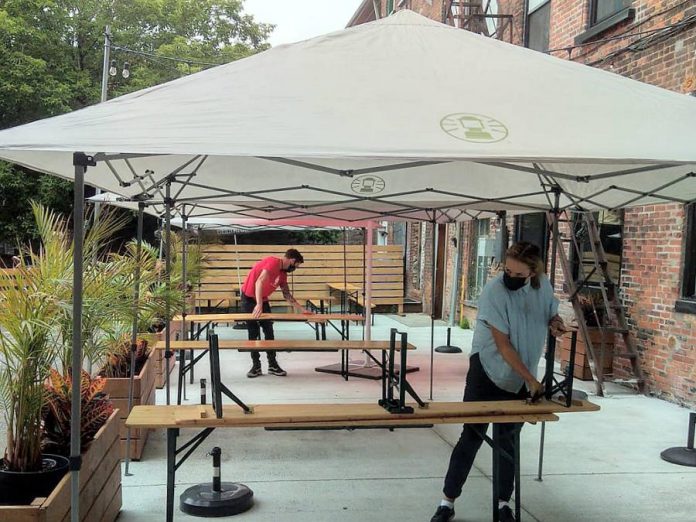 "We've received a lot of comments about that patio saying it feels like a hidden gem," he continues. "We've got exactly the same tables and benches you'd find at a German beer garden or an Austrian beer garden. We get comments saying that it feels quite European."
The Le Petit Bar patio is petit with a pleasant atmosphere, just like the bar.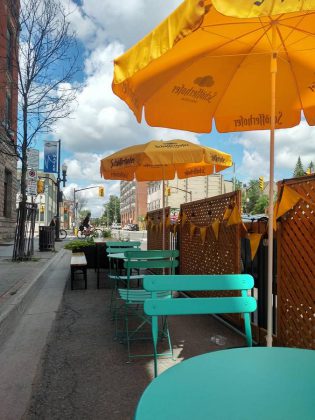 "Le Petit Bar's patio is in the parking lane in front of Le Petit Bar and some of St Veronus," Shannon explains. "It is small. Unfortunately, the way the city allotted space this year, we have about half the amount of space this year that we got last year. We have four tables, though, and that's great."
You can order the same dinner items found on their new takeout menu at the Le Petit Bar patio. However, the inside of the restaurant will remain the marché, even after the province moves into step three of the reopening plan that permits unlimited indoor dining.
"Until the fall, when we have a minute to think about what the next phase of that business is, we're not sure when or if we'll have people inside that building," explains Shannon.
Shannon and Roland ask their customers to be understanding as they continue to adapt to the current and upcoming stages of the pandemic.
"We want everyone to know that it's our business to create an experience for you and for you to have a nice time," says Shannon.
"We're confident that we're operating in a manner that's as safe as possible for our staff and the general public," Roland adds. "We would ask people if we can't accommodate them or if things are not 'normal' that they are patient. We have to be very diligent about all the things we do to comply with the public health directives."
Advertisement - story continues below
As for community support, Shannon and Roland say they have felt it and are grateful for it.
"We've felt a ton of support," says Shannon. "We're fortunate. We have a lot of regulars that would come every week for takeout. They kept it afloat, for sure."
Shannon asks that the community continues showing up for local businesses even as things continue to reopen.
"I think the hard part is still to come," Shannon remarks. "I think the challenging part is going to be when we're focused on recovery without the generous government subsidies we've been receiving."
"If you want these places to be here at this time next year, we ask that you keep showing up for them and think about your local business before you think about a chain or a big-box store."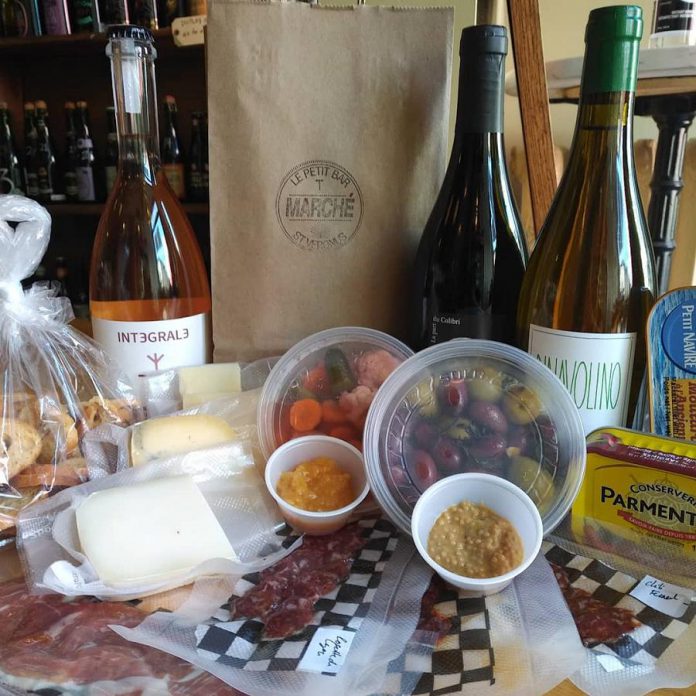 St Veronus Cafe and Taproom is located at 129 Hunter Street West in Peterborough. They are open Tuesday through Saturday from 12 a.m. to 10 p.m. To make a reservation on their beer garden patio or place a takeout order, you can call 705-743-5714.
For more information, including the menu, visit www.stveronus.com.
Le Petit Bar is located at 399 Water Street in Peterborough. You can shop in the marché and have drinks on the patio from 2 p.m. to 10 p.m. Wednesday through Saturday. Dinner is served on the patio from 5 p.m. to 10 p.m. You can call 705-775-7384 to make an outdoor dining reservation or to place an order for takeout.
For more information about the marché and the patio menu, visit www.lepetitbarptbo.com.