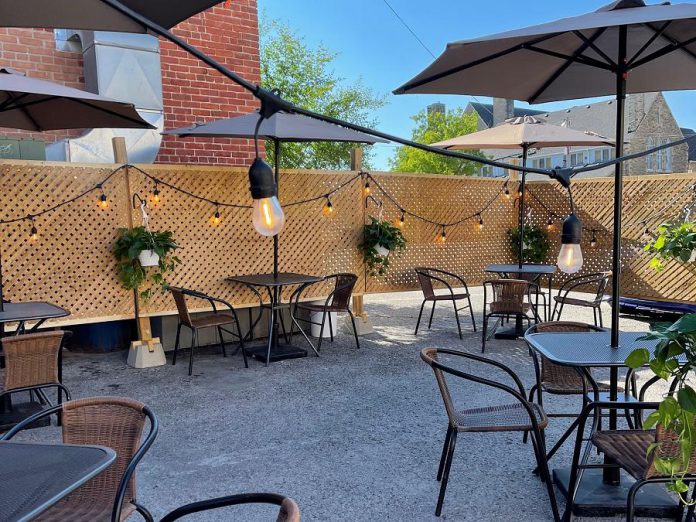 The latest pandemic lockdown was the most difficult of them all, according to Rare restaurant owners Kassy and Tyler Scott — so reopening for outdoor dining in June was both exciting and relieving for the pair.
This summer marks the second year of Rare's pop-up patio, located in their back parking lot.
"This most recent shutdown was the scariest for us," Kassy says. "We just held on. I'm not going to lie — there were some weeks when we thought, 'How are we going to get through this?' But we somehow managed to come out of it."
Advertisement - story continues below
For the summer of 2020, when only outdoor dining was permitted, Kassy and Tyler built a patio in Rare's back parking. Kassy expected outdoor dining only to be allowed again this summer, so they started planning out their patio in advance during the lockdown.
"Tyler was designing it and gathering all the material for it," Kassy recalls. "We knew patios were coming back, and that's what got us through the last lockdown."
The Rare back lot patio has seen a couple of changes this year from last. They've moved it from the middle of the lot to the side of their building. This way, they can better accommodate their neighbouring businesses who use the lot for parking.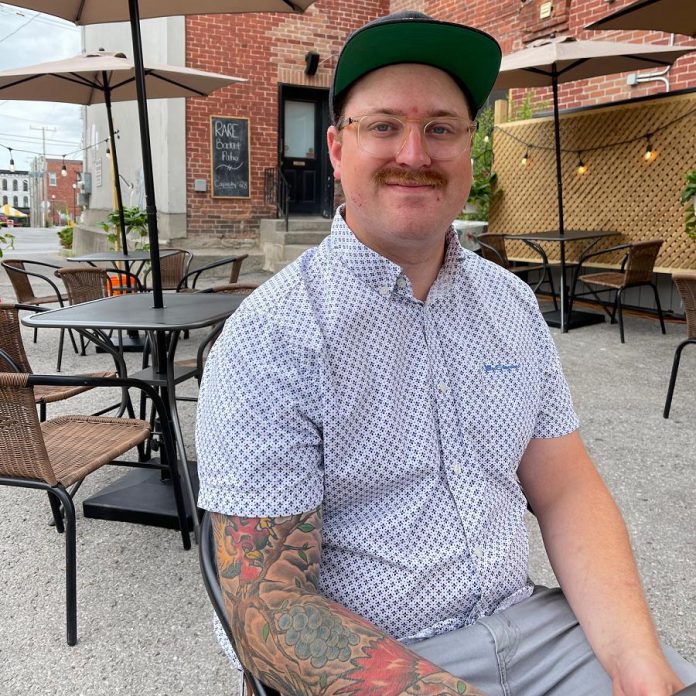 Last year, the patio had 10 tables, but this year it has eight — the same number of tables you will find inside the restaurant now that indoor dining is allowed again.
Although there aren't many significant visible changes for customers, the new setup adds functionality and ease for Rare staff.
"Tyler was able to install speakers attached to the brick, as well," Kassy says. "It eliminates a lot of heavy equipment. We can now store everything outside, which is huge because last year, we were carrying everything in and out of the back door."
Advertisement - story continues below
While the patio has a do-it-yourself look, Kassy and Tyler have made the space gorgeous, and the "pop-up patio" look brings it a neat atmosphere.
"We have these fluorescent orange Home Depot cement buckets that weigh down posts to hang string lights," explains Kassy. "Our patio is still very DIY. It adds a European vibe that's more so about getting people in to enjoy the food. The delicious food and drink is the artwork of your evening."
Although they had been planning for weeks in advance, Kassy says the June 7th news that Ontario was moving into step one of the reopening plan — allowing outdoor dining with up to four people per table — three days earlier than scheduled came on too suddenly.
"It's impossible to have everything perfected and ready to go within three business days," Kassy notes. "When the announcement came, we still didn't feel 100 per cent ready. It is truly a blood, sweat. and tears type of situation."
After the announcement, Kassy and Tyler had friends reach out, asking if they could help build this season's patio. With a bit of help from their friends, Kassy, Tyler, and their staff were able to confidently open their patio on Friday, June 11th.
"We have a small team at Rare," Kassy says. "Altogether there are about 10 of us, including Tyler and myself. Everyone was there with no questions asked, working so hard to get everything launched."
Advertisement - story continues below
Opening the Rare patio for steps one and two of Ontario's reopening plan has gone well, according to Kassy.
"To be able to stand back and watch our customers at Rare enjoying the food definitely took our breath away," Kassy remarks. "A full week had gone by with the patio before we could finally take a breath and be like 'Okay, we just made that happen again.'"
The transition from step one to step two on June 30th did not change much for Rare. Although step two allowed them to seat tables larger than four, they kept the table limit as it is more effective at turning tables.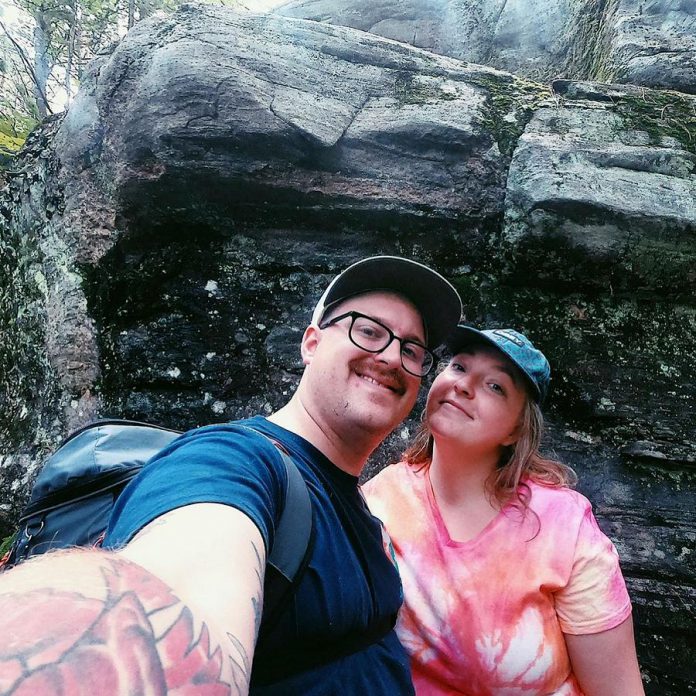 "When we have large tables on our patio, we're taking away from how quickly we can turn over a table for somebody else to come in and enjoy dinner that night," she explains.
Kassy and Tyler are very excited to see the province move to step three of the reopening plan today (July 16), allowing restaurants to resume indoor dining.
The couple purchased Rare (previously Rare Grill House) from former owners Brad and Katie Watt in September of 2019. The couple made significant investments in rebranding and renovating the restaurant's interior in January 2020 — two months before the pandemic hit.
Advertisement - story continues below
"Our beautiful newly renovated dining room has sat vacant for way too long," Kassy remarks.
Another transition for Rare over the past several months has been in their menu. Rare now offers a "hyperlocal menu" for both dine-in and takeout. Rare's menu has always featured local ingredients, but now about 85 per cent of what they serve comes directly from local suppliers.
Rare truly is a "rare experience", as the restaurant's marketing claims, since the menu can change from day to day. Because their ingredients come from local farmers and growers, the Rare menu changes weekly and sometimes even daily.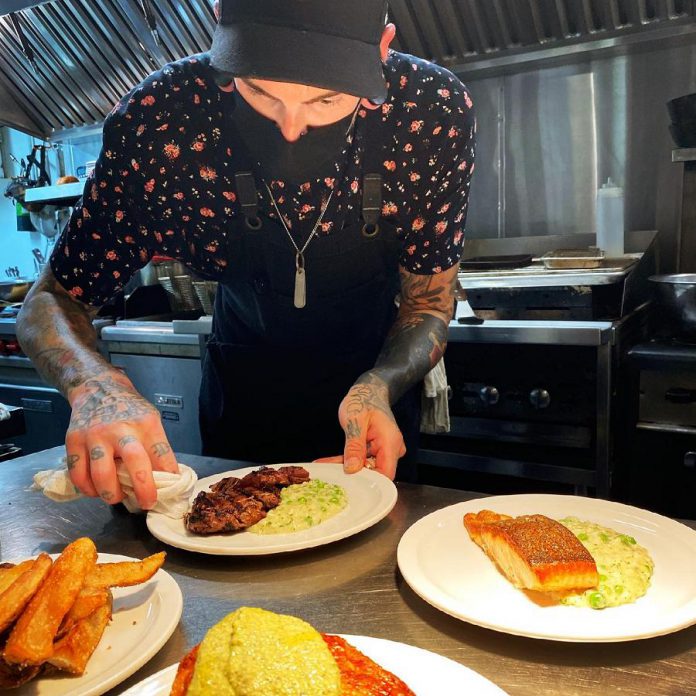 To find the current Rare menu, visit the restaurant's website at rareexperience.ca, where you can also make a reservation or place an order for takeout.
Rare also offers Sunday brunch, which they launched last year when Rare sous-chef Andrew Orde came on board. Andrew previously ran brunch at Electric City Bread Company in Peterborough, so he takes the lead on Sunday morning brunch at Rare.
"Hopefully, at some point, we can start opening on Saturday mornings too," says Kassy. "It's fun to have those two different patio moments. For brunch, it's sunny and beautiful and cheerful. Our customers who have kids are bringing their kids. For our dinner service, it has a different vibe."
Kassy asks that her customers continue showing the patience, understanding, and kindness she has seen so far during this second pandemic summer.
"Have compassion towards people who are working in this industry right now," Kassy pleads. "Things have changed. Many businesses have had to hire new staff, so there's training that's happening. Things that you otherwise wouldn't have to think about are happening on the inside while you're dining at a restaurant."
Kassy and Tyler are feeling optimistic about the future of their restaurant, especially now the inside dining is allowed again. More than anything, they want to use this time in the reopening stage to celebrate with Rare customers and get excited about the future.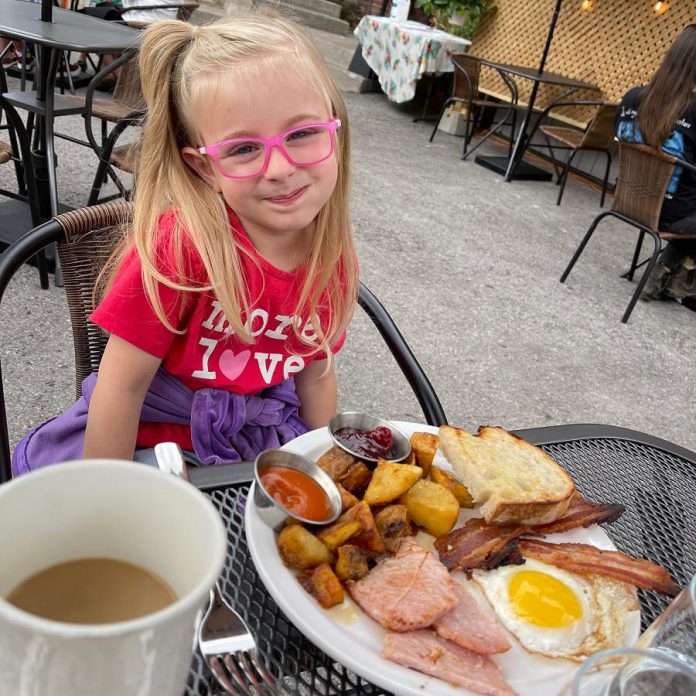 "We are so excited to have our guests here with us," Kassy says. "Their support means the world to us. We wouldn't have gotten to the point we're at now without our community."
"We've all gotten this far," she adds. "We can do anything after this is done."
Rare is located at 166 Brock Street in downtown Peterborough. They are open 5 p.m. to 10 p.m. Wednesday to Saturday, and 10 a.m. to 2 p.m. on Sundays. To view the Rare menu, make a reservation, or place an order for takeout, visit rareexperience.ca. You can also follow them on Facebook and Instagram.