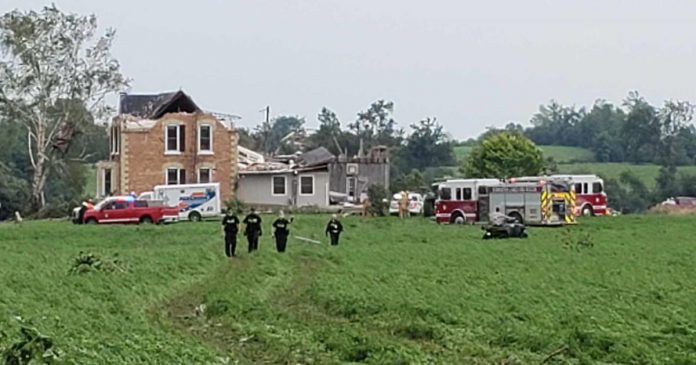 A woman and her son — along with a cocker spaniel mom and her puppies — are lucky to be alive after a tornado hit a Kawartha Lakes farm house on Thursday afternoon (July 15).
Carey Stacey and her son Owen were in the basement of the house, located on Royal Oak Road near Manilla, when the severe weather hit.
According to a public Facebook post from Carey's mother Lynn, who founded the cocker spaniel breeding business Double L. Spaniels with her husband Len, Carey and Owen were in the basement tending to a cocker spaniel who was having a litter of puppies.
Advertisement - story continues below
"A wall or part of the ceiling came down and hit Carey hard on the head and covered her in the rubble," Lynn writes on the Double L. Spaniels Facebook page. "Luckily Owen wasn't hurt. He dug her out."
Kawartha Lakes OPP were called to the farm just after 4 p.m., but downed trees made the road impassable for emergency vehicles, according to a police media release.
Police officers proceeded on foot to check on the "trapped individuals", the media release reads, while emergency crews cleared the roadway of debris to allow access to the scene.
Carey was treated at the scene and then transported to hospital with non-life-threatening injuries.
According to Lynn's Facebook post, the storm spared the lives of all the cocker spaniels on the farm, including the mom and her litter of puppies.
Carey's husband Steve arrived home from work to find the dogs running around in the fields around the house.
Advertisement - story continues below
"He loaded them all in his cattle trailer tonight and they are all back at Balsam Lake with Len and I," Lynn writes.
Lynn is asking clients of Double L. Spaniels who have reserved a puppy to email her at doublelspaniels@gmail.com as Carey's laptop, camera, and paperwork have been lost in the rubble.
Royal Oak Road remains closed from Simcoe Street to White Rock Road while the Kawartha Lakes Roads Department cleans up the fallen trees, according to police.
Worse as you go east. This is a neighbour's house. Lost there barn too. 🤞hope everyone's allright. We couldn't get down the road for trees pic.twitter.com/WUif1lZd6d

— tim webster (@timspringdale14) July 15, 2021