Peterborough Musicfest is presenting its first-ever drive-in concert this August with Canadian alt-rockers Sam Roberts Band headlining and Peterborough's own roots-rockers The Weber Brothers opening.
The free outdoor concert takes place at 7 p.m. on Sunday, August 29th in the parking lot of the Peterborough Memorial Centre.
"We've wanted Sam Roberts for a long time and he's finally coming to Peterborough Musicfest," says Musicfest general manager Tracey Randall in a media release. "We couldn't be more excited."
Advertisement - story continues below
The Montreal-born Roberts released his debut EP The Inhuman Condition in 2002, before signing with Universal Music and releasing his debut album We Were Born in a Flame in 2003, featuring the hit singles "Where Have All the Good People Gone?" and "Hard Road". That debut record won two Juno awards in 2004 — Album of the Year and Rock Album of the Year — with Roberts also winning the Juno award for Artist of the Year.
Since then, Roberts has released two more albums as Sam Roberts and four albums as the Sam Roberts Band. Together with his band, Roberts has been nominated for 15 Juno awards, winning six, including Artist of the Year again in 2009. The band's latest album All of Us was released in October 2020.
Members of the band are Sam Roberts (lead vocals and guitar), Dave Nugent (lead guitar), Eric Fares (keyboards and guitar), James Hall (bass), and Josh Trager (drums).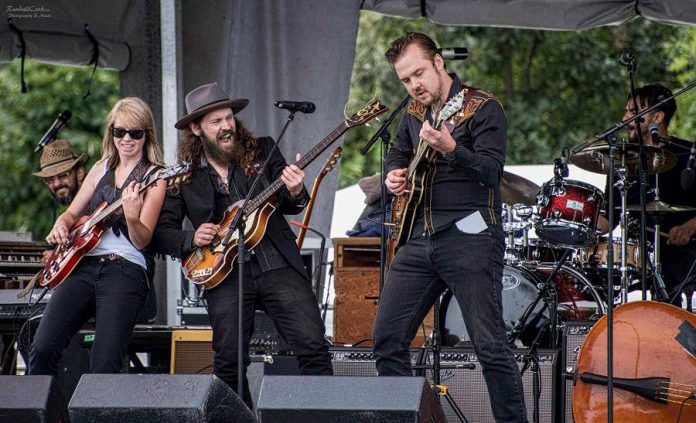 Opening the August 29th show is Peterborough's own The Weber Brothers band, featuring Ryan and Sam Weber, Rico Browne, Emily Burgess, and Marcus Browne. The Weber Brothers released their 13th full-length albums, Choose Your Own Adventure, in May 2021.
While admission to the concert is free, tickets must be reserved in advance. Tickets will be available starting at 10 a.m. on Monday, August 9th at www.memorialcentre.ca or by phone at 705-743-3561.
"All Musicfest concerts are free of charge thanks to our incredible sponsors," says Musicfest board chair Paul Rellinger. "We're so pleased we could partner with the Memorial Centre to bring our fans this show — it's going to be a great time."