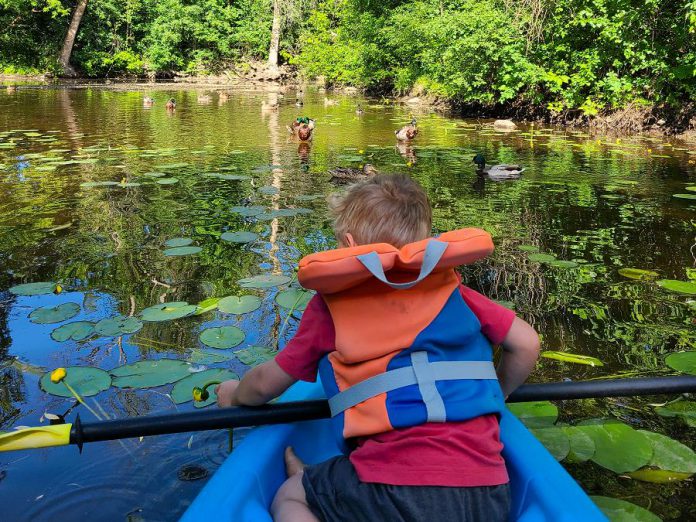 While the pandemic has negatively affected many businesses, it has also increased the demand for outdoor recreational activities people can enjoy close to home — and businesses like Liftlock Paddle Co. in Peterborough are seeing the benefits.
Owner Taryn Grieder offers rentals for kayaks, stand-up paddleboards, and canoes, as well as water raft floating mat and a pedal boat.
To rent from Liftlock Paddle Co., customers make a reservation on the company's website at liftlockpaddleco.ca. At your reservation time, Greider will meet you at the launch point with your equipment.
Advertisement - story continues below
Customers can choose whether they'd like to paddle through the Ashburnham lift lock and the world-famous Peterborough Lift Lock, or explore nearby Little Lake — perhaps with the aim of spotting some wildlife.
"Beavermead Park has the nicest little river," notes Grieder. "Motor boats can't go there, so it's a perfect spot to do hourly rentals."
As for the lift lock tour, Grieder says it is a terrific way to go through the locks, especially if you haven't done them before. Although the complete route takes about two and a half hours, Grieder assures it's an easy paddle since many kids have done it.
At the end of your reservation, customers meet Grieder back at the launch point, where she will collect her equipment. All rentals include a personal flotation device (PFD). For COVID-19 safety, equipment is power washed and sanitized between uses.
For families, parents can take their kids in double or tandem kayaks ride for free. Grieder takes her three-year-old son with her in a double kayak all the time.
"It's so great for kids because these kayaks have little kid seats in the front," Greider explains. "They're like a little captain. My son loves that, so he'll come out with me all the time. We'll always go turtle hunting."
Advertisement - story continues below
According to Grieder, her older son, who is almost nine, also loves to kayak. For children and youth aged six to 17, Liftlock Paddle Co. offers a junior paddlers program where Grieder leads groups of kids through the lift lock route.
If only a single child is signed up for a session, Grieder has her oldest son join them. During their busy summer season, Grieder and her sons are on the water kayaking almost daily.
"They don't even know how lucky they are," Grieder laughs. "I would have loved to do that as a kid. They're down at the boat launch with me every day."
Grieder says she originally created her company in part to offer the experience of kayaking to her own children.
"It all started because I wanted to do it with my kids," Grieder says. "I thought it would be something so cool to do."
After cultivating the idea of a boat rental company from travelling abroad, Grieder had her first season of rentals in 2020.
Advertisement - story continues below
"I'm a big traveller, and I've always looked for cool stuff to do," says Grieder, who also teaches at Trent University and Fleming College. "I went to San Diego, and they have kayak rentals, and it was cool because they had caves and sea lions. When I moved to Peterborough, I thought the lift locks were so cool. I saw kayaks on them one day and thought, 'Huh, I want to kayak the liftlocks.'"
Liftlock Paddle Co. grew from there to become a company with a loyal base of regular customers, continually growing both in supporters and offerings.
Many people living in Peterborough have not experienced travelling through the city's lift locks and paddling its waterways. Liftlock Paddle Co. makes it easy and memorable to do so, especially since you don't have to worry about transporting the equipment you rent.
"There are a few people who come every week," Grieder remarks. "We just want people to get out and go see how awesome Peterborough is."
Unlike other businesses, Greider's company has not seen many impacts from the pandemic — other than having to sanitize equipment. Many people have embraced outdoor activities for both fun and fitness, and paddling is a way people can enjoy the outdoors while maintaining physical distancing.
Because paddling naturally lends itself to physical distancing, Grieder recently decided to expand her offerings by introducing adult social paddles every Sunday at 4 p.m.
Advertisement - story continues below
Participants have the chance to safely socialize and enjoy paddling around the river together for an hour and a half.
"Anyone can come kayaking," Grieder urges. "I want people to come because it's really fun."
To explore Liftlock Paddle Co.'s offerings, pricing, and to make a reservation, visit liftlockpaddleco.ca. You can also follow them on Facebook and Instagram.