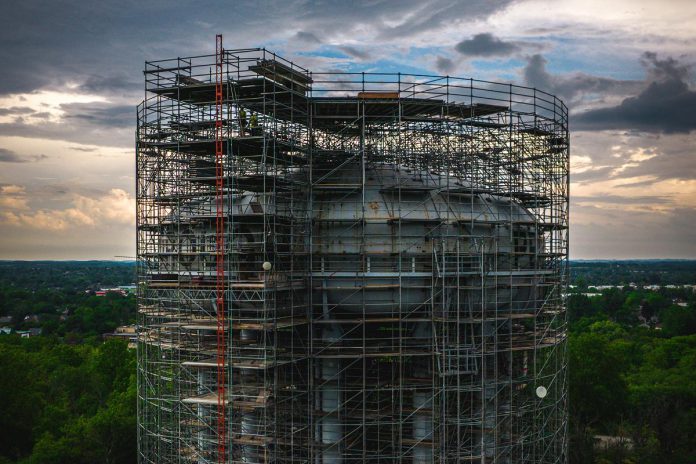 Peterborough's landmark water tower is getting a facelift.
Peterborough-based drone and video production company Unmanned has shared aerial photos and footage on its Instagram account of the ongoing rehabilitation of the High Street water tower.
Unmanned was hired to document the work by Burlington-based Landmark Structures Co., which has been contracted by the Peterborough Utilities Commission to replace the internal and external coatings of the water tank to extend its useful life.
Advertisement - story continues below
"The High Street water tower is one of the main symbols we think of when we think about Peterborough," Kyle Christie, chief marketing officer of Unmanned, tells kawarthaNOW. "We are very excited to be documenting the progress of its restoration. We believe in the potential this city has, and seeing the tower brought back to life is a testament to what Peterborough can be."
The High Street water tower, which was constructed in 1957, stands around 32 metres tall (105 feet) and has a capacity of 4,500 cubic metres of water (one million gallons).
The $3.5-million project to replace the water tank's coatings began in April and is expected to be completed in October. The work also includes miscellaneous health and safety upgrades to the tower.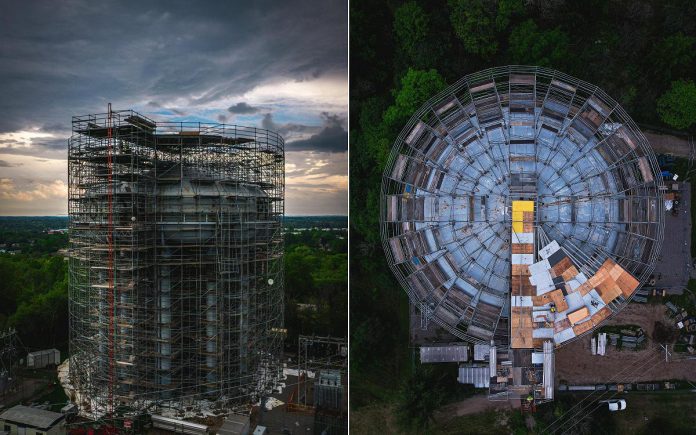 A similar project was completed in 2019 for the Sherbrooke Street water tower, which was constructed in 1983. Once completed, the Sherbrooke Street water tower became glossy white rather than powder blue and now features the City of Peterborough's "water bacon" logo.
According to the Peterborough Utilities Commission, treated water is stored at various locations throughout the city in underground reservoirs and elevated storage tanks.
The stored water is used to supplement supply during times of high water demand and in emergency situations such as firefighting.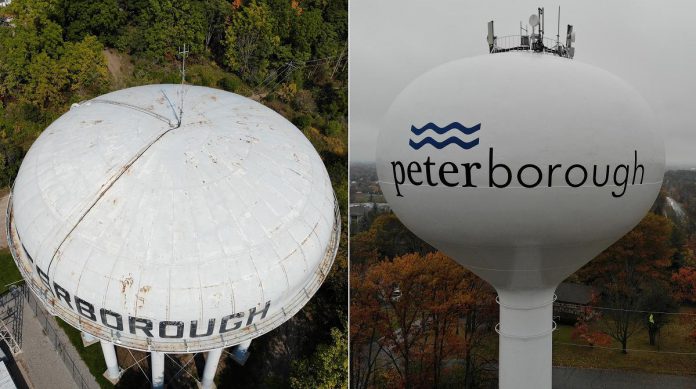 Unmanned was co-founded by Kyle Christie and chief executive officer Felipe Gutierrez in April 2020.
The full-service video production company, which also serves Toronto and the GTA, creates both on-ground and above-ground footage for film, television, and advertising.
For more information on Unmanned, visit theunmannedav.com or follow them on Instagram.