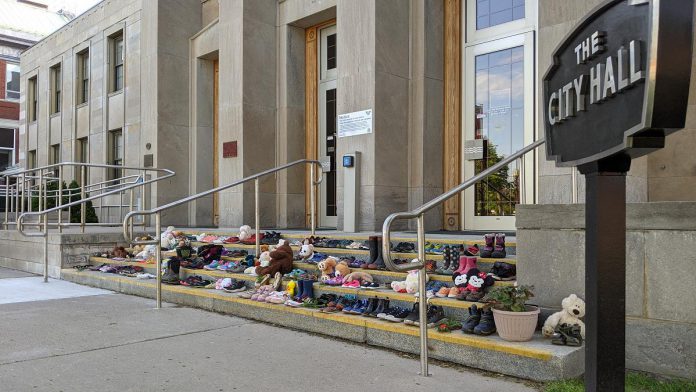 Curve Lake First Nation and Hiawatha First Nation members will unite in Nogojiwanong-Peterborough on Tuesday (August 3) to "remember and recognize" Indigenous children who have lost their lives at residential schools in Canada.
The day of mourning is being held on the 215th day of the year — a reference to the remains of 215 Indigenous children found buried at the site of the former Kamloops Indian Residential School Site near Kamloops, British Columbia.
Since that discovery back in May, more remains of Indigenous children have been found at residential school sites in Brandon, Manitoba as well as in Marieval, Saskatchewan and on Kuper Island, British Columbia.
Advertisement - story continues below
The Kamloops Indian Residential School was in operation from 1890 to 1969m at which time the federal government took over its administration from the Catholic Church and operated it as a day school residence until its closure in 1978.
Since the discovery of the children's remains, Indigenous communities across Canada have stood united in demanding an apology from the Catholic Church, as well as a more meaningful recognition of the horrible plight of children in the residential school system and the lasting effects of that shameful chapter of Canadian history.
The Day 215 event in Peterborough will begin with a sunrise ceremony in Del Crary Park, at which time a sacred flame will be lit and burn until sundown. That will be followed by a noon walk from Peterborough City Hall to Del Crary Park. There will be speakers at both locations.
On its Facebook page, Curve Lake First Nation has extended an invitation to all to "remember and recognize our lost children" by attending and showing support.
In addition, organizers are asking residents to decorate their homes with orange-coloured paper art and to obtain orange shirts from Indigenous businesses, such as the Every Child Matters T-shirts available locally at Nish Tees located at Fleming Place near Aylmer and Hunter streets.
In addition, businesses along the George Street route of the walk are asked to show their support by displaying orange-coloured decorations in their storefront windows.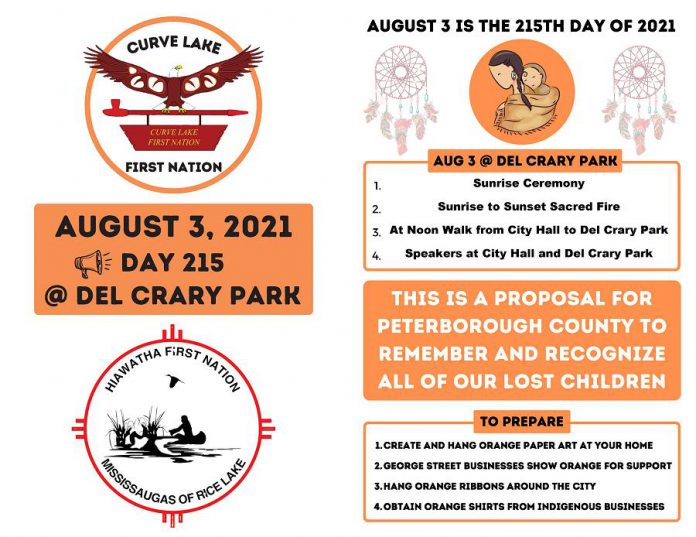 kawarthaNOW reached out to Curve Lake First Nation Chief Emily Whetung to speak about the day of mourning, but she declined to be interviewed prior to the event taking place. She is encouraging other communities to hold their own day of mourning on August 3.
Hiawatha First Nation Chief Laurie Carr was also unavailable for comment. However, back in June, she issued a strongly worded statement on behalf of Hiawatha residents and her council, writing residential schools "were a deliberate plan on the part of Canada to commit cultural genocide and, in so doing, take the 'Indian out of the child.'"
"These children were taken from families and homes…forced to live a life of mental, emotional, physical, spiritual and sexual abuse. Many of these children were horrifically abused. Many others were simply made to disappear, with no concern for their death and no closure for their families."
Advertisement - story continues below
In addition, Chief Carr calls for the following "only acceptable response":
Canada must, unequivocally, fully fund the search for our children at all residential school locations.
Canada must recognize this loss by declaring a National Day of Mourning.
Churches must unequivocally apologize for their actions and hold those involved accountable.
Justice must prevail with all those involved or responsible held accountable for their crimes against our children.
Chief Carr adds "this cultural genocide" is more than simply "a dark chapter in Canadian history."
"It is very much our continued reality with First Nations suffering under a legislative process imposed upon us by an antiquated Indian Act and the mindset that we are simply 'wards of the Crown.'"
She closed by asking Canadians to write their political representatives and church leaders "demanding justice ad closure for all our lost children who are waiting to go home."
This story has been updated to clarify the noon walk begins at Peterborough City Hall and proceeds to Del Crary Park.