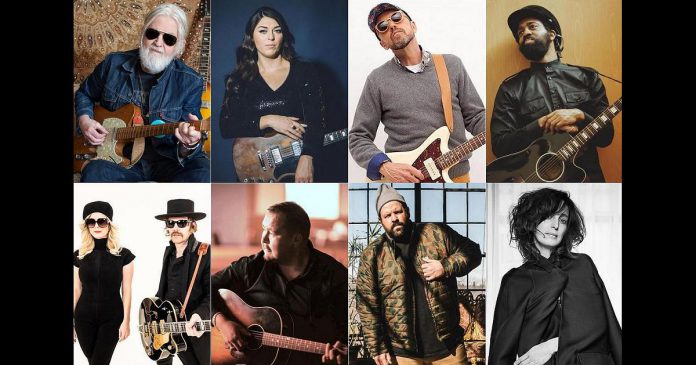 The annual Peterborough Folk Festival is returning in August to present 'We Can Do This', a series of ticketed live music concerts featuring 14 visiting and local musicians, in place of the festival's traditional free weekend celebration at Nicholls Oval Park.
"We realized early this year that logistically a festival at Nicholls Oval was going to be near impossible," says festival director Ryan Kemp, who announced the line-up of performers for the concert series on social media on Wednesday (July 28).
Greg Keelor, Terra Lightfoot, Hawksley Workman, AHI, Whitehorse, William Prince, Donovan Woods, and Chantal Kreviazukare the visiting performers, along with local musicians Melissa Payne, Jimmy Bowskill with Toronto's Brittany Brooks, Evangeline Gentle, and Lauryn Macfarlane. One additional performer is still to be announced.
Advertisement - content continues below
'We Can Do This' features four separate concerts, with the first two on Tuesday, August 17th and Wednesday, August 18th in a transformed Banker's Commons courtyard in downtown Peterborough (behind St Veronus), and the second two at the Rolling Grape Vineyard in Bailieboro on Friday, August 20th and Saturday, August 21st.
Each concert will follow COVID-19 protocols, with temperature checks for audience members before entry, and face coverings required unless audience members are seated at their tables. Tickets for all concerts are on sale now at peterboroughfolkfest.com, through the non-profit charitable organization's CanadaHelps page (we've provided direct ticket links below for each concert).
The August 17th concert, billed as "an evening of singer-songwriters," features Greg Keelor of Blue Rodeo, Terra Lightfoot, Melissa Payne, and Jimmy Bowswill and Brittany Brooks. Tickets are $45 per person (plus taxes and fees) and are sold in tables of two, four, and six. Tickets are available via Canadahelps.org.
VIDEO: "Black Feather" by Greg Keelor (featuring Melissa Payne)

The August 18th show, previously announced, is headlined by Juno award-winner Hawksley Workman (now living in Peterborough) and Toronto-based singer-songwriter and Juno nominee AHI, with 2015 Peterborough Folk Festival Emerging artist Evangeline Gentle. Tickets, which are $45 per person (plus taxes and fees), have been on sale for some time and are almost sold out, with only tables of four still available. Tickets are available via Canadahelps.org.
The August 20th concert features Whitehorse (wife-and-husband duo Melissa McClelland and Luke Doucet) and William Prince, with an additional performer to be announced. Tickets are $68 per person (plus taxes and fees) and are sold in seats of two and tables of four and 10. Tickets are available via Canadahelps.org.
The final concert on August 21st features Donovan Woods and Chantal Kreviazuk, along with local musician Lauryn Macfarlane. Tickets are $68 per person (plus taxes and fees) and are sold in tables. Tickets are $68 per person (plus taxes and fees) and are sold in seats of two and tables of four and 10. Tickets are available via Canadahelps.org.
Advertisement - content continues below
'We Can Do This' will also be chronicled by a professional camera crew for a future film and album, recorded by James and Kellie McKenty's new In Record Time Studio (a mobile recording studio) and produced and directed by longtime festival board chair Malcolm Byard.
A faculty member at Centennial College in Toronto since 2009 now teaching filmmaking and radio production, Byard has a long list of film credits on his resumé, a highlight being his Best Canadian Feature Film wins at both the Calgary and Edmonton international film festivals.
"I hope to premiere the film at the ReFrame Peterborough International Film Festival this coming January but haven't contacted them yet, so can't say for sure if that will happen," says Byard, noting Emmy award-nominated set director Jim Lanbie of Toronto is helping with the film project along with Centennial grad and camera operator/film editor Adrian Mehes. In addition, Byard is involving some of his current students in the film's production.
VIDEO: "It's Over Now" by Terra Lightfoot

Putting on his board chair hat, which he has worn since 2014, Byard says he's thrilled the festival can once again offer "an opportunity to present local talent and touring Canadian musicians, and also present this year's Emerging Artist."
The Peterborough Folk Festival will soon be announcing its 2021 Emerging Artist, an award first bestowed on Millbrook native Serena Ryder 20 years ago, as well as confirming a performance by the artist.
"The festival gives local artists opportunities to make connections," Byard says. "That's where my excitement lies — seeing those connections being made."
Advertisement - content continues below
"Having local artists open for Buffy Sainte-Marie or any of the number of artists that perform, they get to learn from them," Kemp adds. "They can talk right to them. That's invaluable for anybody pursuing a career in music."
"But it's really about bringing people together," he says. "Artists have been at home — they haven't been able to work. That's the biggest thing: getting back to some kind of normalcy. Just being able to pay artists is huge. They've missed that for so long."
Byard notes the February 2021 virtual presentation of Guelph's Hillside Festival was a turning point, after Hillside contacted the Peterborough Folk Festival in January and asked for some videos of local artists.
VIDEO: "Until You" – AHI

"We filmed performances by Greg Keelor, Melissa Payne, and Jimmy Bowskill (performing together as the trio Black Feather) and Benj Rowland, quickly edited them and sent them off," Byard says. "In the midst of the dark days of January, the excitement of those musicians to actually get to play, even if just by themselves in an empty room … well, they were just happy to play again."
When the pandemic caused the cancellation of the Peterborough Folk Festival last summer, for the first time in 30 years, festival organizers were at a loss for how to proceed in 2021.
"Last year on the festival weekend, I was beside myself," Byard recalls. "I was so depressed, I drew a blank from about August to January. I couldn't even think about it. And then I got that phone call from Hillside. I thought, 'You know what? We've got to get off our asses and get going here and do something.'"
Advertisement - content continues below
After applying for and receiving funding from Heritage Canada, earmarked for helping not just musicians but all arts workers regain employment, plans for We Can Do This started to take shape.
"At that point, I wasn't expecting that we could have an audience," says Byard. "It was just bringing in an artist for one song, siting them down in the middle of a forest or something, and recording with James (McKenty) and his mobile recording unit."
"As things sort of started changing and we found that we had received funding, in late June we had to scramble to come up with something. It was like 'Wow, we had a plan to do (recording) but now we have to do (live performance).'"
VIDEO: "Am I Just Gonna Stand Here (While You Take My Girl Away)" – Whitehorse

While stressing the festival is alive and well and will return to Nicholls Oval in August 2022 as the free weekend event it's so well known for, Byard says there remains a lingering pandemic effect that's cause for concern — one that means the festival has no choice but to charge for performances this year.
"We've lost a lot of volunteers. We've lost board members. We've lost sponsors. We need to rebuild for 2022. This film and album is sort of like a calling card to Peterborough that says 'Hey Peterborough, we're volunteers. We don't have a paid staff. We need your help to do what we do.'"
Byard has nothing but praise for festival director Ryan Kemp. Without him, "this festival doesn't work," Byard says, adding Kemp has an "understanding of Peterborough audiences and what will appeal to them."
VIDEO: "Spark" by William Prince (with Serena Ryder)

Byard also stresses the value of the Peterborough Folk Festival for both local and visiting musicians, as well as the festival's efforts to promote diversity and gender equality.
"We bring in an artist like Donovan Woods three or four times and then the fifth time he performs at Market Hall and sells out. That's kind of what we do. We bring in an artist, we build an audience for them in the Peterborough area, and then they get to go to Showplace or Market Hall. There were a lot of years where they were passing right by us, but not anymore."
"We have Indigenous artists every year. We have a 50-50 split of female and male performers. These are things that are really important to us."
VIDEO: "Being Together" – Donovan Woods

For more information about the Peterborough Folk Festival, visit peterboroughfolkfest.com.