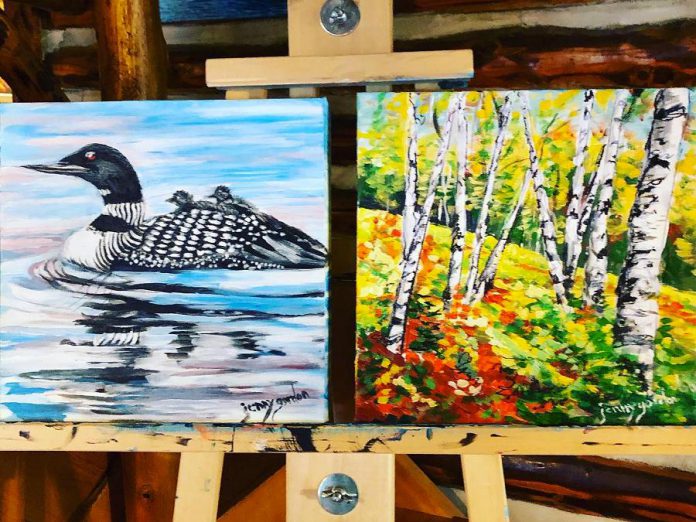 With the province gradually reopening after 16 months of the pandemic, this fall is a great time to get outside and safely reconnect with some of the most talented artists of the Kawarthas region during the Apsley Autumn Studio Tour — and there's a new free app available this year to help you get the most out of the tour.
The renowned studio tour is returning for its 28th year from 10 a.m. to 5 p.m. on Saturday, September 18th and Sunday, September 19th with COVID-19 protocols again in place, including physical distancing and mask requirements, so you can safely experience the work of regional artists and artisans in their studios.
This year's free self-guided tour features 28 artists in 13 studio locations across North Kawartha Township in Peterborough County, with an additional studio located in nearby Wollaston Township in Hastings County.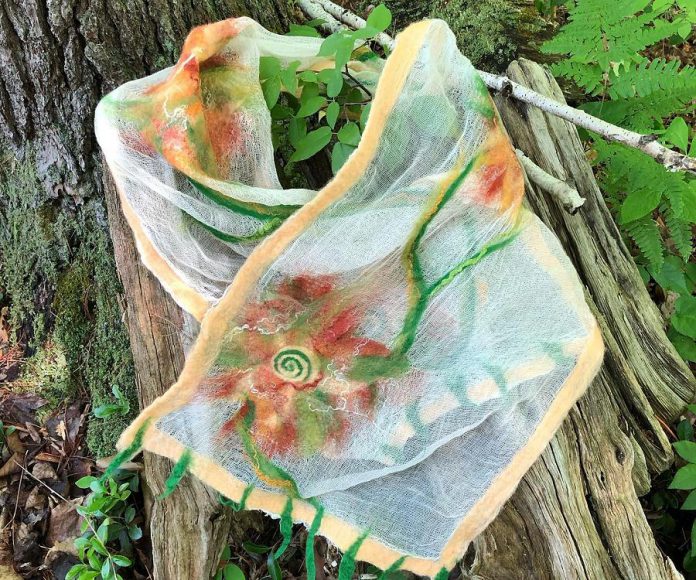 As always, the studio tour includes artists who live in the area and guest artists from out of town, all presenting new works created specifically for the tour. New artists are also admitted to the studio tour every year, through a juried process.
This year's artists cover the gamut of the visual arts, including painting, jewellery, glass art, stained glass, mosaics, woodworking, sculpture, fabric and fibre art, pottery, photography, and metalwork.
By attending the tour, you will have the opportunity to meet and chat with each welcoming artist, view their arts, and purchase works if you wish. Several studios on the tour will also be hosting demonstrations of the artists at work.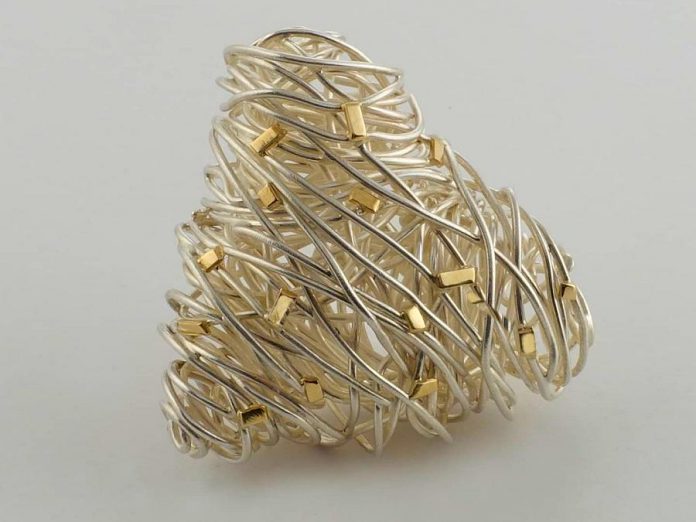 To participate, hop in your vehicle along with the tour map (see below) or download the brand new Apsley Autumn Studio Tour app, available for iOS and Android devices.
Replacing the traditional full-sized brochure, the Apsley Autumn Studio Tour app augments your ability to enjoy the tour by allowing you to view event details, artist profiles, and selected artwork. It includes an interactive map so you can easily explore while touring and save your favourite locations.
And you don't have to worry about spotty cell service when you're in the rural locations of the tour — the app will continue to function even if you don't have an internet connection. The free app is available for download now on the Apple App Store and on Google Play.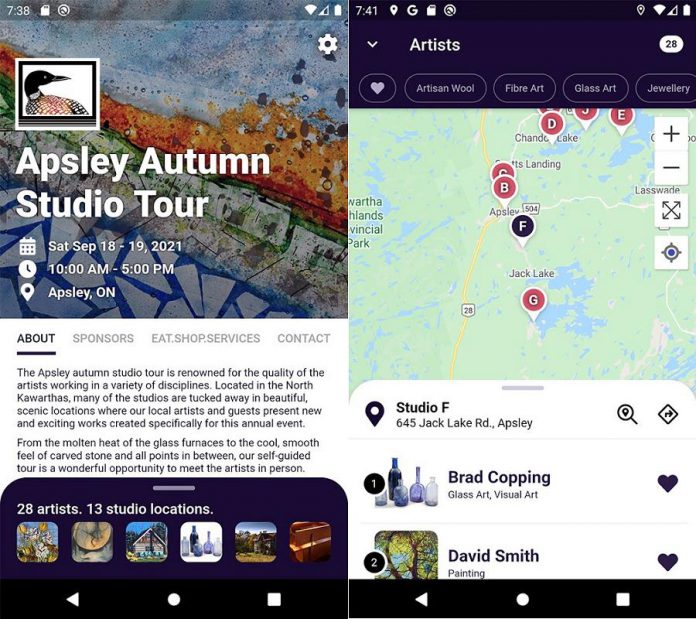 You can take a day trip and stop in at one of the local eateries in the area for refreshments (including Calm N Ground in Apsley, Border Town Market & Cafe and The Grape & Wedge in Glen Alda, and The Barn Chefs in Coe Hil) or make it a studio tour weekend by staying at local accommodations such as the Burleigh Falls Inn.
For your convenience, here's a summary in alphabetical order of the artists and artisans participating in the 2021 Apsley Autumn Studio Tour, including their disciplines and the studios where you can find them, as well as a link to the studio tour map.
Brendan Cane (Photography, Studio B)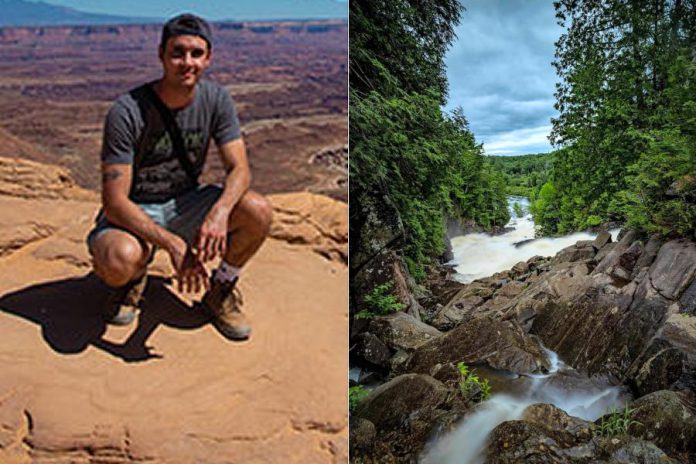 Brendan has many hobbies, but has the most to show for — and is most passionate about — the art of landscape photography.
Read more about Brendan Cane.
Rachel Conlin (Artisan Wool & Soap, Studio O)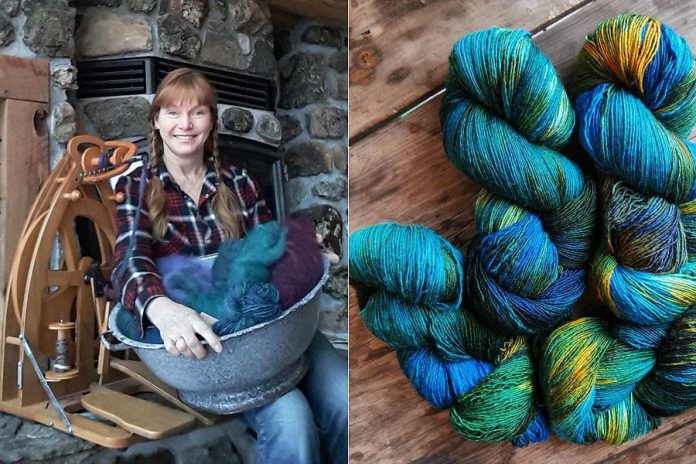 Rachel has introduced her artisan soaps to compliment the unique wools she's been recognized for. She began experimenting with herbs from the garden and wild plants from her farm and woodland, blending them into the wholesome soaps. Rachel says creating artisan soaps along with novel wools is not only a manifestation of nature and colour, but also celebrates the charm of farm life.
Read more about Rachel Conlin.
Brad Copping (Glass Art, Studio F)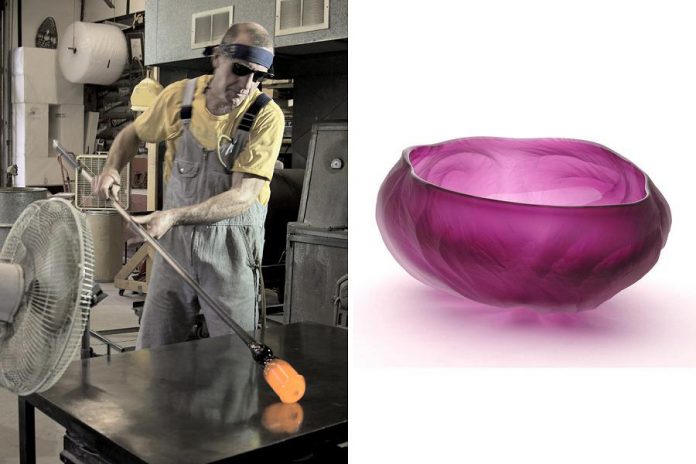 Working from his home on the edge of the Canadian Shield, Brad maintains a successful practice as both a sculptor and a functional glass blower, often traversing the line between.
Read more about Brad Copping.
Jacques Deslauriers (Woodworking, Studio L)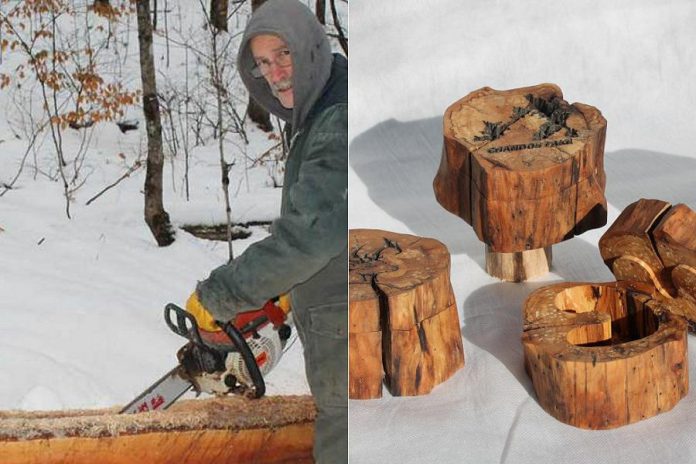 Jacques is a self-taught woodworker who uses only wood from dead or fallen trees. Gnarls, insect holes, and spalted wood are his materials of choice. He is always ready for a creative challenge of any size.
Read more about Jacques Deslauriers.
Valerie Foster (Fibre Art, Studio E)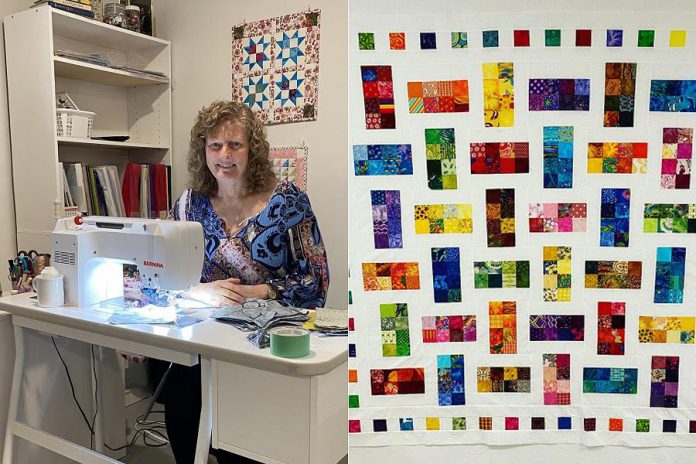 Valerie has been sewing for over 40 years starting with clothing for herself and her family, which eventually grew into a children's clothing home business in Calgary. After moving to Saudi Arabia in 2000, she brought her seamstress skills into the practice of machine quilting. Valerie enjoys the mathematical aspects of quilting. She has grown to also love the practice of free motion quilting.
Since 2005, Valarie and her husband Ted have spent the bulk of her summers at Chandos Lake in Apsley. Valarie and Ted repatriated to their log home on Chandos Lake in 2015.
Read more about Valerie Foster.
Mary Ellen Gerster (Painting, Studio H)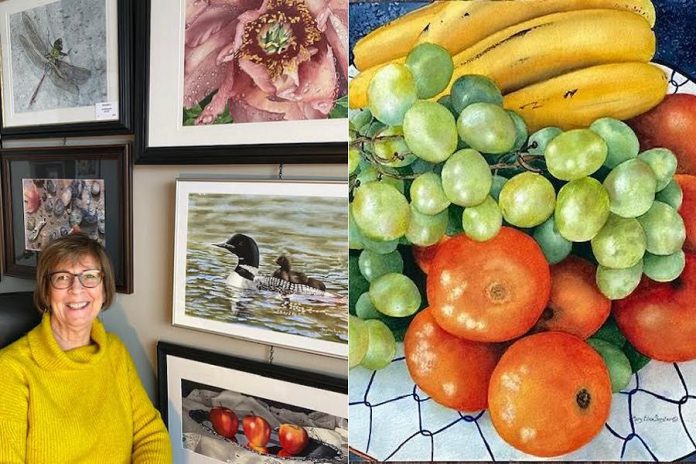 Mary Ellen Gerster sees the world according to shape, value, and colour, immersing the viewer in her bright and glowing watercolour paintings. Through the layering of transparent colours she creates photo realism in her still life, fruit, flowers and waterscapes. She is inspired and challenged by subjects with strong lights, shadows, shapes, colours and is especially drawn to high contrast and bright colours.
Read more about Mary Ellen Gerster.
Jennifer Gordon (Painting, Studio D)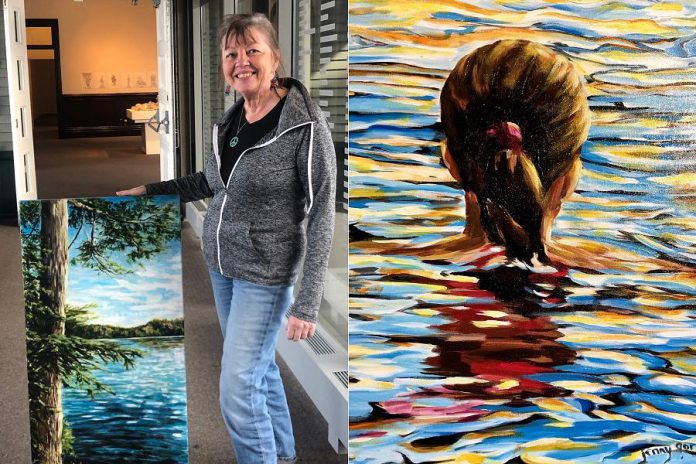 Ever since she was a small child, painting has been Jennifer Gordon's favourite thing to do. Her family log cottage on Chandos Lake has been the inspiration for many of her paintings. Jennifer paints large renderings on canvas of her favourite places, peaceful settings, and places that depict happiness. She works with bold strokes, large brushes and thick acrylic paint. Her style is a combination of impressionism and realism.
Read more about Jennifer Gordon.
David Grieve (Painting, Studio G)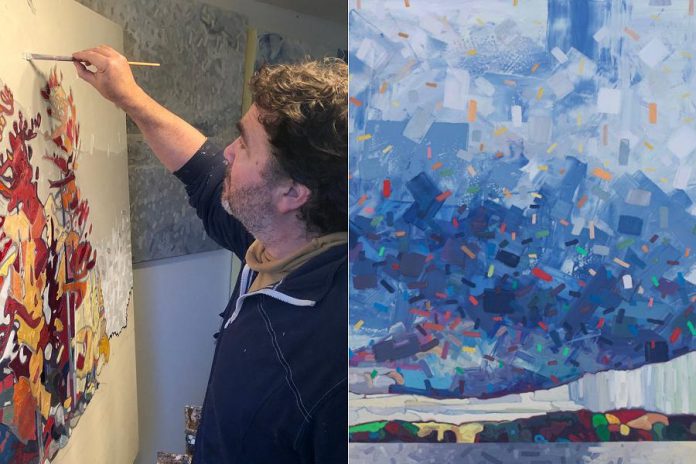 First introduced to oil painting as a child, David has been painting ever since and has developed a unique distinctive style. He uses a multi-layered technique, applying thick swaths of oil paint to create images inspired by the Ontario landscape.
Read more about David Grieve.
Anja Hertle (Mosaics, Studio J)
Anja works with broken china, pottery, porcelain figurines, and tile to give these elements a second life in her whimsical mosaic art pieces. She also incorporates forks, beads, buttons, bottle caps, and typewriter keys.
Read more about Anja Hertle.
Susan Higgins (Glass Art, Studio M)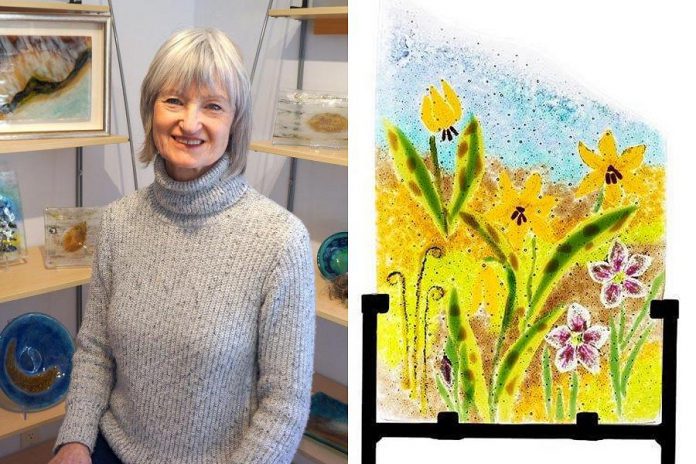 Expressive colour and evocative themes of nature are Susan's hallmarks. She layers crushed and sheet glasses, sometimes with metal inclusions, and then kiln fires them. Susan strives to create engaging imagery in plates, bowls, and freestanding glass art.
Read more about Susan Higgins.
Dolores Hopps (Fabric Art, Studio H)
Dolores' work includes quilts, using imported fabrics from England and Japan, as well as wall hangings, runners, and smaller items. Many of her pieces have wool felting incorporated into the quilting, as well as beads, silk, and quite a number of other interesting embellishments.
Read more about Dolores Hopps.
Melanie Edson Horner (Pottery, Studio J)
A member of Kawartha Potters Guild and Spirit of the Hills Art Association, Melanie enjoys creating personalized pottery, particularly clocks. She enjoys making one-off pieces and is currently experimenting with raku and smoke fire techniques.
Read more about Melanie Edson Horner.
Vivienne Jones (Jewellery, Studio F)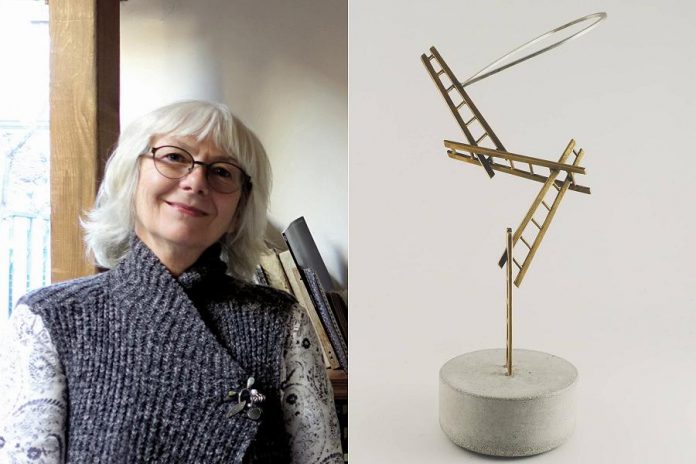 Vivienne is a contemporary artist based in Toronto whose work is very much influenced by natural forms. She creates highly distinctive jewellery using both traditional and non-traditional materials.
Read more about Vivienne Jones.
Lisa Mace (Painting, Studio C)
Living in rural Apsley, Lisa paints the world around her. Jack pines, full maples, wild flowers, and rural homes, Lisa paints what is found outside her front door.
Read more about Lisa Mace.
Barbara Miszkiel (Painting, Studio B)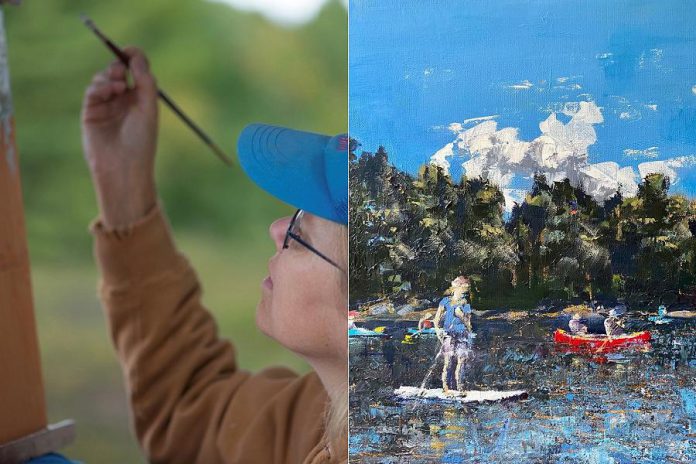 After a successful career both nationally and internationally in architecture, Barbara Miszkiel has returned to her original interest in fine arts, painting primarily in acrylics. Although Barbara has created new buildings most of her career, in painting she is drawn to old buildings, live subjects and landscapes.
Read more about Barbara Miszkiel.
Molly Moldovan (Visual Arts, Studio M)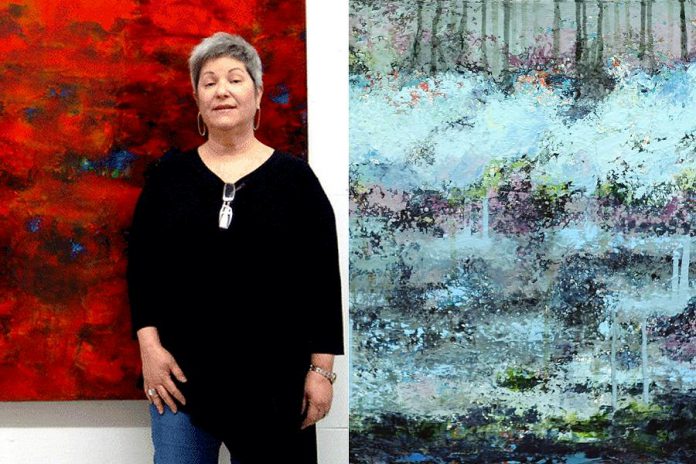 The starting point for all of Molly's work is the pristine landscape that surrounds her: the lake, forest, and uninterrupted skyscape are the foundation of every piece she paints. A visual artist whose primary focus is abstraction, she works primarily in acrylic and mixed media.
Read more about Molly Moldovan.
Britt Olauson (Woodworking, Studio C)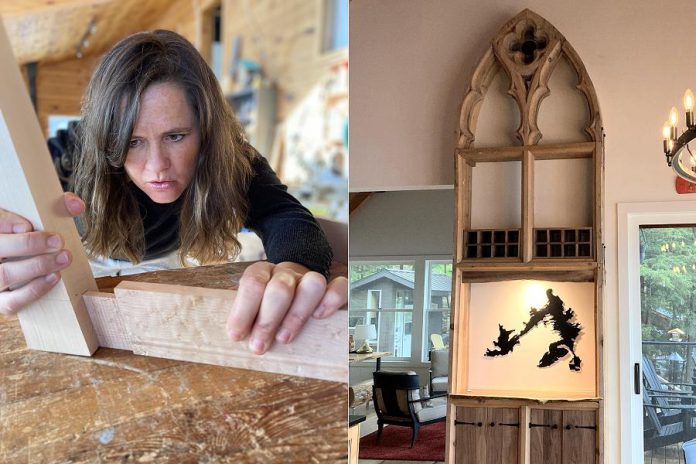 Britt designs functional furniture and other objects in wood, and her designs are often playful or interactive.
Read more about Britt Olauson.
Cathy Pannaertz (Pottery, Studio K)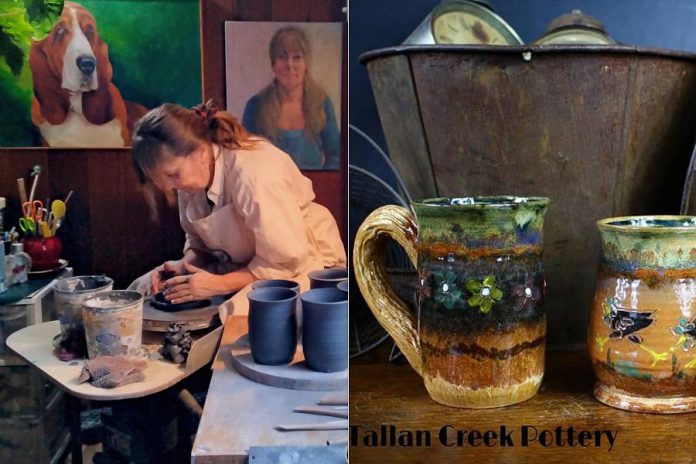 Applying multiple patterns in a range of colours on clay, Cathy creates one-of-a-kind functional pieces of art or a whimsical collectible. New animal-themed mugs, piggy banks, and horse figurines add to the collection among a continuation of animated forms of snowmen, gnomes, Santas, and assorted critters.
Read more about Cathy Pannaertz.
Tom Parsons (Woodworking, Studio B)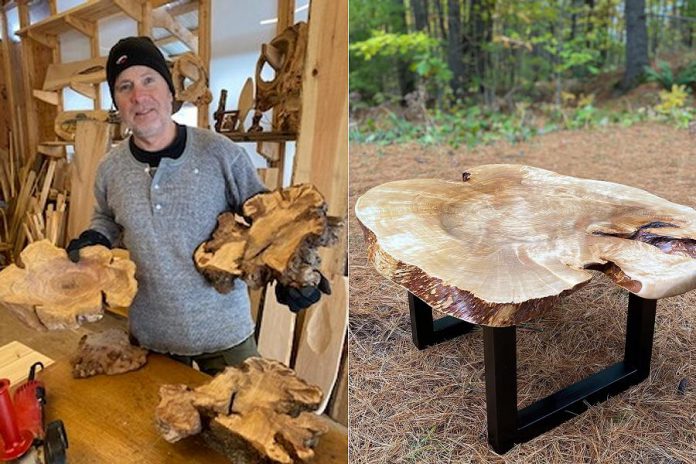 Tom's work exemplifies both rustic and contemporary styles, and is greatly influenced by the natural forms of wood.
Read more about Tom Parsons.
Judy Ranieri (Fibre Art, Studio E)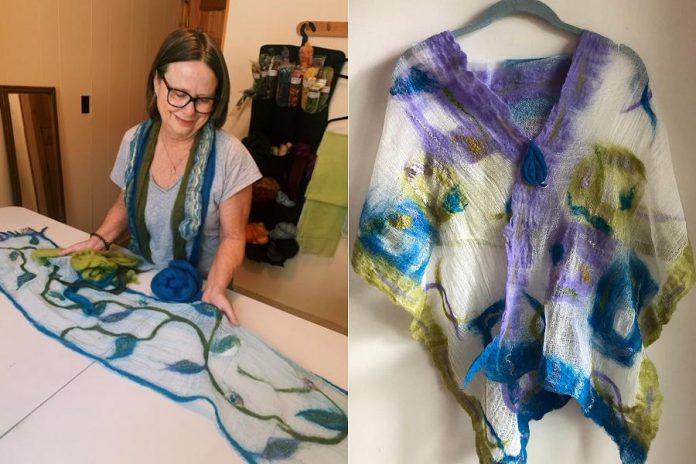 After working for many years in the tech industry, Judy Ranieri retired and began to explore her creative passions. Many of Judy's projects are inspired by nature and utilize natural fibres, fabric, colour, design, and textures to create one of a kind textile and fabric art pieces.
Read more about Rudy Ranieri.
Susan Rankin (Glass Art, Studio F)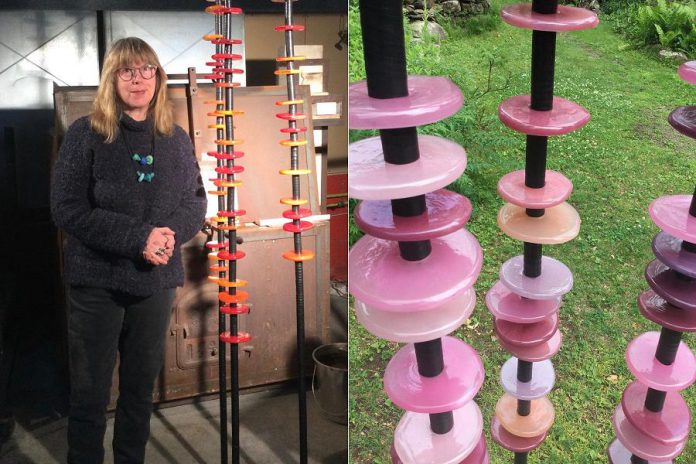 In her 30-year career as a glass artist, Susan has drawn inspiration from the landscape in which she lives. An avid gardener, she continues to explore the idea of garden through her vessel and sculptural works and is well known for her vibrant floral vessels.
Read more about Susan Rankin.
Kathy Robichaud (Stained Glass, Studio H)
Kathy has been a stained glass artist for over 25 years, using traditional techniques to produce stained glass art. Concentrating on the copper foil method, Kathy looks to nature for inspiration.
Read more about Kathy Robichaud.
Arne Roosman (Painting, Studio H)
Arne revisits his sketch book and paints his canvas with his travels to Sweden, Italy, and Estonia, and life's inspirations in tow.
Read more about Arne Roosman.
Catharine Scott (Jewellery, Studio H)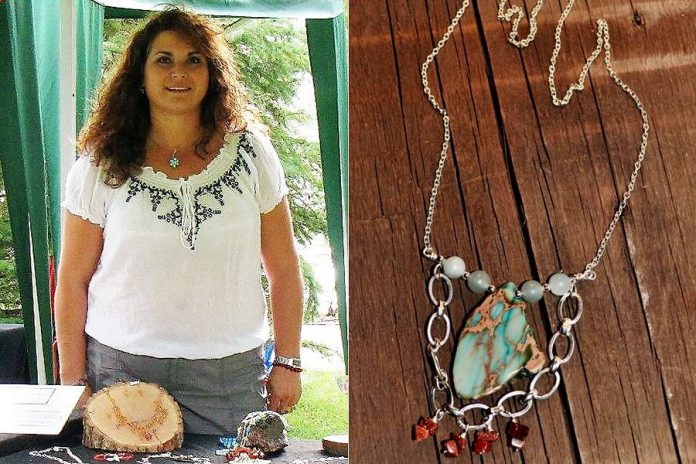 Catharine is a self-taught artisan who is inspired by the natural beauty of coloured gem stones, the ability to form and create meaningful pieces of art through wire working, and her own creative style of stringing that can be worn at any time of the day with any style of fashion.
Read more about Catharine Scott.
Clare Scott-Taggart (Metal Sculpture, Studio F)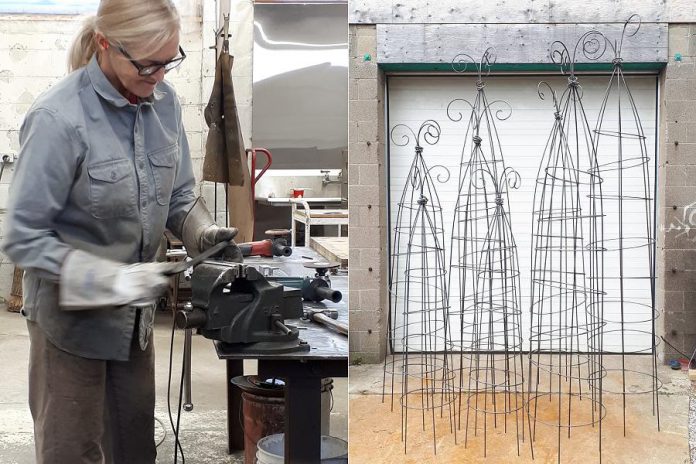 Clare owns Rusty Girl metalwork studio in Toronto, where she designs and makes railings, furniture, arbours, limited-run production pieces for the garden, and sculpture.
Read more about Clare Scott-Taggart.
David Smith (Painting, Studio F)
David is inspired to create new works in watercolour, acrylic, and oil by the surrounding landscape. Painting full time following a career in advertising, graphic design, and colour retouching, he applies this knowledge and skill into his paintings.
Read more about David Smith.
Judy Sparkes (Pottery, Studio H)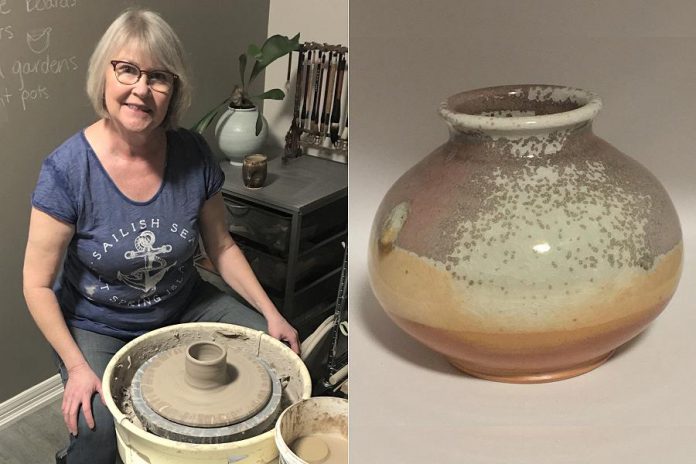 Obsessed with the relationship between great food and handmade pottery, Judy believes eating from handmade pots elevates the dining experience. Her work is carefully hand crafted to be enjoyed as everyday art.
Read more about Judy Sparkes.
Frances Timbers (Jewellery, Studio A)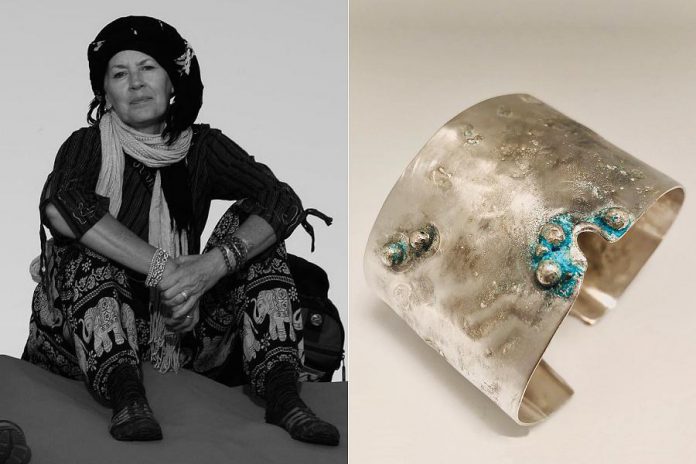 From the delicate to the dramatic, Frances' jewellery designs are timeless treasures, which will serve as wearable art for years to come.
Read more about Frances Timbers.
2021 Apsley Autumn Studio Tour Map
You can download a printable version of the map.
First launched in 1994, the Apsley Autumn Studio Tour not only creates public awareness of the arts by promoting and supporting artists in the community, but it supports young artists as well. The tour sponsors the Arts Award at Apsley Central Public School.
For more information on the 2021 Apsley Autumn Studio Tour, visit apsleystudiotour.com. You can also follow the Apsley Autumn Studio Tour on Facebook and Instagram.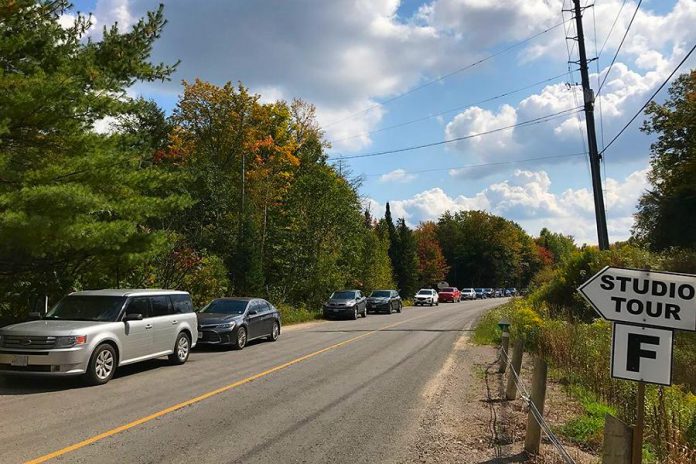 This story was created in partnership with the Apsley Autumn Studio Tour.