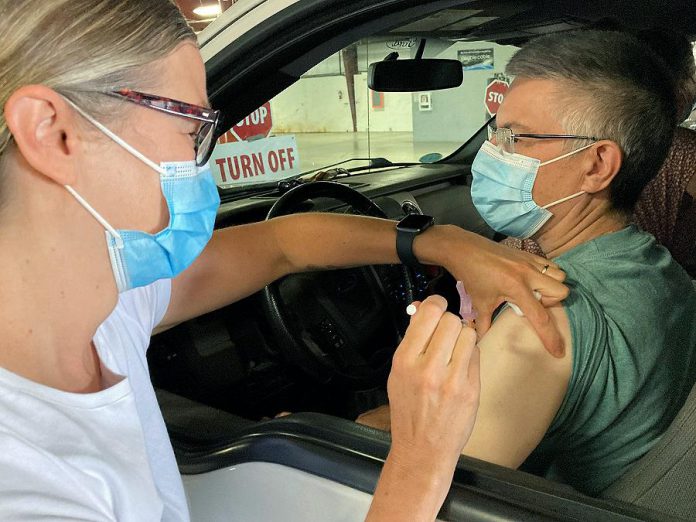 In another sign of the decreased demand for vaccinations, the drive-through COVID-19 vaccination clinic at the Lindsay Exhibition (LEX) will be closing on Friday, August 27.
Ross Memorial Hospital, which operates the clinic, is advising anyone who has a vaccination appointment booked at the clinic after August 27 to rebook their appointment to an earlier date.
Alternatively, people can just drive to the clinic between 8 a.m. and 2 p.m. Monday to Friday for a vaccination. No appointment is needed.
Advertisement - story continues below
Both the Pfizer and Moderna vaccines are available at the clinic.
Since it opened on March 18, Ross Memorial Hospital has administered almost 60,000 vaccine doses at the clinic.
"Our drive-through vaccination clinic has received such overwhelmingly positive feedback from the community for its functionality and the outstanding efforts of our hard-working staff," says Ross Memorial Hospital's president and CEO Kelly Isfan in a media release. "The expertise, care and compassion they have delivered at the LEX during this historic effort is truly something to celebrate."
After the clinic closes on August 27, residents can still get a vaccination at one of the local clinics listed on the Haliburton, Kawartha, Pine Ridge District Health Unit's website at hkpr.on.ca/2021/07/30/vaccination-clinics/ or by contacting their primary care provider.
Vaccinations are also available at selected pharmacies in the region. Locations can be found on the Ontario government website at covid-19.ontario.ca/vaccine-locations.
Advertisement - story continues below
Next week, Ross Memorial Hospital will be running the following pop-up vaccination clinics in smaller communities in Kawartha Lakes (no appointment needed):
Bolsover Community Centre (12 Bolsover Rd., Bolsover) – Wednesday, August 11 (9 – 11 a.m.)
Norland Recreation Centre (7675 Highway 35 N., Norland) – Wednesday, August 11 (1 – 3 p.m.)
Kinmount Community Centre (4995 Monck Rd., Kinmount) – Thursday, August 12 (9 – 11 a.m.)
Baddow Community Centre (60 Sommerville Rd., Coboconk) – Thursday, August 12 (1 – 3 p.m.)
Manvers Community Centre (697 Highway 7, Bethany) – Friday, August 13 (10 a.m. – 12 p.m.)
To date, 119,151 residents of Kawartha Lakes, Northumberland, and Haliburton have received two doses of a COVID-19 vaccine, with 69.4 per cent of residents 12 years of age and older fully vaccinated.