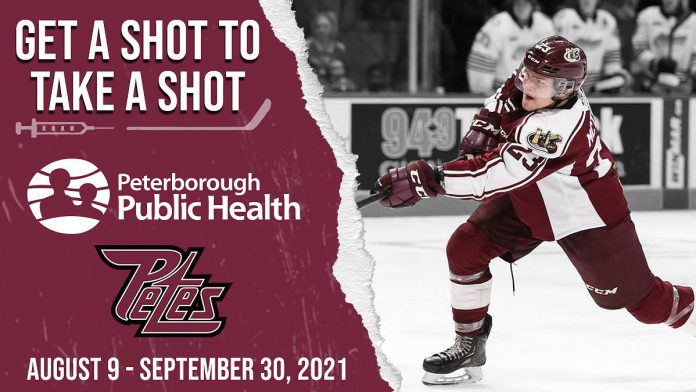 Peterborough Public Health and the Peterborough Petes have teamed up to motivate Peterborough-area residents who are not yet vaccinated by offering them a chance to win free tickets to a Petes home game during the 2021-22 season.
In the two-month 'Get a Shot to Take a Shot' campaign, anyone who gets a vaccine dose between Monday, August 9 and Thursday, September 30 — at a clinic run by Peterborough Public Health, Peterborough Regional Health Centre, or a local pharmacy — will have a chance to win one of 250 pairs of free tickets.
People receiving a vaccine dose during this time will be provided with a QR code to enter the contest. People who receive both first and second doses during the contest period can enter twice.
Advertisement - content continues below
"Increasing local vaccination rates as quickly as possible is vital to fending off the delta variant, so we are thrilled to team up with the Petes through this exciting campaign," says medical officer of health Dr. Rosana Salvaterra in a media release.
"We need to reach 90 per cent coverage rates of eligible individuals to achieve herd immunity in order to prevent spreading COVID-19 and the disruption it can cause to things our community loves, like hockey."
A virtual draw will be held on September 30 to draw the 250 winners. A second draw will be held among those winners to provide five people with the opportunity to shoot the puck in the net from centre ice during the first intermission of an upcoming Petes home game. The winner of the shootout can enjoy an additional Petes home game from the Petes' executive suite.
Advertisement - content continues below
"We understand that the safest and quickest way to return to a hockey season with an arena full of cheering fans is dependent on vaccine uptake," says Burton Lee, the Petes' executive director of business operations.
"It will be an honour to host hundreds of local fans who have done their part to keep the Peterborough community safe at games next season."
To date, 69.6 per cent of eligible Peterborough-area residents 12 years of age and over have been fully vaccinated. A total of 91,149 residents have received two doses of a COVID-19 vaccine, representing 71 per cent of adults and 47 per cent of youth ages 12 to 17.