Professional soccer will debut in Peterborough in May 2022, with the yellow-and-black colours of the Electric City Football Club (ECFC) taking to the pitch as the newest team entry in League1 Ontario men's division play.
On Monday afternoon (August 9) at the Silver Bean Café in downtown Peterborough, ECFC president Rob Jenkins made it official before introducing each member of the club's local ownership group as well as revealing the goal of adding a women's team at the same level in 2023.
"I've been blown away by the community of Peterborough and its people over the past year since I got involved," said Jenkins, who arrived from Calgary after launching two very successful soccer clubs in that city, including Calvary FC of the Canadian Premier League.
Advertisement - story continues below
"After much speculation and rumours, and possibly the worst-kept secret in sports history, I'm very proud to officially announce the newest addition to the Peterborough sporting community and the Canadian soccer landscape," Jenkins added.
"This is a club for the community, by the community, and with the community. Our goal is to share the talent, hard work and passion this remarkable community has with the rest of Ontario, Canada, and the world through the beautiful game."
Jenkins took time to "dispel a myth" he has heard from some during his time here — "that Peterborough is not a soccer town."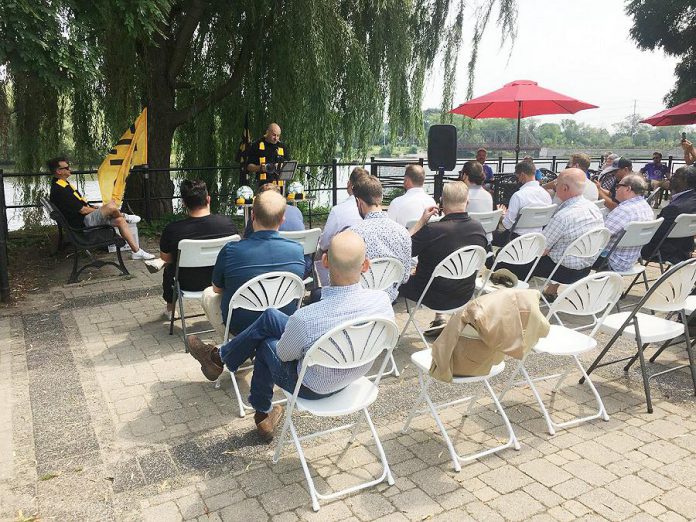 "I recently spent some time at Trent Valley Archives and have been chatting with people, and I was interested to find out that soccer — or football as it was called in Peterborough prior to 1940 — was first recorded as being played here in 1881," Jenkins explained.
"With that in mind, we wanted to come up with a club name and colours that represented the hard-working industrial heritage of Peterborough but also inspired growth and ambition for future generations, while acknowledging the importance that electricity has played in the foundation of this city."
Former PtboCanada owner Neil Morton is one of the members of ECFC's ownership group, with the other members being Kyle MacDonald, Burton Lee, Mo Von Roeder, Beth McClelland, Jo Gillan, Richard Wood, Alex Bridal, Siam Grobler, Alvaro de la Guardia, Paul Bennett, and majority owner Gregory Couch.
Advertisement - story continues below
"We're making history today and it's beautiful," Morton said. "I've literally had goose bumps all day in anticipation of this moment. I believe this club belongs at this moment in time in Peterborough. It's going to be a kick-ass endeavour in the community and beyond. We're going to build a global brand and it's going to attract people to want to play for us and to be fans. This will be a game changer for Peterborough."
According to Morton, the group has done its homework and likes very much what it has heard and seen.
"I grew up playing soccer here," he said. "I know what it's like. A lot of kids play to a certain age and there's no academy and they're done with soccer. It (the desire to keep playing) is percolating under the surface and it's ready to emerge. The defining moment is here for that to happen. We're giving kids hope they didn't have before. They want to play pro soccer. They'll grow up here, go to an academy, which we are going to have, and play soccer for their hometown."
Following the official announcement, Jenkins provided kawarthaNOW with a rough timeline as to next steps in ECFC's evolution.
Firstly, the location of the club's home playing field remains a work in progress, with Jenkins noting the former Rona property on Chemong Road in Selwyn Township is still "in consideration".
"We're looking at a number of different properties but we're having conversations with them (Hybrid Sports, which owns the former Rona property) in terms of us potentially being able to play there," Jenkins said.
Advertisement - story continues below
In the meantime, a contingency plan that would see ECFC play at an established field is in the works, should a new facility not be developed and available in time for the club's first game in May 2022.
Jenkins said an announcement regarding the club's head coach will happen "some time in the fall", followed in January by player acquisitions.
"Once we get a coach, we'll build the style of play we want to have," he said. "Then we'll bring in players that fit that style. It's a hard-working city. We want that kind of player. We want that kind of mentality."
VIDEO: Electric City Football Club Teaser

The team logo, says Jenkins, is "firm" and will be unveiled this Friday (August 13) on social media and possibly at a live event.
Founded in 2014 by Ontario Soccer, League1 Ontario began with a 10-team men's division. That has since grown to 15 teams in the women's division and 21 teams in the men's division.
League1 Ontario serves as a critical bridge between the high-performance youth level and the professional levels of the game.
Owned and managed by Canadian Soccer Business (CSB) since 2019 and sanctioned by FIFA through Canada Soccer and Ontario Soccer, League1 Ontario's primary focus is to showcase and develop Canada's future soccer stars.
For more information about the Electric City Football Club, visit electriccityfc.com.