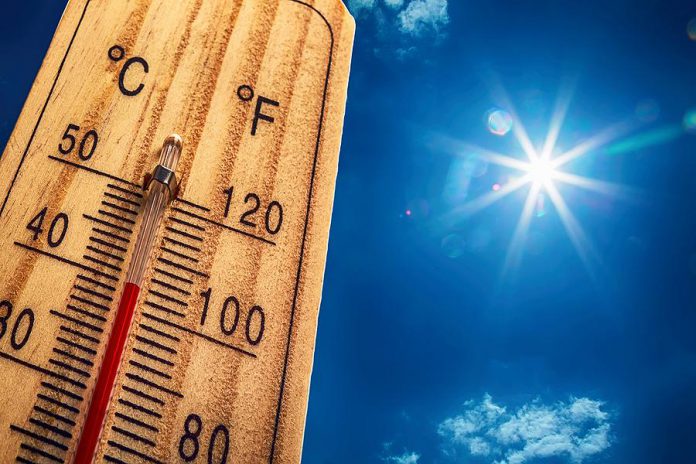 Environment Canada has issued both a heat warning and a severe thunderstorm watch for the entire greater Kawarthas region for Tuesday (August 10).
The heat warning is in effect for the next three days for Peterborough, Kawartha Lakes, Northumberland, and Hastings County. The severe thunderstorm watch is effect for the same areas, as well as Haliburton County, for Tuesday afternoon and evening.
Hot and humid conditions, with humidex values reaching 40°C, are expected for the next three days.
Advertisement - story continues below
Daytime temperatures will reach the high 20s to low 30s from now until at least Thursday. These high temperatures will combine with high humidity to result in humidex values near 40°C each day. Warm temperatures above 20°C each night will provide little relief from the heat.
Cooler and less humid air is expected to arrive Friday or by this weekend.
On Tuesday afternoon and evening, conditions are favourable for the development of severe thunderstorms across the region.
These thunderstorms will be capable of producing strong wind gusts up to 90 km/h and locally heavy rainfall of 50 mm within a single hour.
Strong wind gusts can toss loose objects, damage weak buildings, break branches off trees and overturn large vehicles. Heavy downpours can cause flash floods and water pooling on roads. Lightning kills and injures Canadians every year. Remember, when thunder roars, go indoors!
Advertisement - story continues below
Environment Canada has also issued a weather advisory for Kawartha Lakes that conditions will be favourable for the development of funnel clouds.
These types of funnel clouds are generated by weak rotation under rapidly growing clouds or weak thunderstorms.
This weak rotation is normally not a danger near the ground. However, there is a chance that this rotation could intensify and become a weak landspout tornado.