This month, food writer Eva Fisher grabs a sweet treat at Frasca's Ridge Maple Co.'s maple cart in Douro-Dummer, shares the charcuterie love with Sharecuterie Boards in Peterborough, checks the status of renovations at The Cow & Sow Eatery in Fenelon Falls, and samples a slice at Pizza Bodega in downtown Peterborough.
Advertisement - content continues below
Frasca's Ridge Maple Co. serves made-from-scratch maple treats on Labour Day long weekend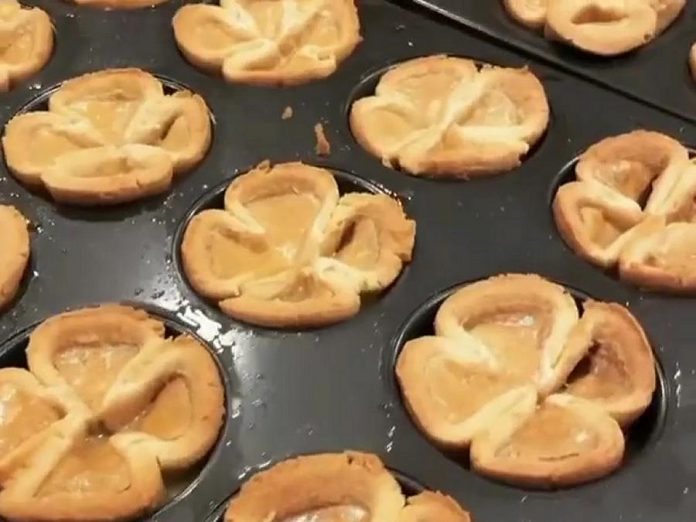 Your Labour Day long weekend just got a lot sweeter. Frasca's Ridge Maple Co. (2162 White Lake Road West, Douro-Dummer) is offering made-from-scratch doughnuts, maple tarts, fudge, and more from their maple cart located at the corner of County Road 6 and White Lake Road West.
Owners Vince and Stephanie Frasca originally started making syrup on a small scale, with just 12 trees. They would boil the sap over a fire. Two years ago, they moved to a three-acre property in Douro-Dummer where they could expand their hobby into a small business.
Currently the maple cart is restricted to long weekends only.
"My wife and I make everything," Vince says. "We both work full-time jobs still so we do the carts on long weekends, so we at least have some time off."
They make the fudge and maple butter the week before, and then on the Friday morning of the long weekend they bake the doughnuts and tarts.
"The tarts and doughnuts are recipes that we've come up with over the years, and instead of using white and brown sugar we swap everything with maple sugar."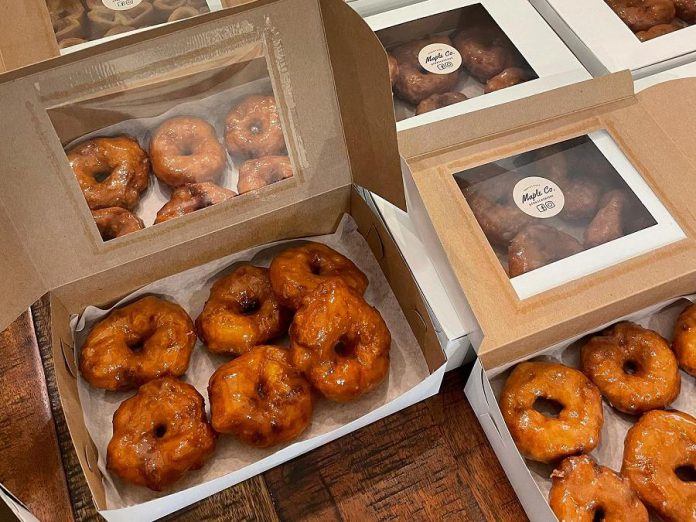 Vince says that the tarts are a must try.
"The shell is made with our maple sugar and the filling is made with our maple syrup and maple sugar. In my opinion they're the best thing we make because they're super, super mapley."
The commitment to purely maple products extends to the fudge.
"The maple fudge is literally maple syrup and the few ingredients that turn it into a fudge," Vince says.
The cart is open next on the Labour Day weekend, on Friday afternoon (September 3) and Saturday (September 4). If you can't make it to the cart, you can order fudge, maple butter, and maple syrup anytime for pickup by contacting Frasca's Ridge Maple Co. on Instagram or Facebook.
Advertisement - content continues below
Did someone order charcuterie? Sharecuterie Boards offers decadence to go
How would you like to get a beautifully presented charcuterie board delivered to your door? Sharecuterie Boards in Peterborough offers hand-crafted charcuterie boards for two or for a family. featuring delicious treats from local businesses.
Owner Victoria Seguin started the business five months ago. The midst of a pandemic might seem like an unlikely time to develop a business built around a food that many associate with parties, but Victoria found that, even alone, charcuterie is a great way to treat yourself.
"This is something I did for myself during COVID as a weekly self-care ritual," she recalls. "It was my date night with myself and I would make myself a beautiful board and enjoy the shopping and the prepping."
Her beautiful boards caught the eye of those around her.
"A girlfriend told me, 'You would be stupid not to turn this into a business!' I thought about it and said, 'Well, that's one thing that I'm not.'"
She sat on the idea for two months until one morning she woke up and decided the time was right.
"I worked in fitness, and I think we all know that fitness took a big hit during the COVID lockdowns. We'd just got into the third lockdown and I was just finding myself in a rut. I needed to create a routine and just not wait any more."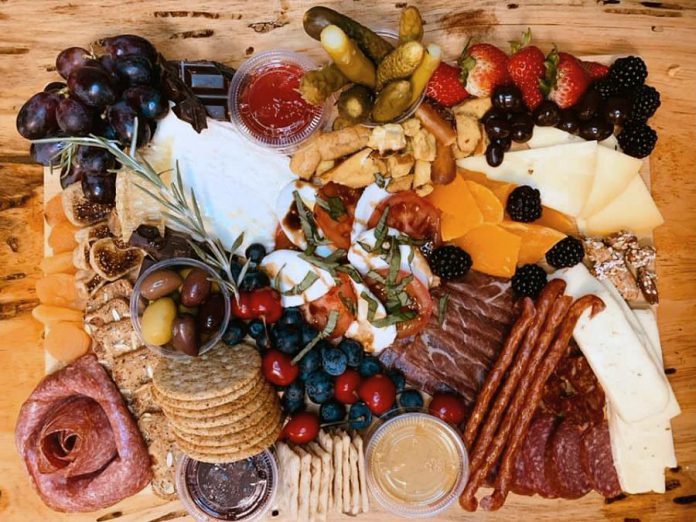 Victoria sources her ingredients locally from small businesses.
"The smaller butcher shops, the smaller cheese shops — I have a mom-and-daughter team from Omemee that does the jams."
Sourcing locally became particularly important to her as she saw the devastation of the pandemic on local businesses.
"I saw all these businesses closing in Peterborough and I just thought, 'Why can't I be a small business that supports other small businesses?'"
Sharecuterie Boards are delivered on Friday, Saturday, and Sunday. Victoria is also planning to offer a Wednesday lunch. To order, contact her through Instagram or Facebook.
Advertisement - content continues below
The Cow & Sow Eatery in Fenelon Falls gets a new look but keeps the friendly personality
A fresh new look is in store for The Cow & Sow Eatery (38 Colborne St., Fenelon Falls, 705-887-5111). Since early this year, the popular Fenelon Falls restaurant and bar has been undergoing a major renovation, with plans to reopen on September 22nd.
The Cow & Sow was originally part of the Mansion House Hotel, built in the late 1800s, and has been home to a variety of businesses since then. In 2019, Emily Forbes and her mother Lorraine Forbes purchased the restaurant from former owner Dickon Robinson, who established it in 1996.
After years of use, structural renovations were required, which presented an opportunity for Emily and Lorraine to make some major changes.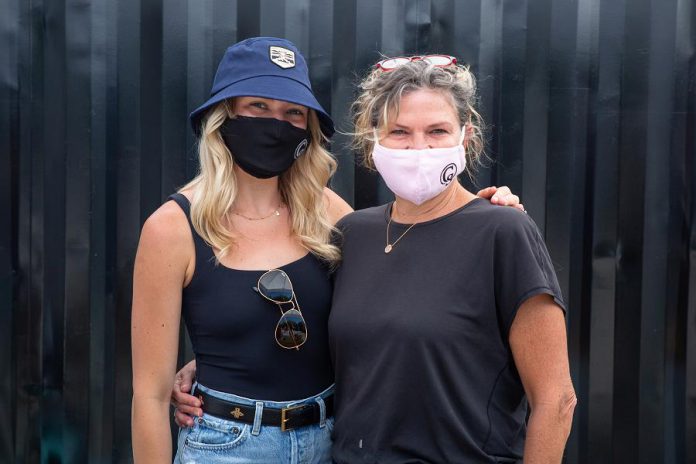 "We'll be doing all new floors, new bar, and new paint," Emily says.
The kitchen will also be overhauled, with new fridge and freezers and a new prep area.
The renovations have unearthed some of the building's history.
"We've uncovered a really neat brick wall in behind the bar that was part of the original Mansion House," she points out.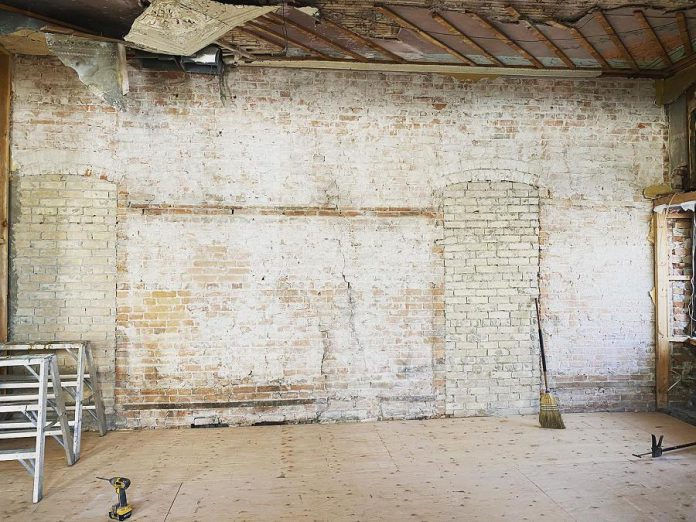 The upstairs space will also undergo renovations, but these won't be as extensive.
"We're fixing up the floor and patching up walls and just sprucing it up a lot."
Following the renovations, Emily plans to maintain the same welcoming atmosphere that became the restaurant's hallmark under Dickson's ownership.
"It was a place where the servers knew you by your first name, you just felt really welcomed and that you belong," she reflects. "You could come in from a workday in your work boots and still in your work clothes, or you could have a girls' night out getting dressed up, and everyone fit. That's what I want people to still feel when they come in."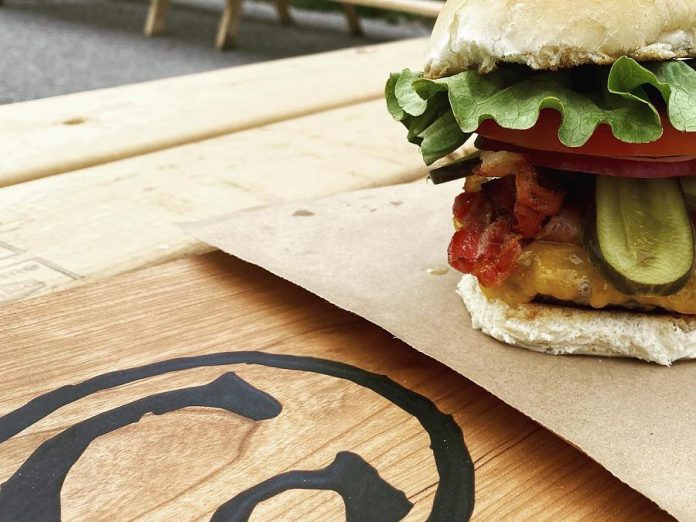 Emily speaks from experience. Before buying the business, they were regular patrons.
"It was our family's favourite restaurant," Emily says. "We went there at least once a week when we would cottage up here, and then my parents moved to the cottage full time and they would go multiple times per week."
Maybe that's why, when they reopen, Emily plans to keep things running in much the same way they have been.
"We're not thinking too far ahead," she says. "We really want to just get back on our feet, shake the dust off a bit, and deliver quality and consistent food and service."
For more information on The Cow & Sow Eatery and for updates on their grand reopening, visit thecow.ca.
Advertisement - content continues below
Pizza Bodega brings New York style pizza to downtown Peterborough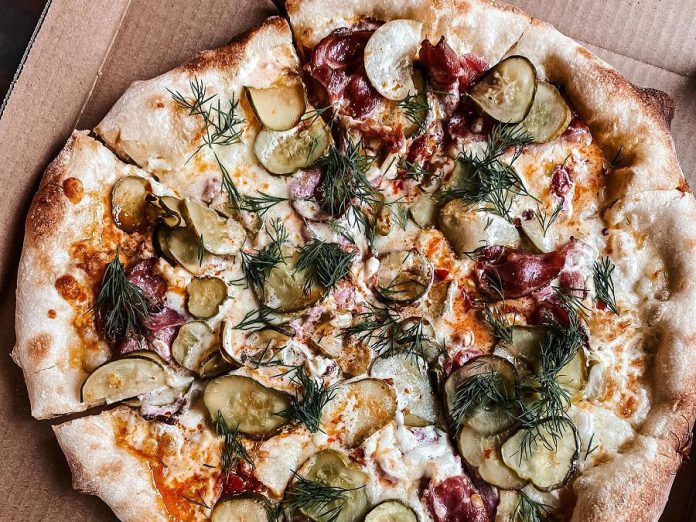 If you're a fan of thin crust, New York style pizza — the kind that's made with three cheeses and a quality sauce — you'll want to head to Hunter Street in Peterborough.
Pizza Bodega (201 Hunter St W, Peterborough), which operates out of Spanky's, opened on July 31st.
Owner Sean Crooks has years of experience in the restaurant business.
"I spent almost 20 years in the food industry, in the kitchen — I started in the dish pit," he says.
His first cooking job was on the pizza and salad line at East Side Mario's.
"Since that time, I've cooked many different styles of food in many different style of restaurant. As chefs, we're always looking for our comfort zone. Being a big fan of pizza, it pulled me back in. My career has come full circle."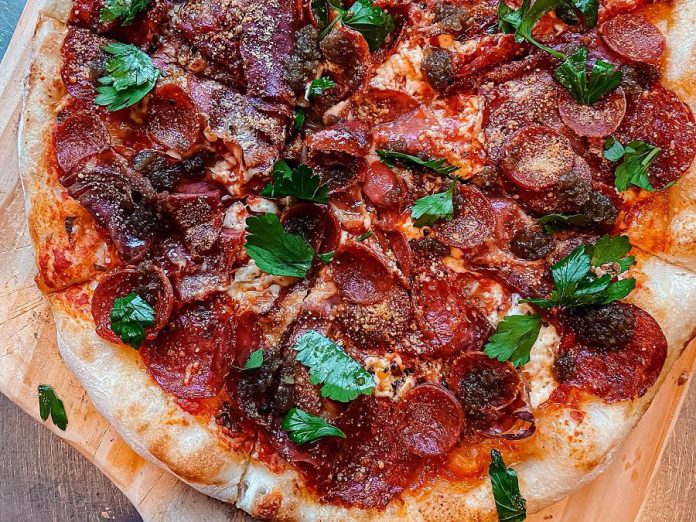 So what's the key to a great pizza, according to Sean?
"It's proper dough, a really great sauce, and the three main cheeses on a plain cheese pizza."
That's not to say that every Pizza Bodega pizza is that traditional. The menu ranges from the classics to a spicy pickle pizza, with roasted garlic cream, fior di latte cheese, dill pickles, double smoked ham, and fresh dill.
There's also a Lebanese pizza (which happens to be vegan), with fresh herb za'atar, marinated seasonal vegetables, and freshly squeezed lemon, and a bianco pizza with roasted garlic cream, three cheeses, fresh rosemary, roasted garlic, and honey.
You can see the full menu at pizzabodega.ca.