Connor and Dylan Reinhart, brothers and co-owners of the Boardwalk Board Game Lounge in downtown Peterborough, know that everyone has a different comfort level at this stage of the pandemic.
Even though they are again offering indoor dining and game play under step three of Ontario's reopening plan, Connor and Dylan have decided to also keep their patio and at-home options running so everyone has a way to enjoy the Boardwalk's games and food.
People who are comfortable doing so can again come inside to play games from the Boardwalk's library of over 550 games, while enjoying food and drink from the game lounge's menu. The brothers are doing everything they can to ensure their customers feel safe.
Advertisement - content continues below
Inside the game lounge, tables are spaced six feet apart and hand sanitizer is available at every touch point. Since games are now quarantined for 24 hours after they are played, Connor and Dylan have invested in extra copies of their most popular games to ensure they are always available for guests who want to play them.
The brothers have worked hard to ensure their customers' experience is as similar as possible to how it used to be pre-pandemic while also being as safe as possible.
"If someone who is a little less supportive of our restriction comes in and is a little inconvenienced because we're taking these extra steps, it's better to have them complain than to have any single person feel uncomfortable or unsafe in our space," Dylan tells kawarthaNOW. "We're getting positive feedback. We're seeing that people are grateful we are taking these steps and going above and beyond."
Dylan adds it's been heartwarming to welcome guests back inside the Boardwalk space after more than a year of various pandemic-related closures.
"It's so nice the games are getting played," he says. "It's so nice to see people coming together and playing together in a way that we haven't been able to do over the past year."
Throughout the past 16 months, the Boardwalk has found other ways of connecting its customers, both with their board games and with their food. This past spring, Dylan and Connor reopened their patio and signed up for Skip The Dishes and Uber Eats to offer guests takeout. Both options remain available for customers even though guests can now play and eat inside as well.
Advertisement - content continues below
The brothers first added the patio last summer when the government only permitted outdoor dining experiences. According to Dylan, they tried to capture as much of the original Boardwalk experience as possible while taking into account outdoor factors such as wind and weather.
"We thought very critically from a table perspective," Dylan explains. "What kind of tables are going to be the best for playing games on as well as eating and drinking on? We thought not only about how we would build a patio, but how we would build a patio that works for us."
As the brothers did not want to give up the board game component of their business, so they went through their game library to choose patio-friendly games only. For example, they opted not to offer games that used cards, which could easily blow away in the wind. While there were 20 games available to play on the Boardwalk's patio last year, Connor and Dylan have doubled the number this year by weatherizing more games.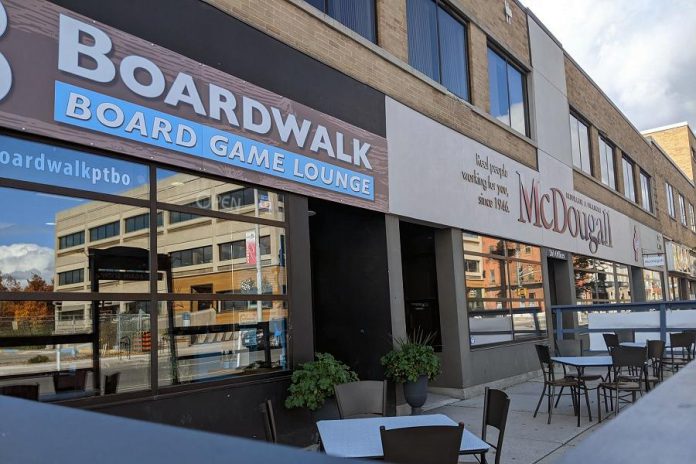 Since all of the patio games are protected against the elements, this has allowed the brothers to also offer "messier" food items on the patio. Some of these options, such as tacos, have remained on the menu for indoor dining, and Dylan says he expects them to remain as permanent menu items.
With more people staying at home during the pandemic and looking for something fun to do, Dylan and Connor also decided to expand their retail selection of games. Although they always had a few of their most popular games available for purchase at the lounge, they decided to offer even more games for sale.
Dylan says they began to offer contactless delivery right at the onset of the pandemic, before it became common. They also built an e-commerce platform into their website for online ordering. These changes were crucial in helping the business make it through the provincial lockdowns.
Advertisement - content continues below
"We were constantly out-performing our retail sales and seeing more people buying and then returning to buy more," Dylan explains. "It helped us keep the lights on and keep surviving, so on the other side of all this, we can still be here for people to come and play games while they eat and drink."
This past spring, Connor and Dylan launched another pandemic option for guests who want to have a board game experience but from the comfort of their own home. On the fourth Monday of every month, the Boardwalk hosts a virtual game night called the 'Roll & Write Club'.
"A roll-and-write game is a type of game where you do something like rolling dice or flipping cards — some randomizing element — and, based on that, you write something on a piece of paper," Dylan explains. "They've been a very popular style of game. They're typically portable. They're typically puzzle-y."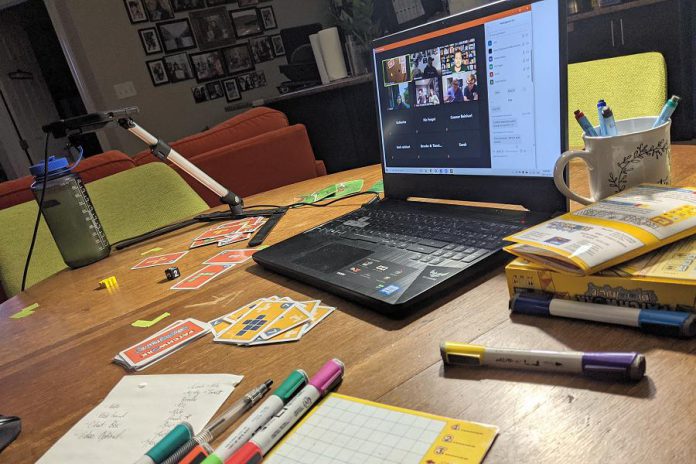 According to Dylan, roll-and-write games work well for virtual play, so they are a great way to replicate the in-lounge game experience when customers couldn't come inside to play.
"We thought there was a cool opportunity for us to use them to give people the opportunity to come together and play games together again even if we couldn't operate the same space," he says.
Every month, the Boardwalk selects a featured roll-and-write game that club members will play together over Zoom. The Boardwalk team explains how to play the game, and then everyone participating will play at least one complete game together.
Advertisement - content continues below
People can opt-in for the Roll & Write Club at three different levels. Level one includes the virtual game night and a print-off scorecard. Level two includes a laminated scorecard and a snack and a drink. Level three includes a snack and drink as well as a full copy of the featured roll-and-write game. It's an option that has proved so popular than Dylan and Connor have continued to offer it even though the lounge is open again for in-person play.
"We're excited about continuing to flesh out this idea of the Roll & Write Club, which has been a fun thing for us," Dylan says. "We're starting to think about what that kind of concept looks like in a post-COVID world when people can come inside and play."
Dylan and Connor recognize that, although they are taking every measure to keep their customers safe when they come inside the lounge to play and eat, not everyone feels comfortable doing so. So the brothers are continuing to offer customers the choice to play games inside, outdoors, or in their own homes.
"We're doing our best to offer as many varied experiences as we can so that, whatever way people are comfortable having a Boardwalk experience, they can," Dylan says.
Dylan adds he and the rest of the Boardwalk team are eager to welcome customers back to the lounge. During the provincial lockdowns, board games continued to be released and the Boardwalk has a lot of new games in their library for customers to try.
"We're thankful for all the support we have received over the past couple of months," Dylan says. "We're grateful for any support anyone provides by having those experiences with us in the months and years to come."
Located at 261 George Street North in downtown Peterborough, the Boardwalk Board Game Lounge is open from 3 to 9 p.m. Wednesday to Friday and 1 to 9 p.m. on Saturday and Sunday. To learn more about the café and board game lounge and to browse their online retail selection of games, visit their website at www.boardwalkptbo.ca, where you can also find links to their social media channels.