Of all the accomplished musical artists that Brian Finley and Donna Bennett have brought to Westben in Campbellford, it's a pretty safe bet that few have been as tickled to headline that venue as the multiple award-winning Canadian jazz singer, pianist, and songwriter Laila Biali.
A few years back, Biali's husband Ben Wittman had a gig at Westben, playing drums for a performance by jazz singer Heather Bambrick. Presented with what she recalls as "a rare night off," Biali took in the performance with the couple's young son.
"We put a picnic together, piled into the car, and off we went," she recalls. "The drive alone was beautiful as we got closer and closer to our destination, but nestled in the midst of this totally rural, bucolic landscape was a world-class stage, complete with a concert grand piano. To have a concert grand in addition to such an exquisite natural environment — well, that's almost unheard of."
Advertisement - content continues below
"It's like a New York City concert hall in the middle of the woods and all this farmland," adds Biali, who knows about New York City concert halls, having performed at the city's famed Carnegie Hall.
"I asked Ben and Heather after the show, 'How can I get a gig there? What do I have to do?' I said to my agent that maybe at some point we can approach them, but we didn't have to wait long. They approached us and here we are, and for two nights no less. Not one. We get two. I couldn't be more thrilled."
Biali will perform at The Barn (6698 County Road 30 North, Campbellford) at 7 p.m. on both Friday, September 17 and Saturday, September 18, as part of Westben's fall festival. Tickets are $50 for adults, $48 for seniors, and $20 for those under 20 (plus HST) and can be purchased online at westben.ca/concerts21/laila-biali or by calling 705-653-5508.
VIDEO: "Sugar" – Laila Biali

Joining the Vancouver native will be her husband Ben Wittman on drums and George Koller on bass.
"Ben and I met touring with [American singer] Paula Cole in 2007 and have been working together ever since," says Biali. "Because it's so comfortable and we have so much history, we can take a bunch of risks. You never quite know what's going to happen."
"That's not only really fun for us but it's fun for the audience too. We play a type of jazz that I like to think of as super-accessible for someone who's a bit of a jazz skeptic. It's all about presenting a show that is dynamic and fun and engaging."
Advertisement - content continues below
That approach has worked exceptionally well for Biali who has played some very big stages, from the aforementioned Carnegie Hall to Beijing's National Centre for the Performing Arts. The two Westben gigs are part of her current tour of Ontario, with additional performances scheduled for Quebec and British Columbia as well as south of the border.
"Touring is my happiest place — I was starved during the pandemic," admits Biali. "The road, to a large degree, is home for us. We're most comfortable when we're on planes and in hotels and on stages. We just love it. Obviously it's way more complex now than it ever was. But as long as it can be done safely, if we can be out there sharing music and still be abiding by guidelines, we're thrilled."
Like many musicians, Biali is only fulfilled when she can perform in front of a live audience
VIDEO: "Revival" – Laila Biali

"Sharing my music live with an in-person audience is really my M.O. That's why I do what I do. For me, music is all about the connection. The songs, in my mind, don't really take flight until they're shared live."
With eight albums to her credit, Biali has plenty to share. That catalogue of recorded work includes her self-titled 2018 album that brought her a 2019 Juno Award for Vocal Jazz Album of the Year, and two Juno award nominations in the same category — in 2011 for her second album Tracing Light and, just this past April, for her latest album Out Of Dust.
"I've definitely gone through times when I have had a little bit of an identity crisis, where I feel I'm too jazz for pop and too pop for jazz, where I'm somewhere in the middle and I don't have a home," says Biali.
Advertisement - content continues below
"What the Juno award win really did was affirm that in the big J jazz world there's so much room for play. I think that's why you see more and more people coming back to jazz, even people who don't think they like jazz. They're discovering artists who are presenting a type of jazz they can relate to a little more easily. The award was affirmation that I have a home in the world of Canadian jazz. That means a great deal to me. Still, it was totally unexpected. I was just thrilled to be nominated and then bowled over when they called out my name."
That Biali has been, and remains, one of the leading lights on the Canadian jazz landscape and beyond is even more remarkable when one considers that jazz wasn't the music genre she seemed destined to one day master. Playing piano at a young age, she gravitated towards classical music with the "dreams of going to Juilliard [in New York City] and becoming a concert pianist" — until she suffered an injury as a teenager.
"I was injured in a car accident when I was about 15," she explains. "We were rear-ended on the highway and it did a number of my neck. My right arm became more limited due to fusion. Around the time that all happened, I was introduced to jazz."
VIDEO: "Got to Love" – Laila Biali

"Jazz felt a little bit like the rebound boyfriend while I was still grieving my first love of classical music. I actually didn't love it [jazz] initially. It was really complex and I didn't understand it. It was like a new language. The idea of making up music, making up a solo, was terrifying to me."
That aside, "a few key moments" won Biali over to the genre.
"First, I discovered a community in jazz. Classical music was really a solitary practice, especially as a piano player. I wasn't part of a band. Jazz was an invitation into a community. I fundamentally just love people so getting to share music with people and other players was so exciting."
Advertisement - content continues below
"Second, I heard a musician who blended the worlds of classical music and jazz. That was very exciting to me and helped me bridge the two worlds. It helped me feel like I could find my way with this unfamiliar genre.
"Another experience I had that clinched the whole thing for me was I heard a piano player at the Montreal Bistro in Toronto. He was playing songs by Radiohead and Bjork and David Bowie and it blew my mind because those are artists I love. I thought if you can import pop and mainstream music into jazz, bring the richness of jazz harmonies to the accessibility and brilliance of those artists, it was like having my cake and eating it too. I felt I had found my place. That's what I've been doing ever since — a pop and jazz mix."
That has worked out exceptionally well for Biali. Besides headlining festivals and venues around the world, singing background vocals for Sting's 2009 DVD A Winter's Night: Live From Durham Cathedral, and touring with the likes of Chris Botti and Suzanne Vega, in 2020 she was awarded SOCAN's Hagood Hardy Award for excellence in jazz, instrumental or world music. In addition, there's her ongoing hosting of Saturday Night Jazz on CBC Radio 2.
VIDEO: "Both Sides Now" by Joni Mitchell – Laila Biali

Biali says her latest album Out Of Dust provides full evidence of her progression as a singer.
"When I sang on Introducing The Laila Biali Trio [her 2003 debut album], I wasn't owning the vocal component yet. I was sitting at the piano trying to sing. Now the vocals are really front-and-centre — the primary means by which I connect with my audience."
"I've become more and more at home with who I am as a jazz crossover artist. Pop has almost traditionally been a dirty word in the jazz world, where if you're too pop you're seen as a bit of a sell-out or not really legitimate. I love mainstream music and I love pop as it informs my sound. I'm now far more unapologetic about that and owning it."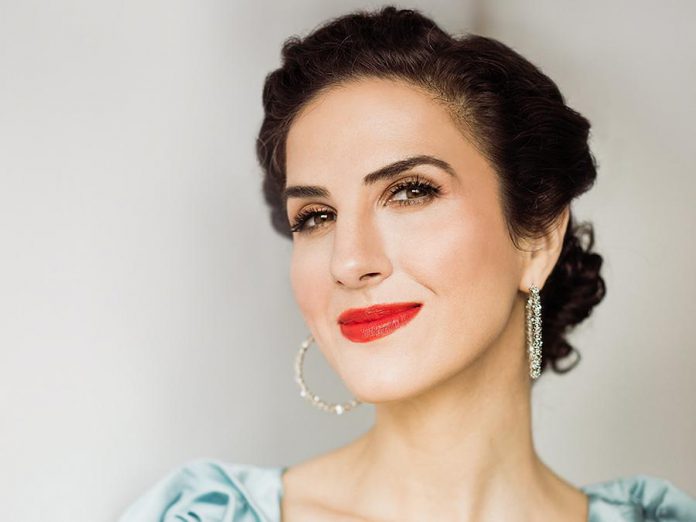 "The music business can be ageist, but jazz is not," adds Biali, who marked her 40th birthday in 2020. "There's still a child-like spirit to what I do and, in that sense, the 20-year-old me is always there. As I've gotten older and matured, I've been able to settle into who I am as an artist with more confidence, more experience and more stories to tell. I think the result has been an improved product rather than one that has deteriorated with age."
"My work feels like play but, make no mistake, I'm applying for grants all the time. I'm at my computer far more than the piano. I'm a businesswoman — an entrepreneur really. That keeps me tethered to reality."
"But music has been my passport to the world and resulted in the fulfillment of my bucket list dream item of working with Sting. Performing in a country you never imagined you would even visit has been another pinch-me moment. I don't take anything for granted, whether that's in Beijing or in Campbellford."
For more on Laila Biali, visit her website at lailabiali.com. For more about Westben's fall festival, visit westben.ca/events.
This story has been updated to correct a misquote.