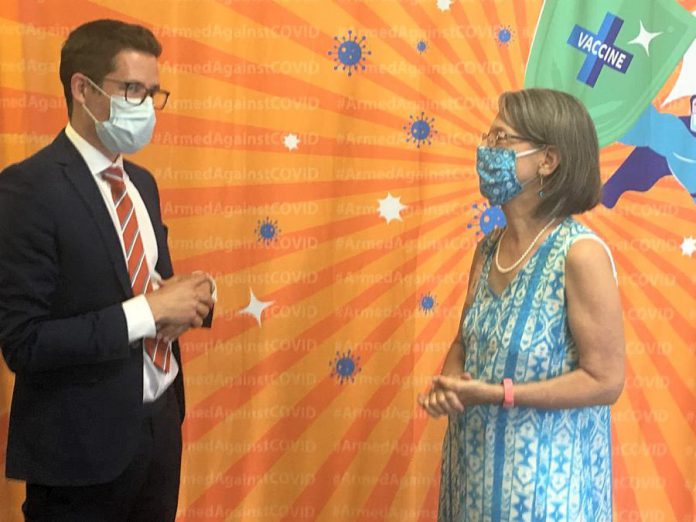 As warnings of a coming fourth wave of COVID-19 become louder and more frequent, Peterborough's medical officer of health says the fourth wave is already here.
"We're certainly feeling the surge," said Dr. Rosana Salvaterra during a Peterborough Public Health media briefing on Thursday (September 9), noting a sharp increase in the number of close contacts being monitored as just one indicator of that.
In the Peterborough region, as of late yesterday afternoon, 36 active cases were reported with 179 close contacts being followed. To date this week, 18 new cases have emerged — a sizable increase from the five new weekly cases reported just a month ago.
Advertisement - story continues below
"These numbers are tracking significantly higher than two weeks ago," Dr. Salvaterra said, adding "the delta variant continues to be the dominant strain we are seeing here."
"Young people under the age of 30 continue to represent the largest proportion of our cases. This is a trend we have seen throughout the pandemic."
On a positive note, there are no active outbreaks in the region, with the last local outbreak resolved on July 29. However, a potential exposure at the Canoe and Paddle pub in Lakefield did see Peterborough Public Health issue an advisory yesterday that anyone — vaccinated or not — who attended the pub between from August 30 to September 3 self-monitor for symptoms as well as get tested.
To date, according to Dr. Salvaterra, that exposure has resulted in four pub staff being infected.
Not unlike her public health colleagues across the province, Dr. Salvaterra stresses the best way to lessen the effects of the fourth wave is to get immunized.
To that end, this morning she issued a directive strongly recommending all workplaces develop or enhance policies requiring all employees be fully vaccinated against COVID-19, unless they are medically exempt.
She added that provincial labour laws require employers to use every reasonable precaution to protect the health and well-being of their employees. This includes workplace hazards posed by infectious diseases.
Advertisement - story continues below
To help employers develop a policy or enhance an existing one, the health unit has provided guidance on its website at peterboroughpublichealth.ca/novel-coronavirus-covid-19/covid-19-workplace-vaccination/.
"It's really up to the employer how far they want to go with a policy, but we are recommending that COVID-19 vaccination be required of all staff," Dr. Salvaterra said. "And that there needs to be some way for the employer to validate that the two immunizations have been actually received."
With mandatory proof of full vaccination to enter a number of premises and venues required starting September 22, Dr. Salvaterra says the health unit has seen an uptick in the number of people getting vaccinated locally. Still, she notes an estimated 10,500 residents still need to roll up their shirtsleeves to hit the ideal 90 per cent fully vaccinated mark.
"I don't think that's going to get done quickly," she admitted. "It will happen more gradually over time."
With schools now open for the new academic year, there is good news on the vaccination front with close to 80 per cent of local youth aged 12 to 17 having received a first dose, and almost 66 per cent now fully immunized. In addition, 82.7 per cent of all vaccine-eligible residents aged 12 and up have received one dose while 76.7 per cent are fully vaccinated.
Dr. Salvaterra also shared updated information from the Ontario COVID-19 Science Advisory Table that shows unvaccinated individuals are six times more likely to be infected with COVID-19, 30 times more likely to be hospitalized if infected, and 48 times more likely to end up in intensive care.
Advertisement - story continues below
Of note, this was Dr. Salvaterra's final media briefing as she prepares to depart Peterborough Public Health for a new position as deputy chief medical officer of health with Alberta Health. Dr. Salvaterra's last day on the job locally is September 19, and she starts her new position in Edmonton on October 4.
With Peterborough's new medical officer of health Dr. Thomas Piggott set to take the reins in December, Donna Churipuy, director of public health programs, will serve as incident commander in the interim assisted by acting medical officer of health Dr. Ian Gemmill.
Also in attendance for Thursday's media briefing were Peterborough mayor Diane Therrien and board of health chair and Selwyn mayor Andy Mitchell.